"I need a project," Gregg Asher says of his habitual home swaps with partner David Martin. "What he means," David counters, "is he needs a project to give to me." It's 8:30 p.m. on a Wednesday, and Martin and Asher are masterfully dressed—Asher in a Prada sweater, Dries Van Noten brocade pants, and crystal-embellished fur Miu Miu slides; Martin in head-to-toe Thom Browne plaid and Gucci wool slides.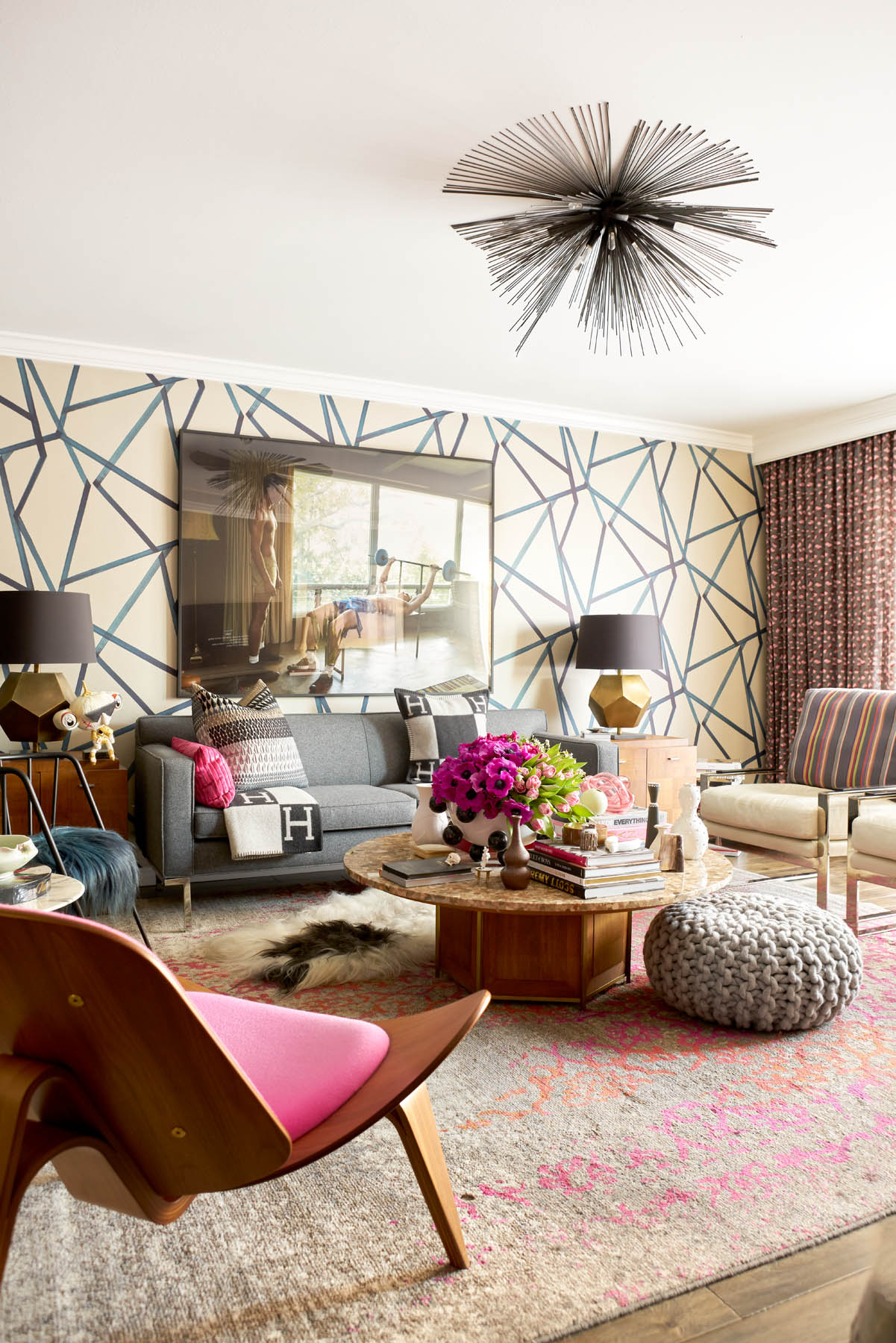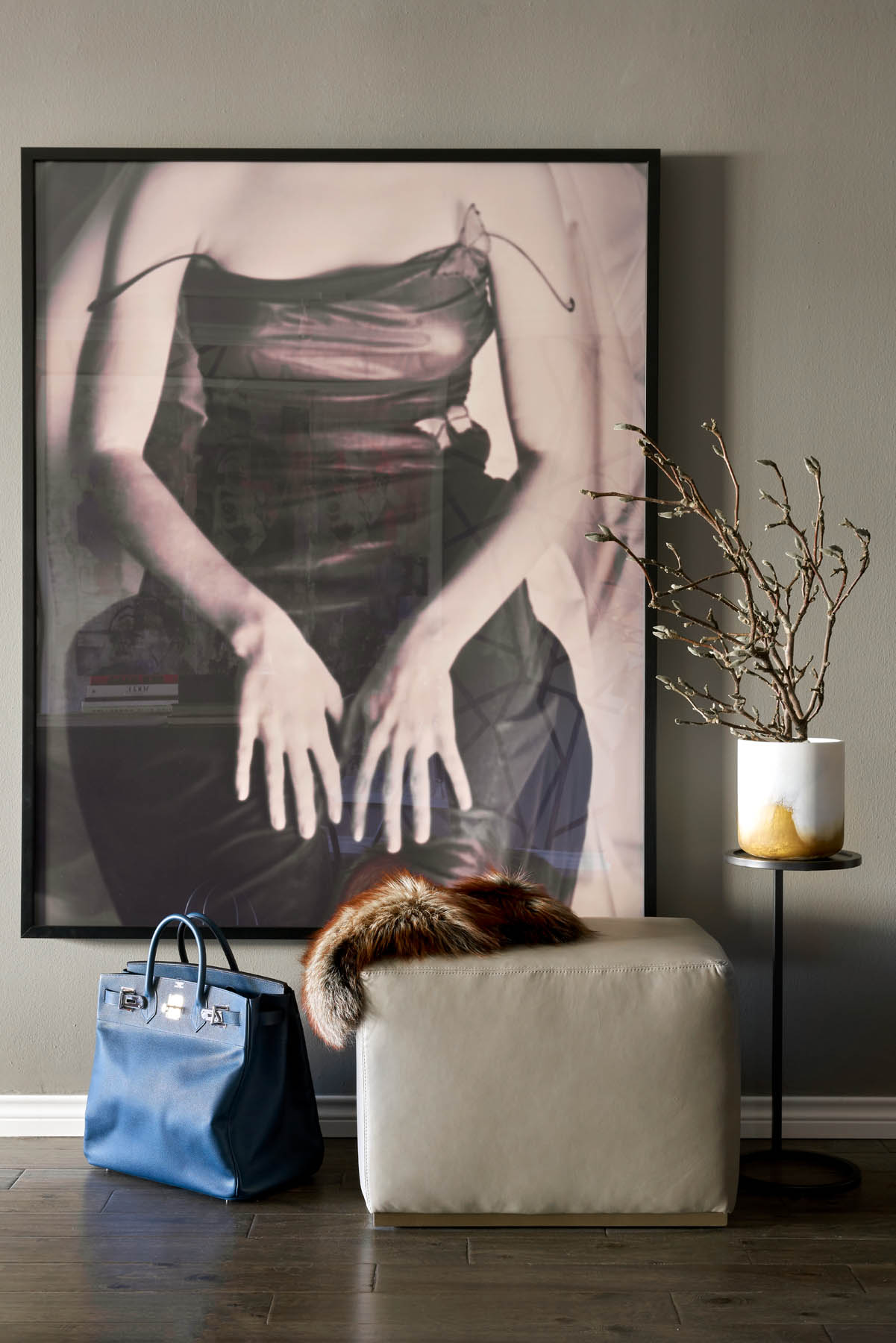 In the living room, "Exercise at Home" by Luke Smalley (from ClampArt in New York City) pairs with Harlequin's "Sumi" wallcovering from Walnut Wallpaper. The dramatic "Strada" chandelier from Kelly Wearstler hangs over a vintage coffee table.; "Hands" by Santa Fe artist Robert Stivers hangs on a wall painted in Sherwin-Williams "Dovetail." A Prussian Blue Hermès bag sits next to a Restoration Hardware ottoman, draped with a Lanvin fur scarf.
The soundtrack from "A Single Man" whispers in the background, the gilded Kelly Wearstler
"Strada" starburst chandelier
is dimmed, the vintage chrome armchair with striped Paul Smith fabric downright supple. Though they are known for their sartorial pomp and circumstance—documented in innumerable party pictures in the pages of society magazines—the setting reads more luxury hotel than flashy pad. Martin does most of the talking. "People who maybe know of us have a misconception because in public, I'm the shy one and Gregg is outgoing," Martin muses. "But at home, we could not be more opposite."
Chances are, you do know of them. Asher is a devoted stylist at the salon at Neiman Marcus with a high-profile clientele. He spent nine years coiffing the Dallas Cowboys Cheerleaders and has a storied history of work with famed LA hairdresser José Eber. His notoriety earned him roles on reality TV shows including Bravo's "Most Eligible Dallas" and Lifetime network's "Million Dollar Shoppers."
Martin spent 19 years working alongside a prominent event planner before switching to sales at
Forty Five Ten
in 2016. They chronicle their adventures on Asher's blog, "
FashionBaggage
," and on Instagram as
@theotherdandg
.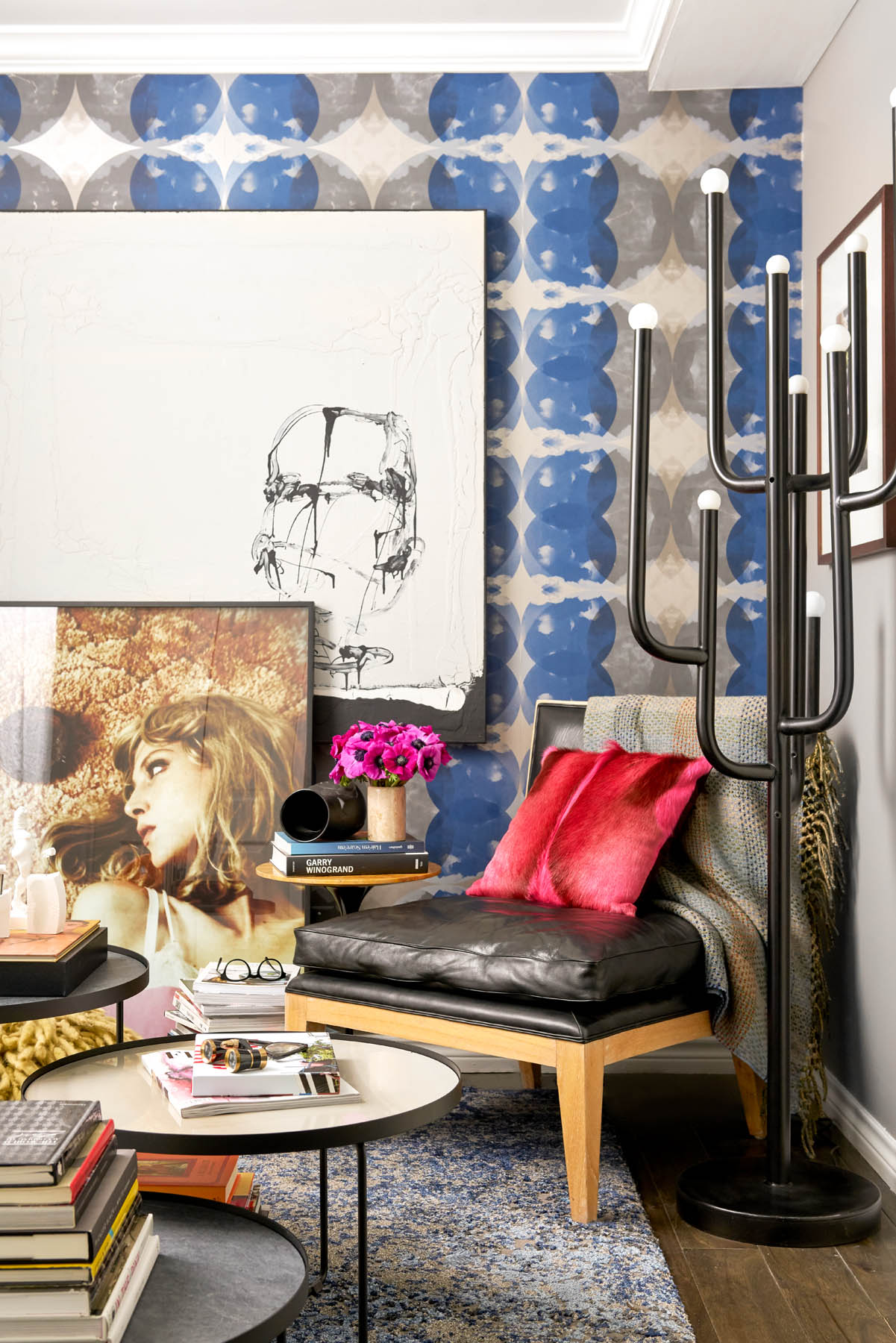 Asher is a "real estate nut," who persuades Martin to move every five or six years. He then hands the renovations to could-be interior designer Martin.
Their most recent transition—from a 2,200-square-foot 1957 high-rise on Turtle Creek to an 1,100-square-foot place a few buildings down, proved Martin's most challenging. A series of unfortunate events, including the loss of the couple's beloved Chihuahua, Logo, and a "come of age" moment, resulted in significant changes. Asher turned 40, renounced the stilettos he was known to slip on for parties, and chopped off his bleached-blonde hair in favor of his natural brunette. "You have to think of your age and where you are now—you're not the same person you were five years ago, or even last week," Asher says.
The mindset shift led to extreme purging. Luxury consignment company The RealReal received more than 500 of their designer platforms, handbags, and clothing items. To pare down even more, they sold more than half of their furnishings to the buyer of their previous home.
"We always tend to like things that make you feel slightly uncomfortable or nervous in some way.

David Martin
With the material depletion and no need for a chef's kitchen—Asher works 12-hour days six days a week, he travels often, and they never cook—space shortage wasn't an issue. What was: Asher wanted a pink color scheme. "David's fear was he didn't want it to be too girly, like a Barbie Dreamhouse," Asher says.
That, it isn't. Aside from saddle brown, charcoal, navy, and pops of black and white camouflaging nearly every discernible semblance of pink, there is the art. Much like their attire, it often provokes. "We always tend to like things that make you feel slightly uncomfortable or nervous in some way," Martin says.
There is the Mark Seliger portrait of Drew Barrymore in bondage surrounded by Boy Scouts; the nuanced Luke Smalley photograph of two adolescent men exercising; and Christophe von Hohenberg's portrait of a paparazzi-peppered Raquel Welch attending Andy Warhol's funeral. "I have a tendency to like celebrity photography because, obviously, I wanted to be one," Asher says. "I like celebrities that most people have a love-hate relationship with."
Cue the Tyler Shields portrait of Lindsay Lohan, hands bloodied and a gun in her face. "Maybe we should go to therapy," Asher muses. Fittingly, fashion is a common thread in each piece. "It's just like with our clothes—I've always said that no matter how crazy it is or how goofy we look, it's just fabric, and at the end of the day, you take it off," Martin says. Right now, though, their high-rise is exactly right. "If you look at the color scheme and the art, you see David and you see Gregg," Asher says.
Get the AtHome Newsletter
Enjoy Dallas' best trends, hot properties, and tips from local designers to help you nest in style delivered weekly.