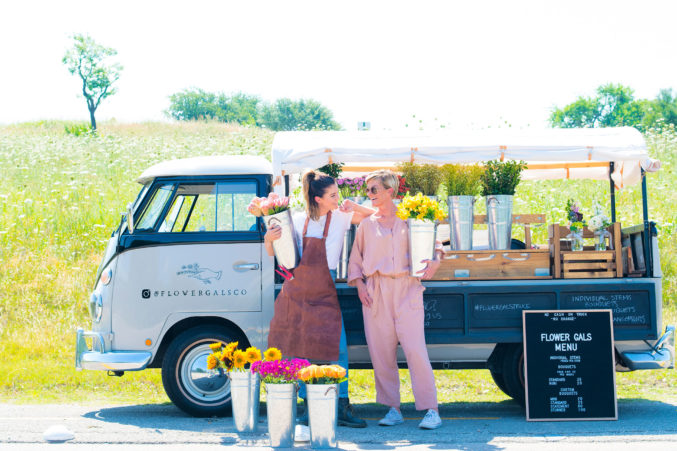 Fresh New Shops to Visit This Summer
And one adorable mobile flower truck to track.
A Flea for All
Lifestyle journalist-turned-interior designer-turned-entrepreneur Brittany Cobb's polished spin on the flea market has come a long way since its 2009 debut in South Side on Lamar. What initially started as a one-time showcase for a few cool local makers grew at a rapid pace. The market (then known as The Dallas Flea) moved to Trinity Groves, then Fair Park, and then to Dallas Market Center, where 220 Texas makers and artisans lined 60,000 square feet with booths.   
But while Cobb was continuing to cultivate her highly curated biannual markets (she changed the name to Flea Style in 2015 to bring her shows to new cities), she was secretly looking for a more permanent place to highlight her favorite makers. After five years of searching, she changed the vision from an antique mall–style space to a stylized boutique. Flea Style's first storefront finally settled into a turn-of-the-century compound on Commerce Street this June.
The Deep Ellum space (which includes a sizable parking lot) combines Flea Style's headquarters, a roomy covered patio, a 900-square-foot studio space that can be used for workshops, and 3,000 square feet of retail space. More than 50 Flea Style vendors ranging from clothing, home decor, and textiles to paper goods, children's items, and plants will be represented throughout the store, alongside Cobb's own finds. "There will be a constant ebb and flow of products according to season," says Cobb. "The store should be changing daily."
Double the Finds
Designer Angeline Guido Hall had to jump at the chance to expand when she toured the 1,600-square-foot vacancy next door to her store Purveyor Home. Her existing space of the same size already housed the shop, her design studio, and warehouse. "Eventually, the store got to a point where it had really taken on its own identity," says Hall. Now, with double the square footage, Hall is able to display even more vintage furniture, Turkish rugs, accessories, lighting, case goods, and other curated finds, all at approachable price points. If you can't make it down to the Design District, Hall has graciously uploaded her unique inventory to Purveyor Home's online shop.
G
rowth Potential
Oasis Plant Shop is simply covered in plants. There are more than 100 potted wonders throughout the cozy, 700-square-foot space, creating a veritable jungle in the middle of the Bishop Arts District. The palms and succulents contribute to the shop's welcoming nature, but the true credit goes to its owners, longtime Ruibal's employees Bethany Mieth and Hannah Street.
The two young women began dreaming of owning a shop together a couple of years ago, and with the blessing and encouragement from families, friends, and the folks at Ruibal's, they finally took the plunge this year. Their goal: to create an approachable place for people to fall in love with plants. "We really believe that there is a power behind plants, and we really believe that they can bring life to your space," says Street. "If we can give that to people, that would be our pleasure."
The shop also gives the friends an opportunity to be more hands-on with clients. The duo will even do in-home consultations for indoor and outdoor spaces. "We want to know the vibe of your home, the colors of your home, and the atmosphere you want to create," says Mieth.
More than anything, Street and Mieth hope Oasis Plant Shop will be a place that can inspire. Customers can pick out their own container and plant, and the Oasis ladies will help plant them while in store. "We'll have a planting station where we can plant together and talk about things and just get our hands dirty if we want," says Street. 
Shop and Stare
Simply calling Commerce a hotel gift shop doesn't do it justice. Yes, it is housed inside The Adolphus Hotel, and sure, you can find a toothbrush and a charging cord there, but every detail of the shop, curated by Christine Visneau, has been meticulously planned. "We think as much about display as anything else," she explains. "We overanalyze everything to figure out if it makes sense."
The retail veteran's mix is unique. (She owned children's store Little Bean and online shop VeeCaravan, and she currently works for branding company Makeready.) Find Texas brands such as Stetson, Breda, Gaia Empowered Women, Field Rations, Deep Vellum, and Clan of Cro. But Commerce isn't strictly a local store. "If we can find something cool that's local, then we're not going to get it anywhere else," says Visneau. "But we don't want to be a slave to the idea of a local store."
This means you can also find Parisian-made T-shirts (a nod to The French Room), vintage jewelry found on eBay, finds from coastal craft fairs, and a few of Visneau's favorite brands. "Everybody we carry is going to be an independent designer, and we're usually dealing with them directly," says Visneau. 
Nice Stems
Just before Valentine's Day, an adorable, '60s-era VW truck lined with tins of fresh flowers appeared alongside Favor the Kind on Henderson Avenue. There were chalkboards with prices and a hashtag (#flowergalstruck) along the side, ribbons tied around the brown paper–wrapped blooms, and a custom license plate with "The Gals" on the front of the truck.
Soon, social media messages were pouring in for the owners of the flower-filled VW, Taylor Pierce and her mother, Miriam. "It's been this crazy, humbling whirlwind," says Taylor. Since the Flower Gals Co.'s debut, they've made appearances in West Village and Legacy West and at shops like Baldwin on Knox Street and Neiman Marcus NorthPark.
The mother-daughter duo got things rolling after seeing a magazine article about the oft-photographed Amelia's Flower Truck in Nashville last October. The design-minded ladies (the pair was doing interiors before starting up the truck) knew they had found their calling. "I started searching to see if the Dallas-Fort Worth area had a truck like that," says Miriam. "I was shocked to find that it didn't."
Shoppers can pick out premade mini- and standard-size bouquets with unique flowers such as eucalyptus, king protea, and poppy pods. The gals also do delivery and private parties. "The cool thing about a private event—for example, a bridal shower—is that you can pick the colors," says Miriam. "So if pale pink is your bridal color, we'll fill the whole truck with pale pink flowers." 
SaveSave
SaveSave
SaveSave
SaveSave
SaveSave
SaveSave
SaveSave