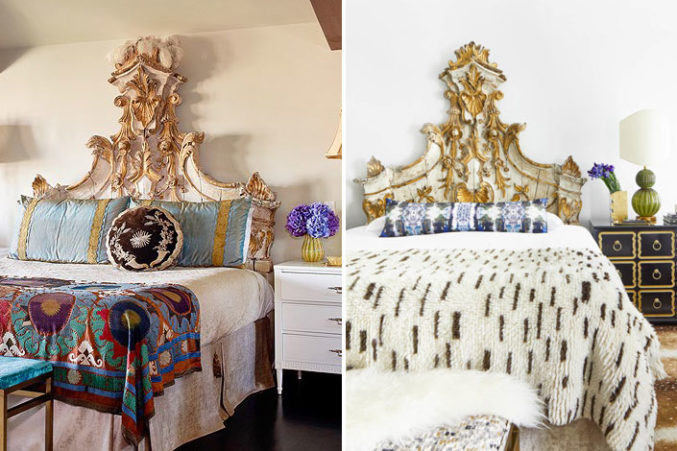 How to Revitalize Furniture in a New Home
Serial mover Regan Carlile has some insight.
With the release of our most current issue, Regan Carlile's home has now been featured not once, not twice, but three times in D Home. And with each house, the design enthusiast mixes her curated collection of art and furniture to complement the three homes' wildly different architecture and design styles. "The house kind of dictates what it wants to be instead of me going in with how I want to use the furniture," Regan says. Even if you're not planning a move, you can still have fun with your interiors and make a modern update with Regan's tips.
1. Let the home's architecture be your inspiration.
For Regan, her many Dallas homes have boasted varying architectural details and styles. "The Mediterranean home was when we started introducing cleaner lines. And on Colgate, the ceilings were so high, and it was so '80s—we wanted to make it more decadent and sophisticated, hence the wallpaper," she says. "This house has lower ceilings, and I wanted to create a sense of airy space that's simple, more playful, and casual. That's how it started."
2. You can downsize or edit.
For this home, Regan and her family moved into smaller square footage, so she had to think about what would fit. But, she admits, the editing was tough. "I started with the bigger pieces and definite yeses and some maybes if there was room," she explains. "It's going through and taking inventory of what makes me smile or reminds me of a trip with my husband or my kids. Then, it's fitting it in my next house—really pouring a lot of time into the space," she says.
3. Design with a color scheme in mind.
If you're moving to a new home or simply starting a design revamp, start by assigning each room its own color scheme, and think about which pieces you have that would fit. "We only have two paint colors in this house. The background was neutral, and I have a hard time being neutral with my things, so each room had its own color scheme," she explains. Then, she started to place the items within the rooms. For this, she used her instincts. "I tend to be visual, so if it's interesting and it's a gut reaction, then I decide where I can put it," she says. "Start with one thing you love, place it, and start taking inventory of the things that you have. Sometimes I'll take pictures of them and lay them out," she says.
4. Don't be afraid to mix styles.
Regan's style has evolved over the years, from her antique collecting days to now a more modern look. But she tends to use pieces from all the phases of her life. "The main process, for me, is to settle down, let things marinate, and don't latch on to one certain style. Would this be a fun twist if I reupholstered them? How could we reuse? It also tells the story of our life. I love seeing things in a new light," she explains.
5. Let go of how you've designed in the past.
A piece that is tired in your current living room may find new life in a child's room. Or if you're moving, don't be constrained to how your furniture was arranged in your former home. "If you like it, let go of how you've used it in the past—don't think about it that way," she says. For her, a rug that was in a living room in her previous home found a new place in her son's bedroom. Here, we list a few pieces that have found a place in all three homes. Look for the hot pink letters that correspond with each item throughout the feature. Happy hunting!
SaveSaveSaveSave
SaveSave
SaveSave
SaveSave
SaveSave
SaveSave
SaveSave
SaveSave
SaveSave
SaveSave
SaveSave
SaveSaveSaveSave
SaveSave
SaveSave
SaveSave