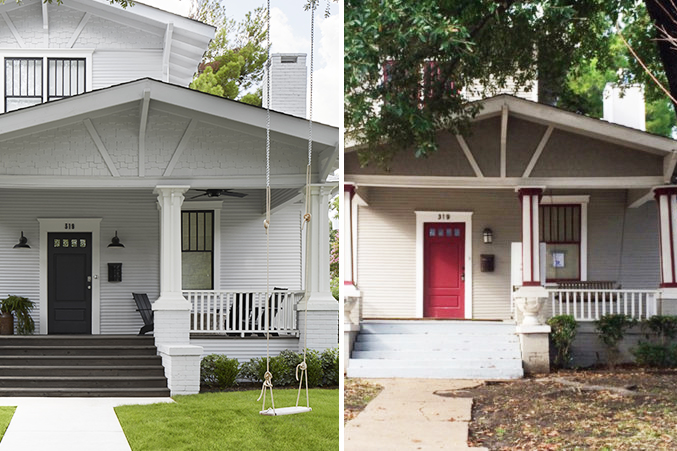 Inside the Transformation of a Winnetka Heights Craftsman
How a team navigated the historic neighborhood's strict regulations.
When designers and contractors Russ Peters and Bill Cates first toured the forlorn Winnetka Heights Craftsman alongside Karen and Barry French, it left little to be desired. "Let's just say it wasn't the homecoming queen or king—this candidate would have been overlooked," Cates says. Yet they saw potential in the 1928 home. They handled every aspect of the restoration—from fresh foundation and updated roof to every fixture and furnishing.
But their biggest challenge: Navigating the neighborhood's historic district regulations. "It's like you're a ship captain because there are so many moving parts and anything can go wrong," Cates says. "It takes serious commitment to navigate those waters." In a place where even the slightest change in paint color can be disbarred, they had a few losses and numerous victories—and even made friends in the process. Here are the tips they gleaned.
1. Learn the Rules
Your district's regulations and approval process, and confidently present ideas to the neighborhood task force—they are often the scrutinizing jurors. "The more research you do, the better your chance for a good outcome," Peters says. "Be prepared, and never let them see you sweat."
2. Be Flexible
The designers initially planned a much larger expansion. "When we got our drawings back from the neighborhood committee, we had hoped for fewer red marks," Peters says. "We quickly abandoned that idea and opted to only add a screened porch."
3. Have Patience—and a Healthy Budget
"Tiny things can bring plans to a halt," Peters says. "If you get a 'No,' you have to return to the next task force meeting, typically a month later." If you do gain approval, a preservationist or specialist might be required to handle certain repairs, which can be costly.
4. Prepare to Negotiate
The home's rotted windows were in dire need of replacement ("the only thing holding them together was 89 years of paint," Cates says). The task force said no. The designers went before the Dallas Landmark Commission, which can make exceptions, and bartered. Ultimately, they hired a preservationist to restore street-facing windows and replaced the rest with energy-efficient ones.
5. Mind Your Manners
Delicately navigate neighborhood politics, and keep the construction site pristine. "Be a Boy Scout on your projects," Cates says.
6. Tap Expert Advice
"Seek out people who have gone through the process, have a few glasses of wine—or a bottle—and listen to their experience," Cates says.
Click here to see the French family's glorious finished result.