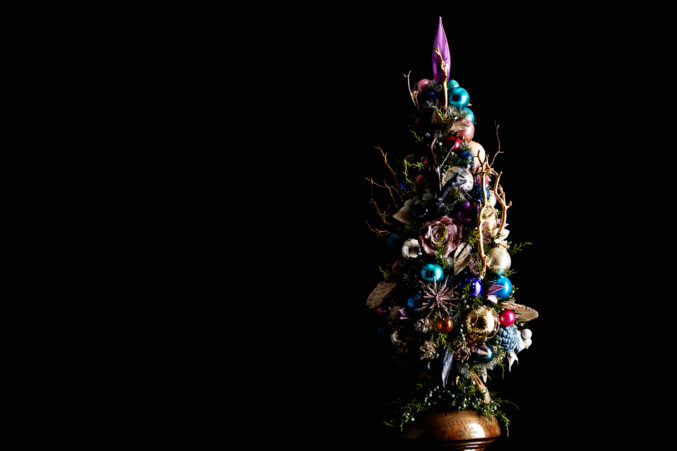 Four Ways to Go Bold With Your Christmas Tree
Avant Garden's Todd Fiscus wants you to add a splash of color.
Todd Fiscus of Avant Garden encourages his clients to take a risk when decorating for the holidays. "I think holiday is so much more than greenery garlands with a red bow. Sure, it's festive, but why not have a little fun?" Fiscus says. For this topiary, he was inspired by a beautiful dining room with sliver leaf Gracie wallcoverings. No red and green decor here—vintage holiday ornaments, fragments of natural stone, mosses, and gilded branches sit in a black mercury glass vessel.
Plus, thinking beyond the traditional holiday hues allows you to extend the life of your decor. "For years to come, these pieces look amazing. Set a pair on a sideboard with a beautiful bar setup, on a lovely dinner buffet, or in built-in niches." Here are Fiscus' tips for adding your own unique sparkle to the holiday season.
Look to the future.
"So many of our clients ask for holiday decor but want it to last long term—five years plus," Fiscus explains. So he often opts for refined artful objects that speak to the holiday season in lieu of traditional holiday decor.
Decorate for your home's style.
"I think the decor should respect your architecture and design of your home—but then lavishly decorate it, much like wearing a ball gown," he says.
Have fun with ornaments.
Fiscus collects ornaments in shapes of flowers, bugs, mushrooms, and birds, all in various colors. "Be vibrant," he says. "Add twinkle lights and sparkles and have fun!"
Think personalized.
Fiscus is often asked to create one-of-a-kind installations for his clients, including 7-foot-tall topiaries made of rock quartz; panels of red holiday ornaments hung like art; and a winter wonderland foyer with barren trees, crystal birds, and flocked fresh greens. "The holiday only lasts for 30 days, so take a risk!"