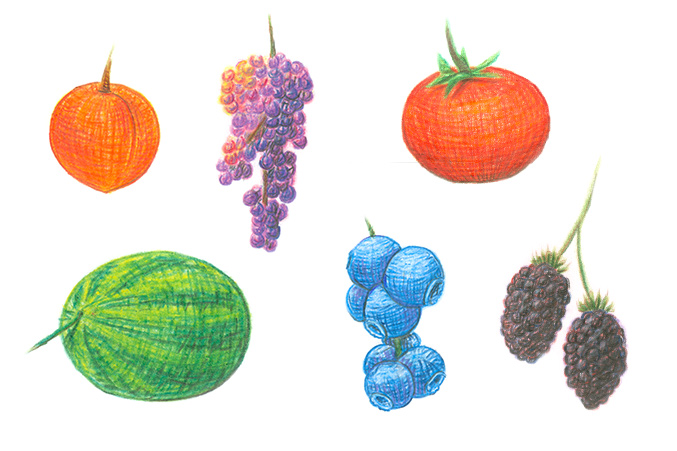 Where to Pick Your Own Produce This Summer
These six spots clock in under a two-hour drive.
Windy Creek Vineyards and Farm
46.8 mi
This beautiful spot beside Ray Roberts Lake in Denton County grows grapes for wine making and fruit trees for picking. Peaches and plums usually ripen in mid-to-late May. Some of the peaches go through the end of July. Most of the peach trees are low, which makes it easy for the whole family to harvest. 3295 Union Hill Rd., Sanger, Texas 940-458-7234 windycreekvineyards.com
Wolfe Pen Creek Farm
52.7 mi
Nature can be unpredictable, so please call before you head out. The farm usually has a gorgeous crop of root and leafy vegetables, heirloom tomatoes, Israeli melons, muskmelons, yellow and red watermelons, squash, green beans, and okra. You'll also find peaches, but they do the picking. Ask about the Greek-style yogurt they make. It alone is worth the trip. 403 Katy St., Lone Oak, Texas 214-697-9601 wolfepencreekfarm.com
Ham Orchards
35.3 mi
Traditionally, blackberries are the only fruit you can pick here, but the Ham family picks boxes full of peaches from their orchards for you to buy. Plan to spend half a day here. The store is packed with jams, cobblers, pies, cakes—you name it, and it's made with a peach. Stock up on peach salad dressing and don't leave without a pint or 12 of their delicious homemade ice cream. 11939 CR 309, Terrell, Texas 972-524-2028 hamorchard.com
Blueberry Hill Farms
75.2 mi
One can never pick or eat too many blueberries. Owners Sherri and Chuck Arena report that this year's crop looks abundant. Choose a basket size—1/2 peck (7 pounds) or 1/4 peck (3.5 pounds)—and pick until your fingers turn blue. They only charge $2.95 a pound, and what you don't immediately eat will freeze well. Their country store and bakery offers stellar jams, cobblers, and blueberry lemonade.
10268 FM 314, Edom, Texas 903-852-6175 blueberryhillfarms.com
Larken Farms
30.8 mi
Find peaches, pears, plums, and other fruits that don't start with "p," such as apricots and blackberries. They provide baskets, but it's BYO gloves and closed-toe shoes. Don't miss the beehives on the farm. Check their website or call ahead for what's available. 3653 Greathouse Rd., Waxahachie, Texas 972-230-7038 larkenfarms.com
Henrietta Creek Orchard
32.3 mi
Here is your chance to experience a pick-your-own pizza garden full of tomatoes, peppers, garlic, and herbs. The farm also offers all kinds of fresh vegetables such as kale and lettuces, as well as sweeter treats like honey. Owner Sue Short offers educational programs on beekeeping and pollination. It's no surprise that migrating butterflies hover over her fields. 14255 Old Denton Rd., Roanoke, Texas 817-439-3202 henriettacreekorchard.com
Before you go, find out what's fresh with our guide to Dallas' seasonal fruits and vegetables.