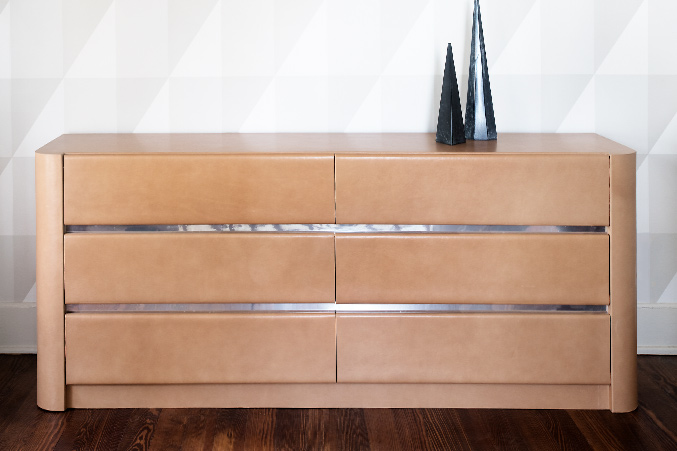 Give Your Furniture a Facelift
Wrapped up in leather, a good vintage piece can go from dated to dashing—without a hint of western.
By Sarah Bennett
Published in D Home May-June 2017
Photography by Elizabeth Lavin and courtesy of vendor
Ray Martin always knew what to do with his life. "It was never a question whether I'd do it—I don't know how to do brain surgery," he jokes. For the past 10 years, he's been the third-generation owner of M&M Upholstery, after his father and grandfather. Founded in 1957, the company upholsters pieces in all fabrics—including leather. How does it work? First, Martin preps the wood for adhesive. Then he pins the leather together where sections will join. After six weeks, you'll have an entirely new product on your hands.
Time Warp: the '80s were good to this Pink laminate table from scout. Refinishing helped bring it back.
Choose the right piece
For best results, Martin recommends a sleek, contemporary midcentury object—one that won't have too many curves or carvings. He sees dressers, tabletops, and desktops most often and finishes them in thin, flexible leather in whatever shade a designer wants. "We make sure everything is smooth," he says.