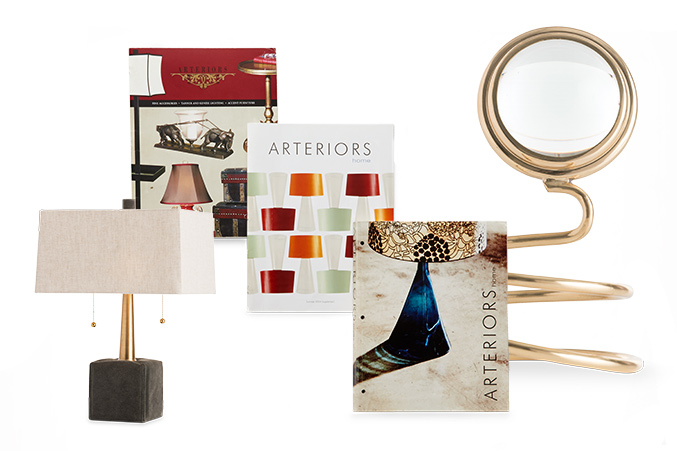 Arteriors Celebrates 30 Years
Founder Mark Moussa marks three decades of accessorizing homes around the globe.
By Jessica Elliott
Published in D Home May-June 2017
Photography by Chris Plavidal and courtesy of vendors
At age 13, Mark Moussa wired 100 wood lamps from his father's longtime import-export company at the Dallas Trade Mart—which were then sold to Holiday Inn.  In 1987, at 29, this Jesuit grad launched his own home accessories business from a gritty 5,000-square-foot warehouse in the undeveloped Dallas Design District. From this space—and with a small collection of shiny brass swans, pheasants, ducks, and planters and a handful of pedestals from Spain—he founded Arteriors.
Thirty years later, his company is known worldwide as an authoritative design resource for forward-thinking furniture, accessories, and namely, lighting. (For the latter, credit his wiring of a three-legged brass candlestick found in a Paris antiques shop into a lamp: The Bombay Company bought thousands—the bases of which were replicated in India. "I still have the first one that came off the line," he says.)
Arteriors still boasts curious, globe-trotter-inspired pieces pulled straight from Moussa's sketchbook that encompass a number of divisions, including a private label, a hospitality branch, and an international sector. Most days, he—always in a different pair of eyeglasses, the creative director's trademark accessory—can be found working with his children, Mackenzie and Tanner, who are carrying the familial design torch. "It's a dream come true," he says. What can we expect to see from him in decades ahead? Expansion of the lines, from lighting to accessories. "That's the evolution of the Arteriors lifestyle—the completion of the room," he says. 1413 Dragon St. 214-760-1741. arteriorshome.com