Cobie Russell
The Observationist
Let the Eye Roam

 
"I've always painted. I can't remember a time when I wasn't interested in color, design, shape, and form," Cobie Russell recalls. It's a dedication so considerable that it pours out onto sizable canvases often large enough to naturally fit in wide-open spaces. (It's also the reason why she partners frequently with architects and design professionals.) While some artists fill a canvas with voluminous detail, Russell paints a different picture—in either her Dallas or New Mexico studio. Her distinctive style is created with layers and layers of lines and color, where even the simplest forms pop with depth, texture, and eye-catching calm. Her paintings manage to blend into their environs while simultaneously standing out: "My work is reduced down to the essence—the fewest, most straightforward forms. I hope that when people look at my work, they take time to get into it, feel where I am taking them, or just enjoy the space to move into and out of it," she says.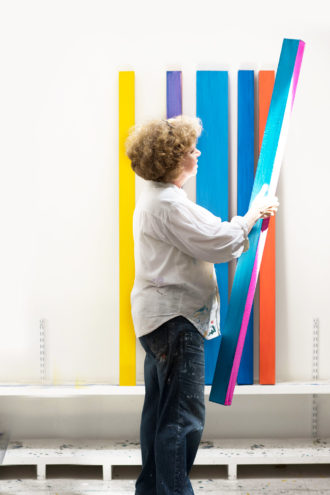 While she has shown in galleries and museums throughout the South—as well as in New York and Massachusetts—Russell retreated from that circuit to soak up personal time in her studio spaces. Last fall she reemerged on the scene, invigorated, with a successful run at the Jean de Merry showroom in the Dallas Design District. Her latest collection, Of Light and Air, recently premiered in the same spot. It's the culmination of a year's work focused on nautical and solar sails in motion. "Remember that sense of being a kid and pulling a paper kite and thinking that everyone else can get theirs up but it's probably not going to happen for me? And then suddenly that kite lifts, and you let the string out and it starts to soar? That sensation? Well, I like that," she says. That led to her exploration of painting shapes and movement of soft, silvery boat sails catching a breeze and how brilliantly colored solar sails move above the atmosphere, powered by sunlight. What's next? She's figuring out what happens in the energy field between the sky and the earth. cobierussell.com
---
Kyle Steed
The Nonconformist
Paint, Pen, and Pencil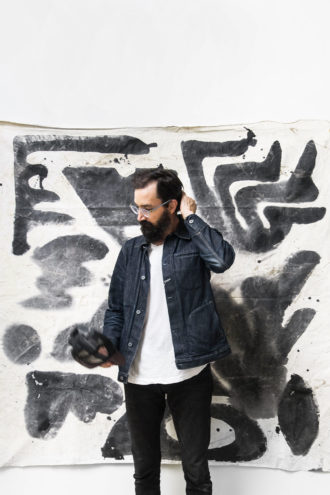 Kyle Steed initially thought he'd study architecture in college. Then his plans shifted to graphic design at a time when computers weren't pivotal to the process—which also taught him that traditional schooling wasn't his thing. "I've never understood the correlation between where you've studied versus what you're creating. You can be refined in your craft, but you can't be taught an inherent skill," he explains. "You let your work speak for itself." For more than five years, this self-taught Dallas-based artist—with over 150,000 Instagram followers—has been free of the nine-to-five while still getting to work in the architectural realm, sprucing up spaces with murals that vibrate with color, design, and hand-drawn typography. If you've spent any time on the Trinity Strand Trail in the Dallas Design District, you're already familiar with his work: A play on JFK's famous inauguration quote scrolls along a wall and reads, "Ask not what your city can do for you, but what you can do for your city." While Steed straddles the line as a public artist for hire (think corporate logos and illustrations), his graphic doodles and drawings in ink or pencil are in demand and regularly sell out on his website. If you're lucky, you can score a commissioned piece. It's worth asking. kylesteed.com
---
Anna Membrino
The Naturalist
In Her Element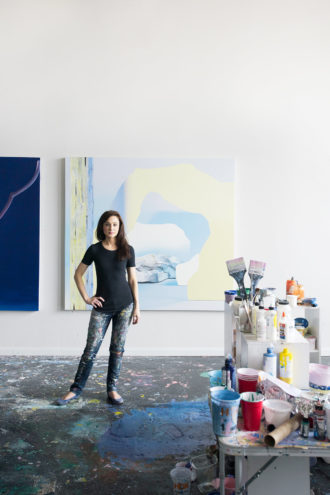 Looking at Anna Membrino's colorful, large-scale landscape paintings, you wouldn't know they started out as a small still life intricately housed in a diorama that's staged with foraged rocks, plants, twigs, and shapely paper cuttings; these key pieces are the basis of almost all her work. Prior to starting a new painting, there is a process: Her mini scenes are carefully illuminated, photographed, and referenced while adding distinctive patterns of paint to canvases that are much larger than the artist herself. Right now she's intrigued by a New York Times Magazine article that explains how you experience the same endorphin response when looking at a flat image of nature as you do eyeing the real thing. So she often tries to replicate that triggered rush of an outdoor observation. It could be a rock that serves as a reminder of a ride to Taos, New Mexico, or a leaf that flashes back to a hike. It's a lot of little pieces that add up to something significant and are open to interpretation. You can see her work at the summer 2017 group show at the Erin Cluley Gallery through August 5 or at the Fort Worth Neiman Marcus beginning this fall. annamembrino.com
Get the FrontRow Newsletter
Get a front row seat to the best shows, arts, and things to do across North Texas. Never miss a beat.