Nobody panic. Society's most beloved sandwich didn't move out of its house: It redecorated. The T Room's tuna melt—warm, with albacore tuna salad, melted cheddar, and slices of avocado pressed between hearty Seeduction bread—is still here, and so is the T Room, but something's changed. Both are living happily inside For Home, the new home-design spinoff by Forty Five Ten, which relocated downtown to its new home in November. What to do with 4510 McKinney Avenue, the revered Knox-Henderson spot? The 1929 courtyard building, shaded by gorgeously gnarled trees, has been home to Forty Five Ten's mix of designer clothing, jewelry, and housewares for the last 16-plus years.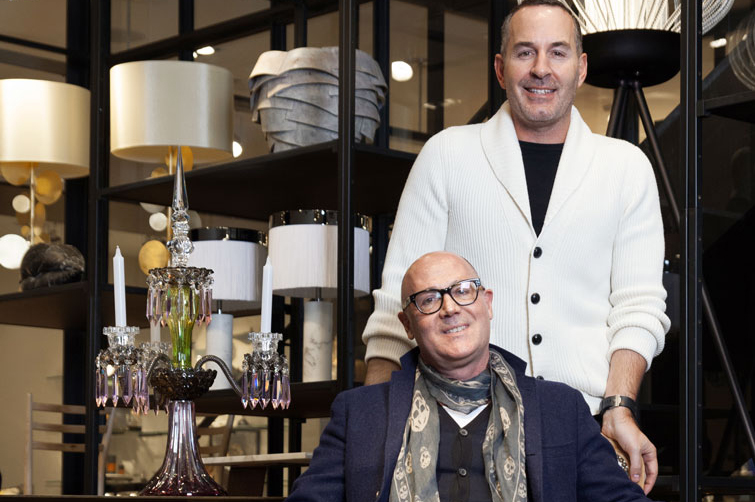 "Our clients are passionate about this building," says Forty Five Ten president Brian Bolke, "and so are we. In many ways, we are bringing it back to its roots." In those days, the wares of local designers—from jewelry to cosmetics to furniture—were pitched as prominently as Givenchy or Céline. The new concept is the old concept, but only all about interiors. "I love that it represents the best in Dallas," Bolke says, "which has world-class design talent."
Think George Cameron Nash, purveyor of fine furniture in his own Dallas showroom, who is creating an exclusive collection for For Home. Think Emily Summers and Jan Showers, who will offer one-of-a-kind pieces. David Sutherland, another showroom A-lister, will offer artisan furniture. (So special are the wares here that almost everyone was still working on them at press time.) There will be goods by other big Dallas names like Allan Knight, Jan Barboglio, and Peacock Alley, plus art from Talley Dunn Gallery. Local designer Rob Dailey, Forty Five Ten's home creative director, will proffer his own pieces, too.
Dailey's opening up spaces formerly hidden from customers, like offices, and turning them into "little chapels," each devoted to a designer. He's also debunking the idea that sublime home design means long waits. "We're focusing on furnishings that are not traditionally available to the retail client," he says, "and making them available for immediate delivery."
Mixed in with the hometown style are international names, too: Diptyque candles and Assouline books, among others. "Rob and our home buyer, Lucy McCabe, wanted to create the perfect place to wander and perhaps have a bite and a glass of wine," Bolke says.
Tuna melt, your future is safe—and chic—here.
Featured Designers
Jan Showers
She is known for decorating with a French '40s flair, but here the Dallas designer mixes it up with new pieces she has designed—including stylish sofas and clubby chairs—and vintage one-offs she has found here and there.
George Cameron Nash
Nash is propping a concept room with "the best of everything as he sees it," Dailey says. That means chairs from Michael Taylor Designs (the firm of the late California designer synonymous with rustic glamour) and a collection by Nash just for For Home, including sofas wrapped in posh Italian fabrics.
Jan Barboglio
The ethereal, elegant designer is known for soulful metal boxes, barware, and candelabras forged in Mexico—carried since Forty Five Ten opened in 2000—and here she is featuring pieces from her private collection, including vintage paintings and a special sofa that she designed.
David Sutherland
At For Home, Ann and David Sutherland's enlightened aesthetic translates into everything from fetching Sutherland chairs upholstered in Perennials fabrics to tables designed by the late John Dickinson, whose original plaster pieces evoked tree stumps, draped fabric, even animal legs.
Emily Summers
Cerebral cool is what Summers does—she and Showers have been on Architectural Digest's list of the best 100 in the business—and here, she is offering pieces from her own pen, plus stunning midcentury furniture, too. No one finds the chic stuff like Summers.
Get the AtHome Newsletter
Enjoy Dallas' best trends, hot properties, and tips from local designers to help you nest in style delivered weekly.