Houston native Lisa Macaraeg had lived in Texas most her life.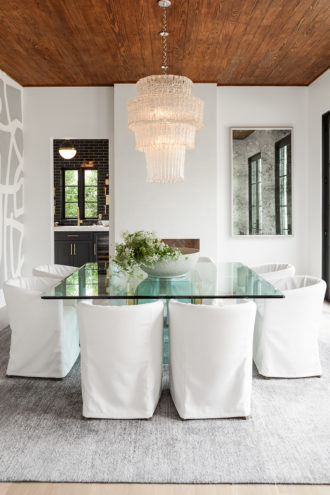 But 10 days after she married her husband, Biegel, in 2011, the couple headed west to Southern California for Biegel's job. Though they were there less than three years, the move proved incredibly influential, particularly as it pertained to their at-home style.
In 2014, when Biegel's career brought them to Dallas, he and Lisa worried that they wouldn't be able to find a home suited to their newly evolved tastes. "We really wanted to have that relaxed, California-cool-inspired design that we had become accustomed to," Lisa says. As luck would have it, a Coats Homes project was in progress on a Wilson Fuqua–designed property in University Park. It had the open floor plan, large windows, and airy feeling the Macaraegs were looking for. "It was such a match made in heaven," says Ben Coats, owner of Coats Homes. "They found a little piece of California in Texas."
To help give the interiors the same coastal vibe, Ben introduced Lisa to designer Theresa Rowe, who specializes in a refined yet laid-back aesthetic. "California is a very strong influence on my style," says Theresa, who fell in love with The Golden State while working as a clothing buyer years ago. "Lisa and I were eye to eye on everything."
"We want people to think there's history. We want people to think there's a little patina to a house."

Ben Coats, Builder
With the right team in place, Lisa, Theresa, and the Coats Homes crew collaborated to make the house work for the family. Aside from her aesthetic objectives, Lisa's primary concern was having plenty of living spaces in the home that were truly, well, livable. "I didn't want the house I grew up in, where I wasn't allowed to go in certain rooms," she says. "I wanted our kids to feel like they could be in the whole house. I think my words to Theresa were: 'sophisticated but comfortable.'"
As for what she didn't want? That list was a little longer. "She said, 'I don't like color, I don't like pattern, I don't like print,'" Theresa recalls of her initial meetings with Lisa. What did she like? "I'm a texture person," Lisa says. "That's why Theresa and I got along so well, because she's all about texture."
So the designer worked with a color palette of mostly neutrals, focusing on incorporating visual interest through dynamic materials, rich textiles, plush Turkish and Moroccan rugs, and other organic elements. Lisa loved it all. "I think there was one thing she brought into the house that I said 'no' to," Lisa says, then adds with a laugh, "and it's actually back in the house because I realized that I was wrong."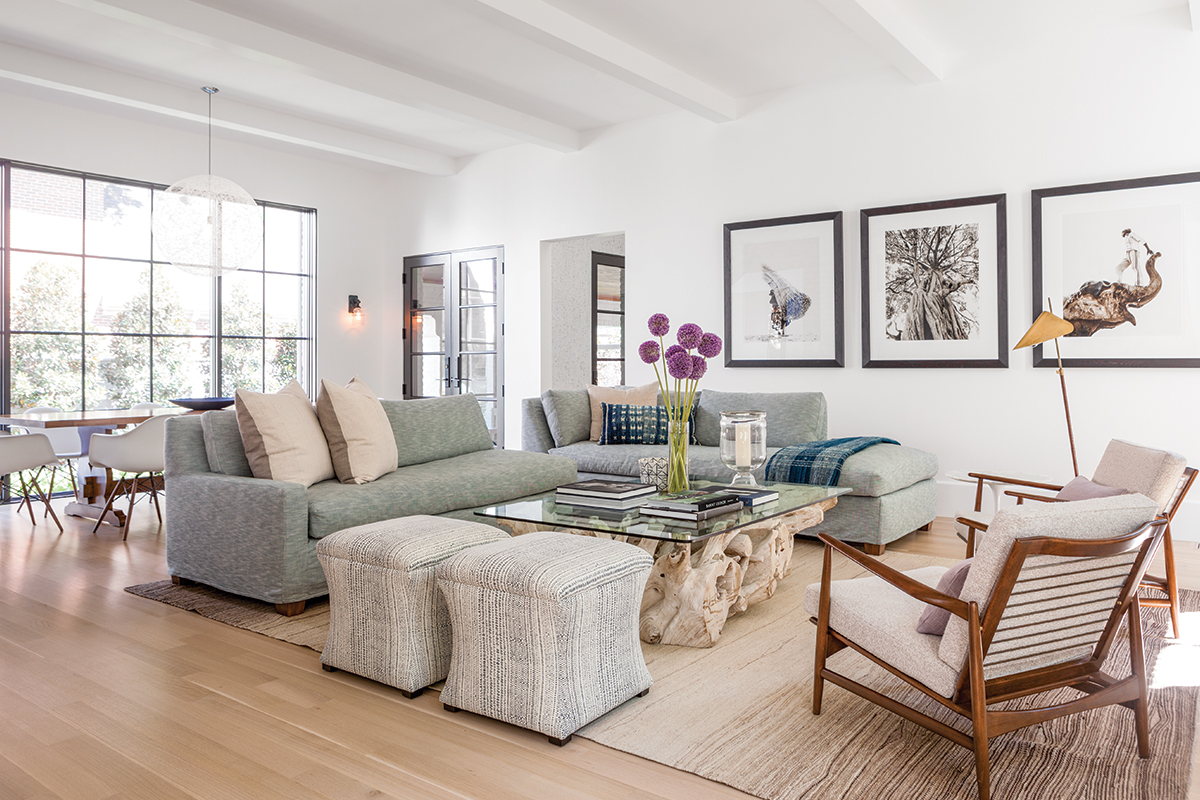 Special attention was paid to the combined kitchen, living, and dining area, which Lisa describes as "the heart of the home," and the playroom, where the Macaraegs' 3-year-old daughter, Kaitlyn—and eventually, their 9-month-old daughter, Harlow—can play. But even areas that might otherwise be afterthoughts got substantial attention, like the bar off the kitchen/dining room. "To me a bar is an approachable place in a home," Theresa says. "So many homes are sterile and stiff and everything is placed strategically. I think a bar in a home says, 'We live here.'"
The home also benefited from a mix of materials, such as the wood-lined ceiling in the dining room and the addition of exposed brick in the kitchen/breakfast area. Though not a signature of California design, the gray-washed brick served as another layer of texture and reminded Lisa of the architecture of New Orleans, where she spent time growing up. "It kind of makes you go, 'Gosh, is this a brand-new house?'" Ben says. "We want people to think there's history. We want people to think there's a little patina to a house."
"I love the fact that it's a beautiful home, but it's also a very approachable home."

Theresa Rowe, Designer
As is Theresa's wont, she skipped draperies in the majority of the rooms. "I feel like drapes are weighty, and sometimes I just don't think that they add anything," says Theresa, before issuing a caveat: "As long as you have the right windows." The Macaraegs' large wood-paned windows were indeed worthy of showcasing, though they were painted dark to achieve the look of steel more commonly used in West Coast architecture.
The home was completed in May 2015, and both designer and client couldn't be happier with the results. "I love the fact that it's a beautiful home, but it's also a very approachable home," Theresa says.
Though Lisa was involved throughout the entire process, seeing the completed house for the first time was still a moving moment. "It just automatically felt like we were going to be happy living here," she says. "In our own home, we felt invited."
Save
Save
Get the AtHome Newsletter
Enjoy Dallas' best trends, hot properties, and tips from local designers to help you nest in style delivered weekly.