In the mid-1970s, when fiber art was in the midst of a meteoric rise, an art show in the San Francisco Galleria Design Center Exposition showcased the work of influential Detroit textile artist Jane Knight. After the show, her wall hangings and fiber sculptures were repacked, sent to her Michigan family homestead, and forgotten—that is, until now. Ryan Rucker and Barry Gream of retail gallery 20C Design in the Dallas Design District purchased every piece of the exhibition to display for the first time since its California debut. "It is rare to love every piece an artist creates, and I loved every single one," Rucker says. "They are wall treatment sculpture art. She took it to another level."
Just as Knight's works have returned, so has the textile trend: Not since the international fiber art sensation in the 1960s and '70s has woven textile artwork been in such high demand—or had such wide-ranging appeal. Alongside the reemergence of midcentury-modern architecture and the worldly eclectic aesthetic, woven textiles are making a comeback in a more contemporary way—in new forms that champion organic spontaneity.
Case in point: works by local artist Lauren Williams of Boho by Lauren, who strings a wool-polyester blend of fibers from locally made wooden dowels before dip-dying strands by hand. The sporadic process produces beautifully unpredictable results—variegated shading, ombre gradation—and is impossible to replicate work to work. "It's a chemistry lab in my studio," says the LA transplant. "Every skein of fiber comes from a different animal or process, so it absorbs the dye differently. What I made today and what I made last week are always going to be different."
In her South Side on Lamar studio, Dallas textile designer Elizabeth Anyaa can be found hand-fusing a varied mix of silk, alpaca wool, bamboo, silken wool, Texas mohair, and sometimes pearls or crystals, occasionally adding her own hand-stitching or embroidery to her giant wall hangings. Each unique piece—some as long as 10 feet—can take weeks to months to complete. "There is only one of each in the world," Anyaa says of her art and sculptures. "I create my pieces just as a painter would."
Other modern artists are joining the abstract movement with fresh spins on the three-dimensional, layered woven yarn and jute tapestries that previously reigned. At The Loveliest, smaller, more vibrant works from artist Marie Matter of Wool & Weave dangle from the shop's walls. Sourcing small-batch fibers from local yarn shops, Matter blends muted retro hues with cheery grays, pinks, blues, and reds and hand-weaves threads on frame looms before stringing her 20-inch-long pieces from driftwood sourced from the Pacific Northwest. The artist favors color blocking and asymmetry, allowing disproportionate threads of yarn in different hues to suspend freely: "I'm inspired by my surroundings, whether art, movies, travel, or the outdoors." she says. "I love to start with color themes, which result in pieces that are abstract but warm." Now that's what we call well woven.
Material Girls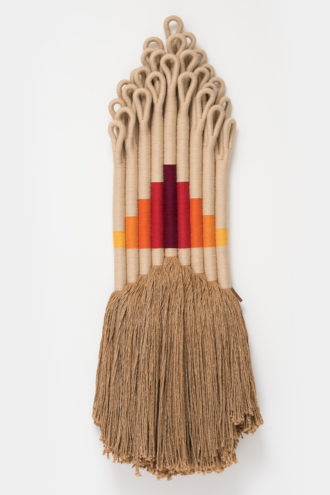 Elizabeth Anyaa
Finland-trained textile artist Elizabeth Anyaa has been hand-fusing filaments including high-quality wool, silk, bamboo, and soy (that source from as far as New Zealand) into massive wall hangings since 2010. She often relies on the fibers' natural colors for textural dimension, though custom hues can be commissioned. Her works can be found in all three of Dallas' Osgood O'Neil salons and in prominent private collections. From $750, at elizabethanyaa.com.
Marie Matter
Marie Matter, who launched Wool & Weave in Dallas in 2014 and now lives in Houston, blends alpaca, organic cotton, merino wool roving, and other materials into unexpected, richly textural patterns. From $75, at The Loveliest in Dallas or at etsy.com/shop/woolandweave
20C Design
For rare, fibrous artworks crafted during the original textile uprising, head to 20C Design, which is showing the full exhibition of pieces created by Michigan textile artist Jane Knight. "They look different from every vantage point," Rucker says. Knight is the real deal: One of her freestanding artworks was up for grabs on 1stdibs.com for $35,000. From $2,600, at 20cdesign.com.
Lauren Williams
Lauren Williams' textile art company, Boho by Lauren, was born in 2014 out of a need to creatively fill wall space. "I love my children, but to hang another gallery wall of photos—I couldn't do it," she laughs. "Wall hangings are individualized and one of a kind." Williams' wall hangings have reached up to six feet wide and seven feet tall often include dyes made from diluted paint. From $450, at bohobylauren.com.
Get the FrontRow Newsletter
Get a front row seat to the best shows, arts, and things to do across North Texas. Never miss a beat.