If ever there was a home that completely personified its owner, Marie Euseppi's eclectic and comfortable Lakewood home would be it.
In her own words, the midcentury ranch-style home is "hip, fun, and really quirky—which is kind of who I am." In the words of her design-and-build team, the house is "so Marie."
But what exactly Marie "is" was initially difficult to grasp.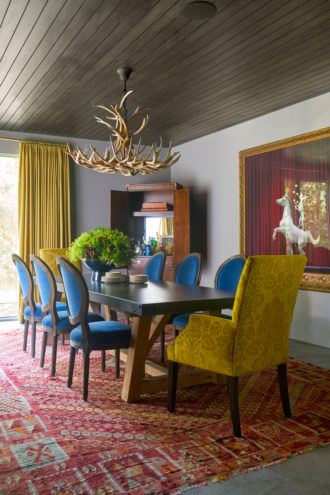 "When we started out, we were thinking, 'The house is midcentury, so we're going to do clean, austere, midcentury things,' because we really hadn't gotten to know Marie yet," remembers More Design + Build's Kurt Bielawski of his and partner Chad Dorsey's first meeting with the homeowner. "We started showing her ideas, and you could just see her face was like, 'Uhhh …'"
But over the course of a few meetings, Dorsey and Bielawski—whom Marie sought out after seeing another one of their houses—began to understand her blended, layered, more-is-more vision. "They came back for a meeting and were like, 'We get it. We get your style,'" Marie remembers. "And from that day forward, all of the lights came on in all of our heads."
The plan included a complete gut of the interiors and a serious rethink in terms of the floor plan. Dorsey and Bielawski wanted to take better advantage of the home's acre-and-a-half treed lot while maintaining the integrity of the structure. They tore down one half of the house—taking great care to save the bricks so they could be reapplied later—and built a new 2,500-square-foot addition, all with sightlines to the backyard.
Marie, at the time a mother of two who was pregnant with her third, insisted on keeping the home to a single story. A playroom was built off the kitchen to corral toys and keep the children within eyeshot while Marie and her husband, Paul, cook. Marie, Dorsey, and Bielawski made some smart, kid-minded choices, like low-maintenance concrete floors in the new addition and tiled kitchen walls, but they still had plenty of fun, too.
"We'd push it one step and then we'd be like, 'Let's push it one step further,'" Dorsey says of their collaboration. Marie had the idea, for instance, to do patterned mosaic floor tile in the bathrooms. Dorsey and Bielawski loved it for the kids' Jack-and-Jill bath but suggested a black-and-white twist in the master for a more elevated feel.
Unsurprisingly, Marie had a lot of ideas for the decor as well. Dorsey and Bielawski encouraged her to enlist a designer to help curate for a cohesive look. Marie resisted. "I was like, 'This is not me at all. I'm a do-it-yourself kind of person,'" she remembers. "But Chad and Kurt said, 'Brittany will get you—and not many people get you.'"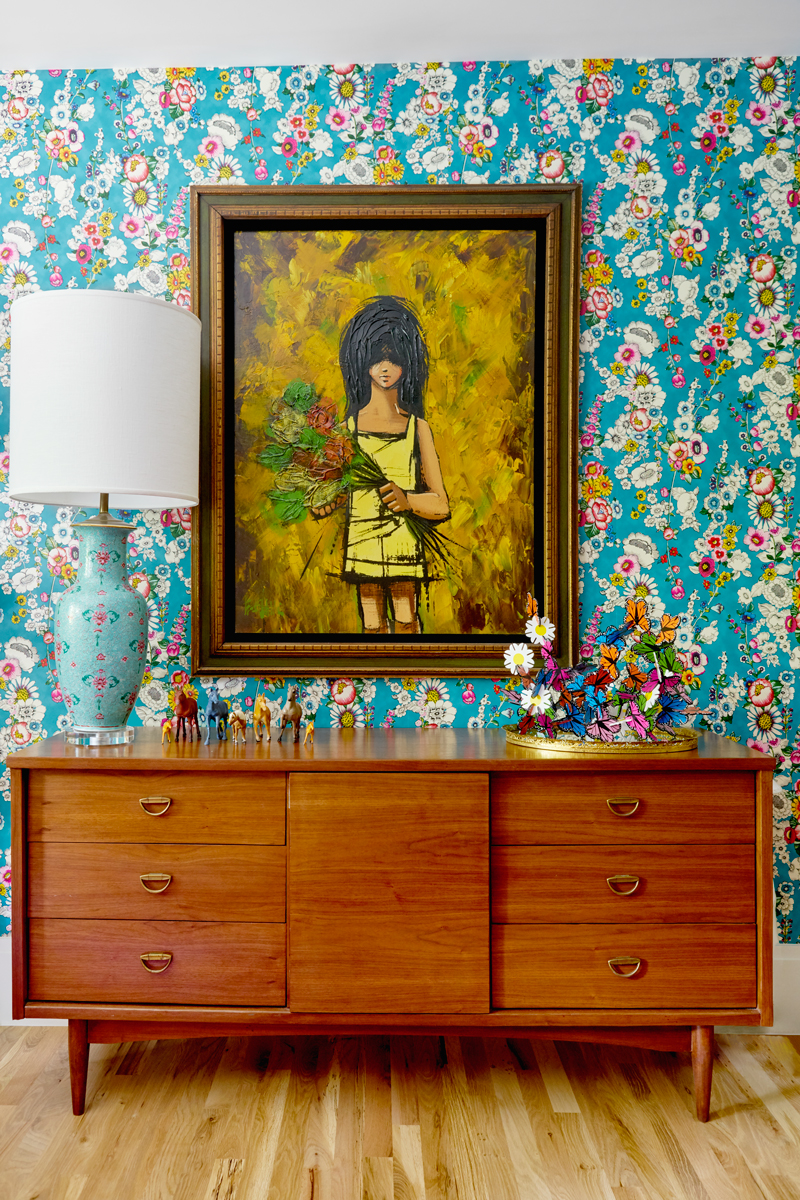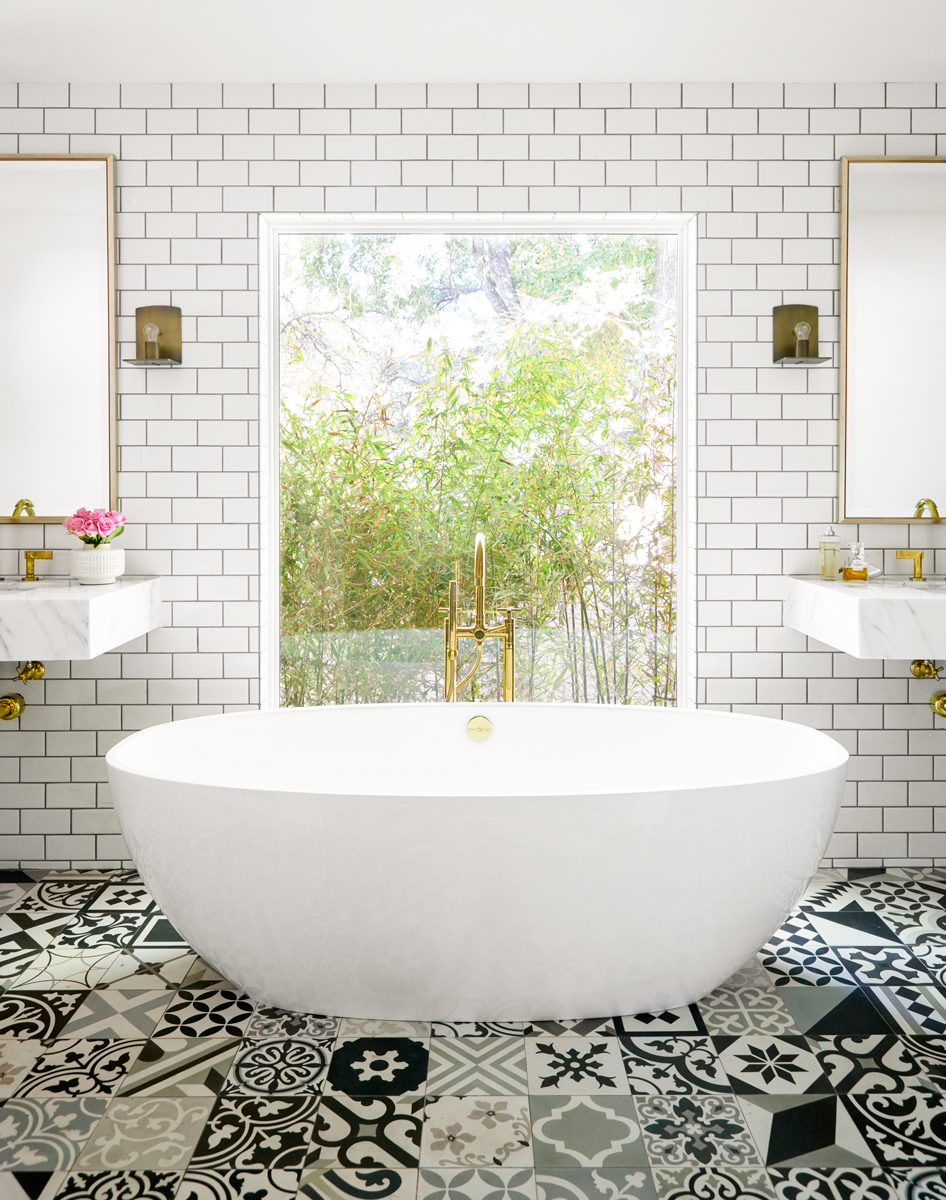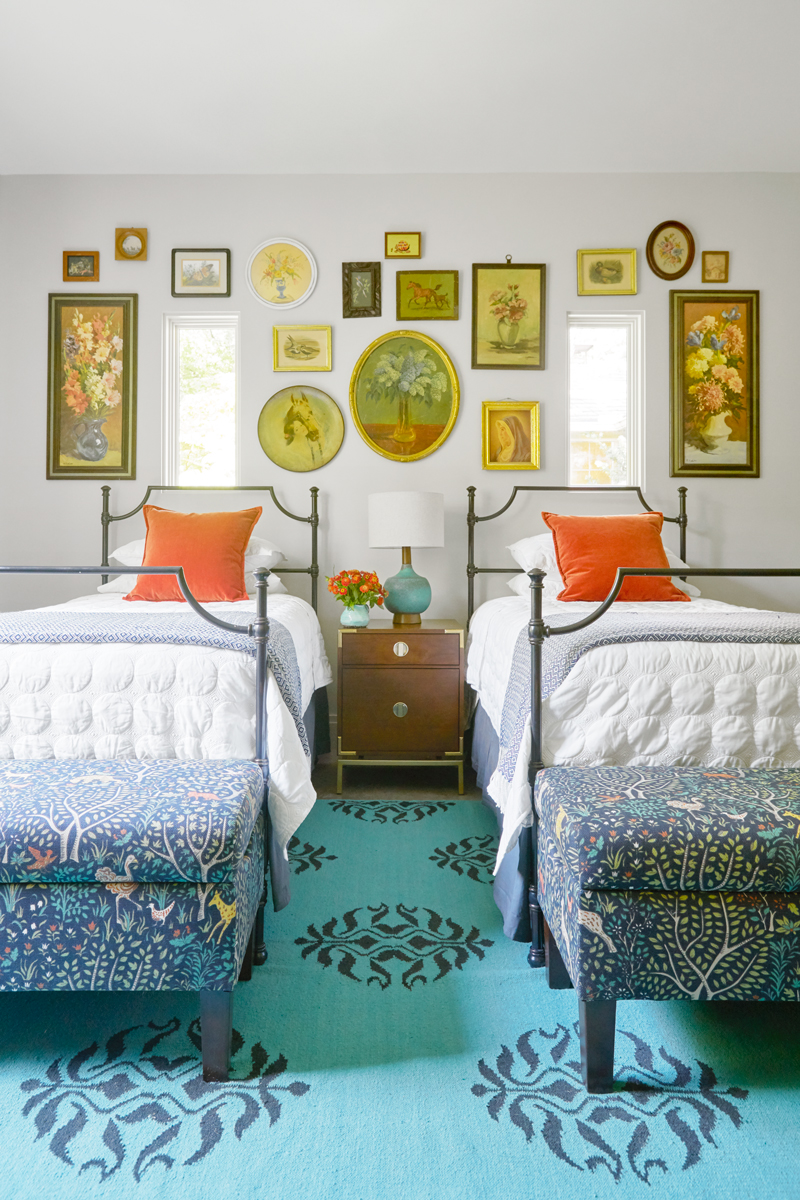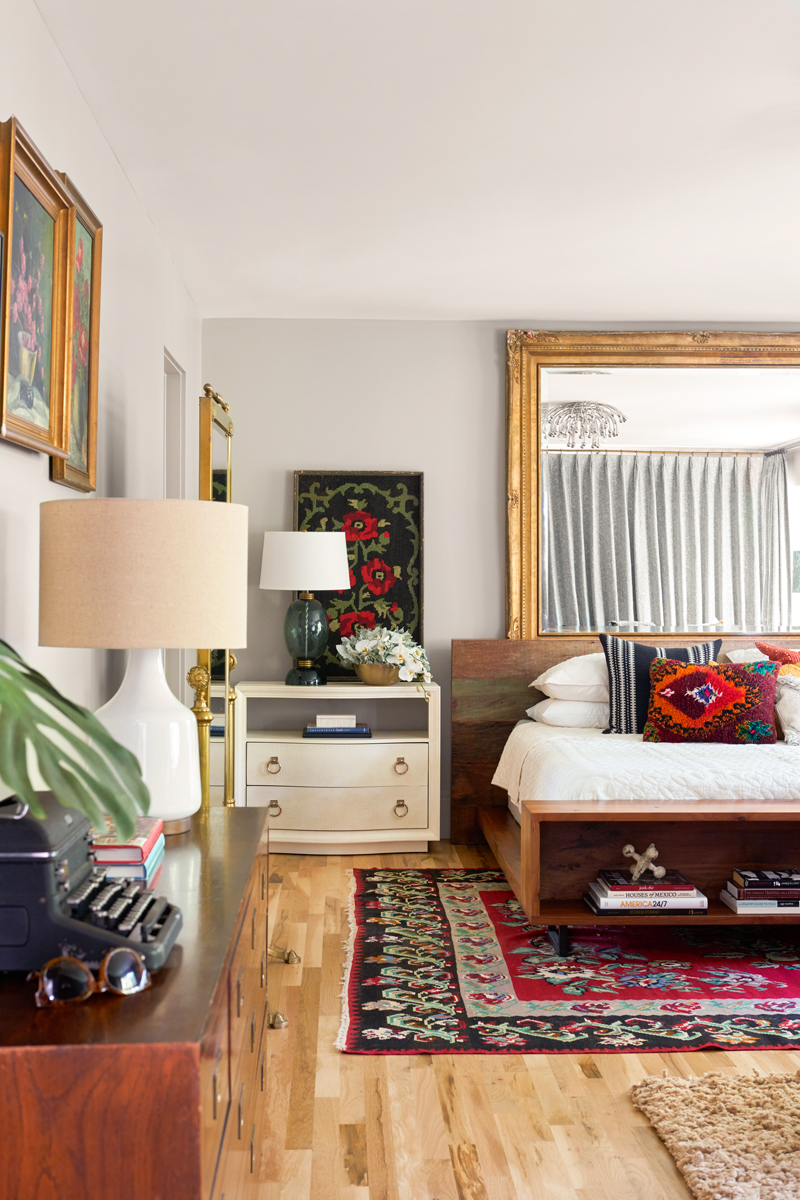 (clockwise, from top left) "I wanted a cool wallpaper [for my daughter's room], and I think we accomplished that," says Marie. Mosaic tile from Ann Sacks decorates the master bath floor. For the guest room, Marie found the beds and chose bedding from Target and West Elm. The rug was purchased on Overstock.com. Marie fell in love with a huge gilt mirror, which Cobb used as a headboard in the master bedroom. "It set the tone to create the most glamorous French parlor-style bedroom," says Cobb.
Interior designer Brittany Cobb was hesitant to sign on for different reasons. Having turned her attention away from designing to focus her efforts on Flea Style, the biannual marketplace she founded in 2009, she had her hands sufficiently full. Still, she listened when her friends Dorsey and Bielawski came calling. "Chad said, 'You and Marie are soul sisters. There's just really no other designer who could work with her and achieve what she wants. So you can't say no,'" Cobb laughs. "I was preparing myself to say no—and then I met Marie, and I fell in love."
Marie agrees: "Brittany and I got along so well. She let me speak to who I was. She wasn't putting her name on it; she was letting me put my name on it."
The pair worked hand in hand, scoring finds at local vintage outposts including Lula B's, Scout Design Studio, Lucas Street Antiques and Art Gallery, and Area 25. Marie was different than any client Cobb had worked with before, finding treasures in pieces others would consider trash and approaching rooms with a focus on unusual, personalized details.
"Typically, I space plan and select big items and build a room off of that. With Marie it was the opposite. She wanted to go get 100 vintage oil paintings and a funky textile and build a room off that," Cobb says. "I never knew what I was getting into each day. It was truly an adventure."
A tour through the finished home elicits a similar sense of surprise. Perhaps no room better illustrates this than the dining room: a dark, cozy space punctuated by an enormous photograph of a horse with a juggling dog on its back. It's lighthearted details like this that make the finished product so perfectly suited to Marie and her family.
"I just wanted the house to be fun," she says. "I don't take life too seriously, and I didn't want my house to either."
Get the AtHome Newsletter
Enjoy Dallas' best trends, hot properties, and tips from local designers to help you nest in style delivered weekly.