In home design as in life, start the day with a great breakfast—in a great breakfast nook. That became the mantra for Dan and Charlie Kuzmic, whose journey to a total redo of their Highland Park home began with a simple seating vignette in the kitchen.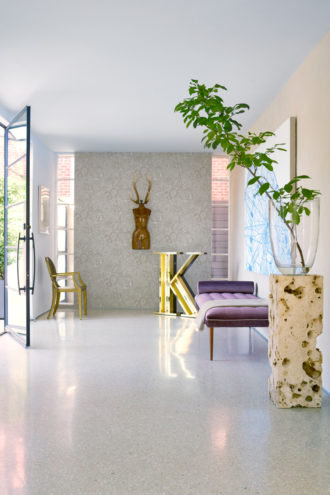 Starting it all was the turnkey-designed breakfast room that Dan gifted his wife for her birthday. He tapped Susan Bednar Long, who, like the Kuzmics, had recently moved to Dallas. Her husband worked with Dan and the couples had traveled to some of the same places. They loved the result—playfully sophisticated and modern—especially the vintage dome chairs covered in a Perennials outdoor velvet in peacock blue, one of Charlie's two favorite colors (the other is emerald green). "I'm obsessed with chairs," Charlie fesses. "I'd seen these dome chairs in France, and I wanted to have them made." Like a good breakfast, the effects lasted well beyond the starter room. "We quickly realized it was the nicest part of our house," recalls Dan. "We thought, 'What if the whole house could look like that?'"
It's a command center for entertaining. Charlie's been to bartending school and is a great mixologist.

Susan Bednar Long
Nine months later, Long had transformed the Kuzmics' modern-but-austere house into a bright, welcoming space perfect for their twin passions of entertaining and art. Her process involved an extensive debriefing and questioning of her clients' dreams and tastes. "I came back with a full design," she says. "Every piece was carefully thought out." When all the furnishings had arrived and were ready to install, the Kuzmics vacated the house and Long "revealed" the project upon their return. And for the first time in the 23-year marriage, the couple—whose life journey had taken them from Oklahoma, Boston, and Chicago to New York, Paris, and Amsterdam—finally had a real home.
"We had nice things, but never had a lot of space," says Dan. The couple took some favorites, including a pair of vintage cream Barcelona chairs, with them to their various addresses, along with their growing art collection. "We started collecting art because it's pretty mobile. There were always walls wherever we were," he says. Once they got to Dallas, they were ready to expand their furniture, and Long went on the hunt, filling the house with a range of custom, vintage, and modern pieces from Dallas and beyond: a Holly Hunt mohair sofa, Donghia wing chair, Milo Baughman etageres, Fornasetti wallpaper, Jan Pauwels chandelier, and more. 
When the Kuzmics moved to Dallas in 2012, most recently from Amsterdam, they knew that as happy as they were to be back home, they didn't want to abandon what they had loved about their previous addresses—a sense of proportion and a comfort with urban density.
"We wanted the feel of New York and Amsterdam that wouldn't look out of place in Texas. We're used to making eye contact and waving," Dan says. "We also wanted to walk to get a coffee,'' Charlie chimes in. "That was a little trickier, but we're close to Highland Park Village so we do walk a lot."
During the consultations with Long, the couple expressed a shared vision with some differing tastes. Dan the management consultant is drawn to architecture—lines, planes, angles. Charlie the art lover and Dallas Museum of Art docent loves animals and whimsy. "He likes 'Red Caboose.' I like 'Deer on Wheels.'" The former, by William Steiger, hangs on an adjacent wall near the latter, by Anke Schofield, on large gallery walls in the living room.
When it came to pulling it all together, the couple credits the cohesion to their designer. "She had a vision," Charlie says.
Long delivered a color palette of gray tones with Charlie's favorite greens and blue-greens, as well as berry shades to complement the warmth she brought to floors and walls. Custom treatments feature throughout, including a wet bar in the media room that was created by removing a partition wall. The bar is made of walnut with a Calcutta Gold marble top, smoked glass shelves illuminated with LED lighting, and brass string lights. "It's a command center for entertaining," Long says. "Charlie's been to bartending school and is a great mixologist. This showcases the barware and is really fun for them." The Kuzmics have guests over frequently for work and play, and with Long's statement bar inside and an entry courtyard accessible by two sets of glass doors, they have a house that works for their entertaining style.
At about 5,000 square feet, it's just right for them: big enough to throw a party for 100 or a game night for 30, with wall space for Dan's buildings and Charlie's animals, but not so much that it feels cavernous.
"We use every room every day," Charlie says.
We started collecting art because it's pretty mobile. There were always walls wherever we were.

Dan Kuzmic
Of course, what successful home design project would be complete without the inevitable stories? She can laugh about it now, but Long recalls the frustration of shipping the neon lit "K" from Portugal that commands the front entry. "It took three tries to get it right." And then there was the Blink standing bar cabinet from Shanghai. Long had to arrange for the shipping herself. "If I ever see another one like it in another home, I'm going to have lots of stories to exchange about how they got it here!" she says.
One of Dan's initial hesitations was the drapery in his favorite room, the living room. He didn't want drapery that would close and cover the floor-to-ceiling windows. Long brought in gray wool sateen fixed panels that merely frame, not cover, the windows. The effect softens the room. Dan initially questioned but then deferred to Long's expertise. "The difference a talented designer makes was my 'aha moment,'" Dan says. "You can go to B&B Italia and say, 'Give me a room,' and you'll get a great room, but not necessarily one that flows into the entry, that flows into the dining room, and so on. We took Sue's first storyboard and requested changes. She came with other options and explained to us why she had made the suggestions she did in the first place, and then we ended up accepting every single proposal."
Whether enjoying a cup of coffee in their light-filled living room or starting the day in their killer kitchen, it's clear that Charlie and Dan are off to a great start in this latest chapter of their lives. They are grateful to be back home and to have worked with a great designer who knows the true meaning of a power breakfast.
Get the AtHome Newsletter
Enjoy Dallas' best trends, hot properties, and tips from local designers to help you nest in style delivered weekly.