The aphorism about walls closing in on you became all too real for Robin McMonigle. 
With two teenage boys clearing 6 feet and two growing girls, her Georgian colonial and its respective small-scale proportions had family togetherness taking on a cramped context.
Robin knew it was time to move on. Initially, she thought she'd build—even bought a lot in Highland Park, only to realize she couldn't get a big enough house on it. She ended up selling and began searching for homes in University Park, which would afford her more land for the dollar than she could fetch in Highland Park.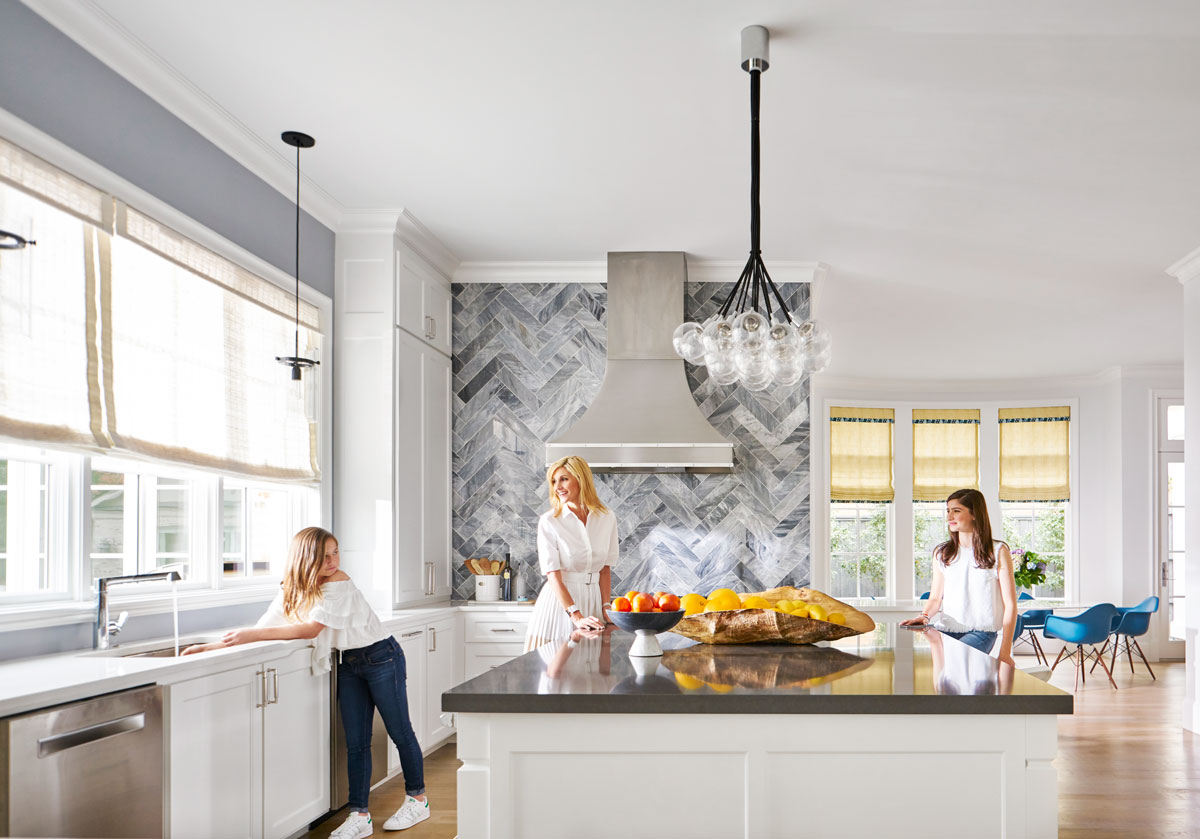 She envisioned an open floor plan, high ceilings, and a good flow—something easy to spot for the Realtor who regularly scouts the city's inventory. In her next home she desired something in clashing contrast to her plates-on-the-wall traditional. 

She found it in a new build by Mark Danuser, owner of Tatum Brown Custom Homes. "This is my house," she remembers thinking, smitten with its brick-slurry exterior, light-filled open-concept design, and six sizable bedrooms. Extra powder baths, large closets, and a huge laundry room sweetened the proposition.
"We stripped away the ornamentation, keeping the arches clean and the family room beams a little moreꃞlicate than usual." 
Mark Danuser, Builder "Being in real estate, you can see that look with buyers. You take them in, and tell them to play it cool, that we're negotiating," she says. "Even I couldn't play it cool."  
Without hesitation, she put the home under contract in February 2015, while the house was still under construction and many of the finishes under wraps. "I can't believe you're buying this house when all the counters are covered up," her mother remarked. Robin allayed her mom saying, "Yea, but I've been through Mark's houses—I've shown them or sold them—and I know what they've picked out is perfect."
She credits Mark and architect Christy Blumenfeld for creating her dream home. "It was exactly what I would design," Robin says of the 9,000-square-foot residence. "I was a little worried about doing something too contemporary or too trendy—I wanted something timeless." The architect hit the mark with her contemporary ode to A. Hays Town.
"We stripped away the ornamentation, keeping the arches clean and the family room beams a little more delicate than usual," Mark says. According to him, the house was designed for entertaining, which is ideal for Robin's large family.
"The architect designed a little living area in the kitchen—where the girls eat and watch their reality TV," Robin says. The boys prefer hanging out in the screened-in porch or in the upstairs media room. "There are enough places for everyone to spread out."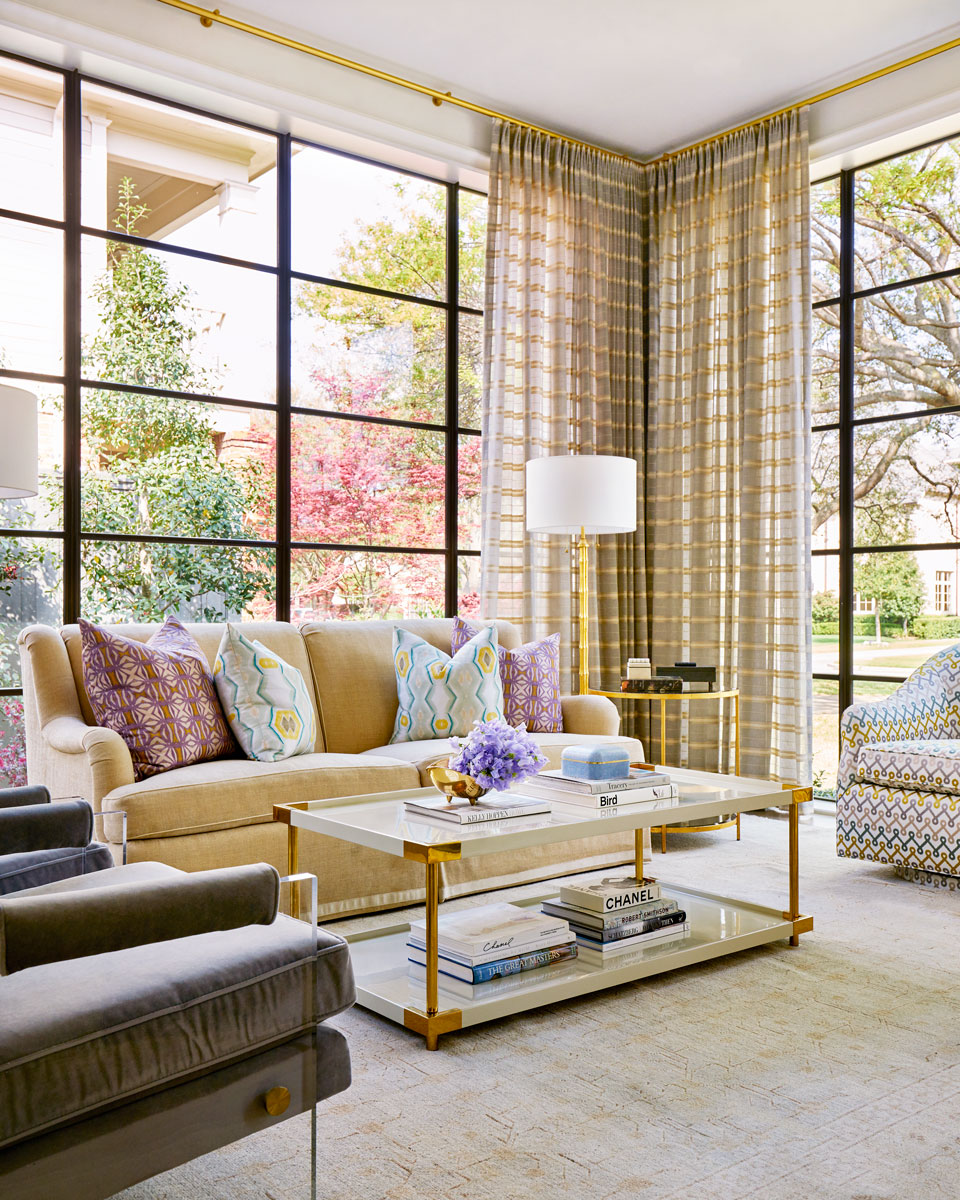 Robin came in just in time to put her imprint on her new home, changing out a few light fixtures and selecting the paint color, Sherwin-Williams' Site White, a blue-gray white used throughout the home. She chose a gray wash for the hardwoods, inspired by the floors in the Bellaire home of her interior designer friend Kelly Nutt. As practicality goes, the shade wins for its ability to stand up to her active kids and their friends.

"I really wanted it to be light, bright, and happy," she says. Growing up in San Marino and years spent living in Newport Beach, Robin wished to infuse some sunny SoCal into her next home. Her first housewarming purchase was a pair of palm-tree prints by local photographer Steve Wrubel. "I was so happy when those were hung," she says.

A bank of arched windows spanning the full length of the living space drench the home in natural light and take full advantage of the backyard view, with its rectangular lap pool, easy-care turf, and one-bedroom casita—features not included in the original plans. 
"My friends come over and say, 'I want to go down to the glass room.'"
Robin McMonigle To achieve the vibe she was after, Robin enlisted Morgan Farrow of Morgan Farrow Interiors, who has designed the interiors for several Tatum Brown projects. The designer started with the rugs, working in a palette of lavenders, pinks, and blues. According to Morgan, the most pivotal piece in the home was the rug in the family room. It would tell the story for the entire house. When she spied the lavender Oushak rug in the Interior Resources showroom, she knew it was the one. She selected tan linen Restoration Hardware sofas covered in indoor-outdoor fabric for the room. 
The home's 10-foot-wide hallways and grander proportions meant major housecleaning for Robin, which meant selling furniture that just wouldn't transition and starting over. Morgan was able to repurpose a rug in the steel-and-glass sitting room. She also made use of Robin's vintage lamps and had a loveseat reupholstered in blue mohair and piped in contrasting white. It now resides in the entry or "the lobby," as it's dubbed. The designer filled the home with a mix of new furniture and vintage pieces.
Morgan admits to initially struggling with the scale. "Her boys are big boys; she's a tall woman; her parents are tall," she says. For the breakfast area, the designer auditioned several chairs for fit, ultimately settling on Eames Molded Plastic Chairs to surround the oval Saarinen Table. 
"It was just enough hands on and just enough hands off," Morgan says of working with Robin. A self-described quick decision maker, she made for a model client. So easy in fact, the pair settled on the dining-room table over text messages. 
The sunroom dazzles as the home's featured attraction and stars as the homeowner's favorite room. "This room is the perfect little size to come in and have a cocktail," says the homeowner. The space lives up to its purpose: "My friends come over and say, 'I want to go down to the glass room.'"
Robin beams as she relates how perfectly her new sanctuary fits her family. Curled up on the sofa of her glass room, it's clear she's finally found her light and bright happy place. 
Get our weekly recap
Brings new meaning to the phrase Sunday Funday. No spam, ever.