Meredith Steinhart is a busy designer, wife, and mother with two children and a new puppy.
"I tried to keep it young and urban inspired."
Meredith Steinhart, Homeowner and Designer Yet none of the traditional assumptions about a house for a family
applies in this pristine classic colonial revival home in Preston Hollow. She's boldly chosen white as the dominant color without getting nonplussed about dirt and fingerprints. She bravely installed a glass-front refrigerator in the kitchen; her family's healthy diet depends on fresh food instead of clutter-inducing jars and containers. The puppy has her own digs, shower included. Even the garage defies grime with its clean-lined organization system and epoxy-finished floor finish.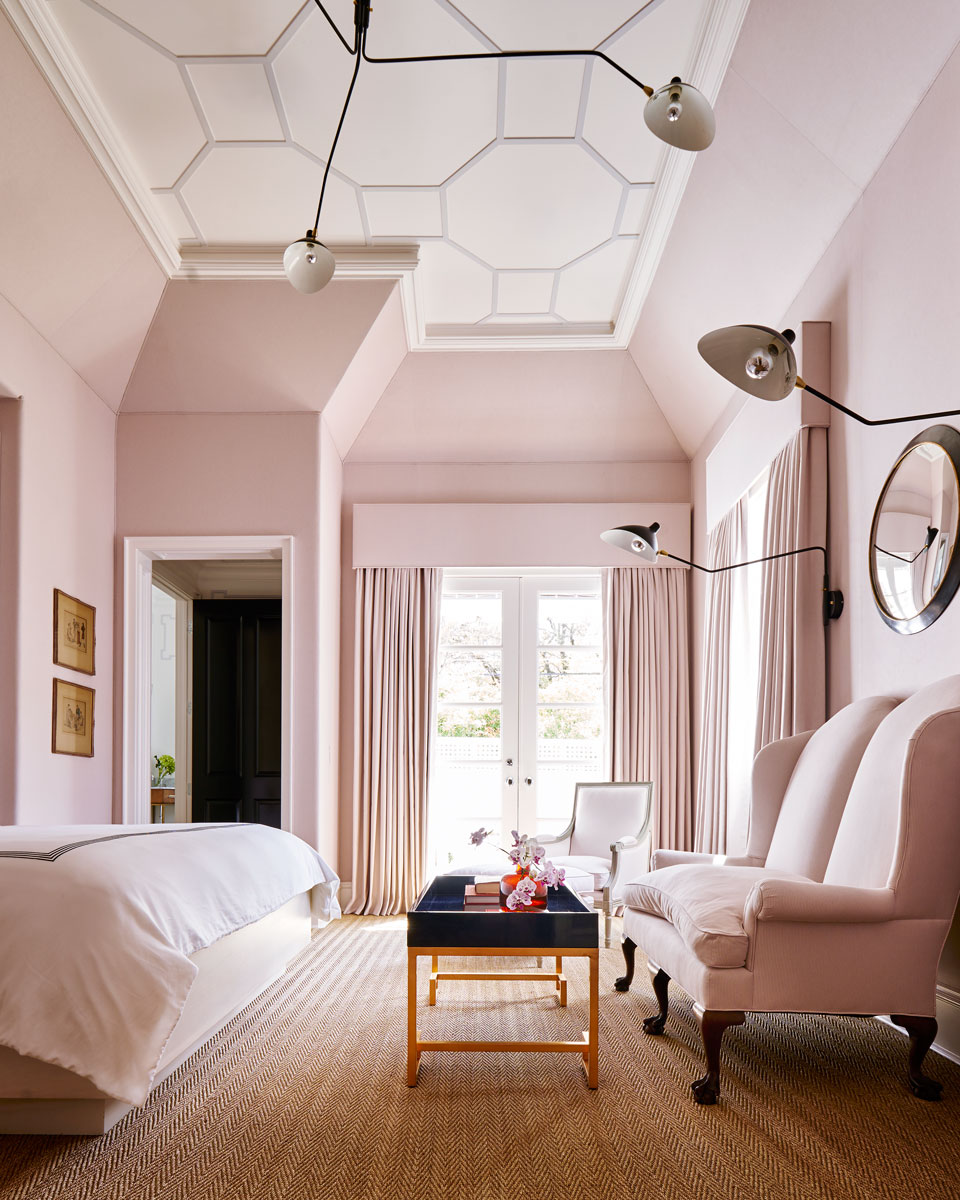 In spite of this modern, stylish elegance, nothing about the house is hands-off to the family who lives there and the visitors awed by its splendor. Meredith Steinhart, owner of an eponymous interior design firm, is an El Paso native who studied abroad in London, interned in San Francisco, and has lived in New York and Houston; she enjoys it when people describe her home as more like a European townhome than a suburban family house. "I'm a complete Anglophile," she confesses while standing in her family room with 10-foot black-lacquered doors outfitted with chrome cremone bolts. On the walls is "Nuvolette," a cloud-print wallpaper by Fornasetti for Cole & Son. "It felt cozier," Meredith says. "I love white, but I thought white walls were too sterile." Mitchell Gold + Bob Williams custom sofas face each other across a table by Alberto Greca of AG Designs. A vintage Baker console commands a wall as yet adorned by art. "I don't like to furnish a room all at once. I want to make sure it's the right thing. I like it to last for a while." 

Meredith and her husband, Barry, who works in finance, built their home on the site of a ranch house and moved in about a year and a half ago. The couple had moved to Dallas from New York nine years earlier into a spec house just two blocks away. This time, they wanted to do the house their way. The designer describes the result as "classic with a modern influence. I tried to keep it young and urban inspired." At 4,000-plus square feet, the house is smaller than the one the family left, but it feels right for them. Meredith acknowledges that her next dream home is a high-rise, but for now, she's more than pleased with the results of this one. 
"I don't like to furnish a room all at once. I want to make sure it's the right thing."
Meredith Steinhart, Homeowner and Designer It's a house that lives comfortably in the present while appreciating the past. In the foyer, the custom black and white geometric grid marble floor echoes colonial style with a current twist. A chalkboard mural by Caleb Jacks recalls the famous Zuber & Cie panoramic wallpaper in the John F. Kennedy Presidential Library and Museum. An antique table imported from Paris with a hydrangea-filled modern vase on top finishes the room. "I love having one strong antique in a super minimalist room," Meredith says. 
In the master bedroom, lavender and white ticking fabric softly covers the walls, shams, drapery, and furnishings. The effect is intimate, not overscaled. "I don't like big rooms. Rather, I like rooms that feel spacious. I do like to feel comfortable in a room, to feel it surround me," Meredith says. A vintage gold-leaf chandelier in the master bath provides the old-new contrast, while decorative molding continues the geometric theme.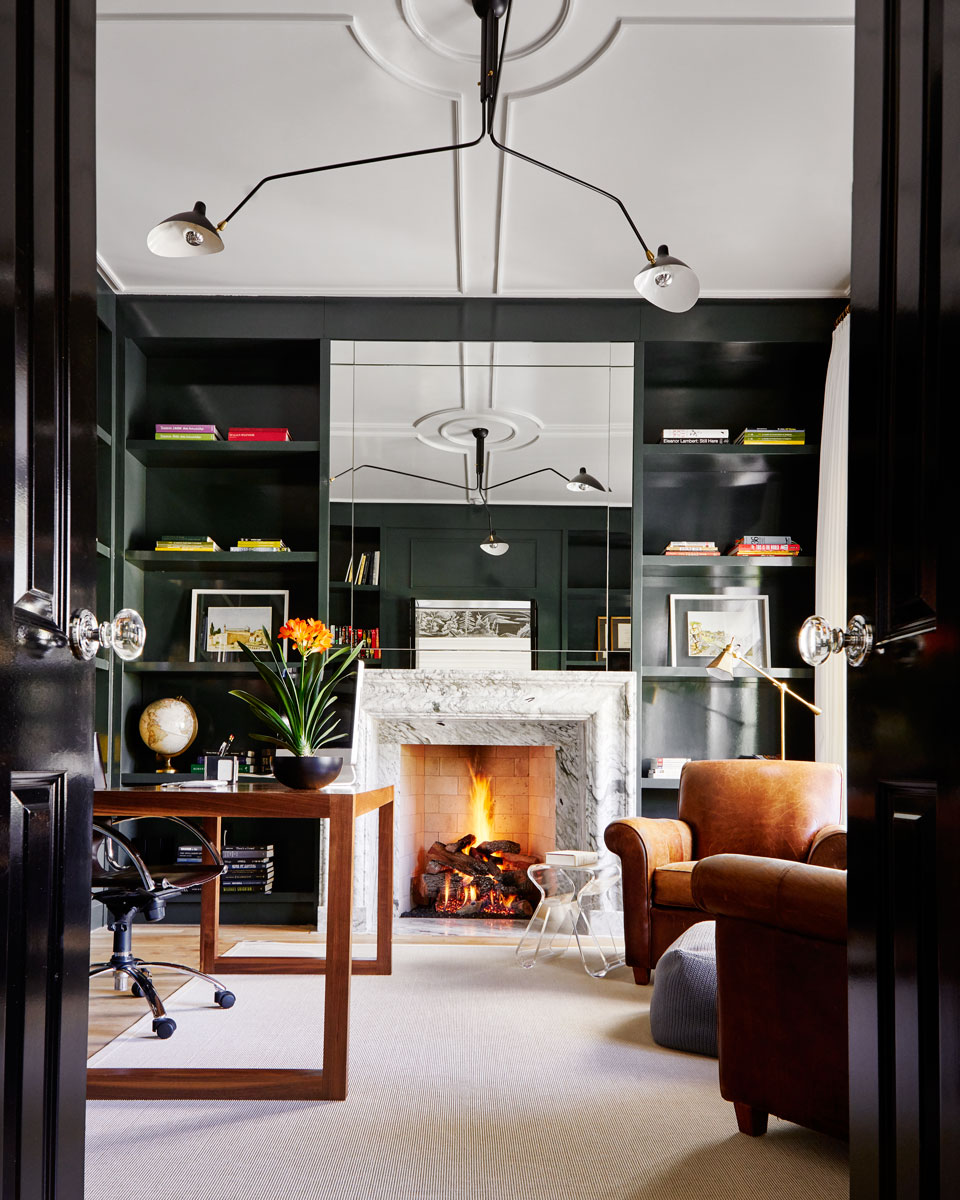 An upstairs children's sitting area provides plenty of room for puzzles, projects, and reading. A custom circular bookcase surrounds the upstairs window. Kids' bedrooms are painted in Farrow & Ball's Ballroom Blue for the daughter and Pitch Blue for the son. Custom-painted vintage chests flank the antique bed in the daughter's room, also accented with paper butterflies from Coronado Island, while high-gloss bright orange beds make a statement in the son's room. 

Clearly, this is not a house that relegates refined style to showpiece rooms. It is a home where well thought-out spaces enhance family life and where a talented designer mom can channel her inner Brit. 
Get the AtHome Newsletter
Enjoy Dallas' best trends, hot properties, and tips from local designers to help you nest in style delivered weekly.