Kati and Mark Nunneley didn't necessarily need to move. 
But one day in 2011, they were driving down Caruth, a street they had always loved. "It's so beautiful. I'm from the Midwest, so I'm used to beautiful trees, lakes, and rivers, and we just love the trees on this street," Kati says. They came upon a house under construction by builder Wes McKenzie and walked through it. They were drawn to the layout and thought it might fit the needs of a family with two teenagers better than their current home. They walked through it some more and eventually bought it. 
"We were very cautious, but Wes was great. He told me, 'We're going to have a 10-year relationship,' and any time I have called that man, he has responded. He's been a dear, and he's really worked with us," she says. "This house gave us an opportunity to expand a little bit. It's nice to have extra space for parties. We want our kids at home—we're happy to entertain them and happy to have them home with us."

After working with another designer for a brief period, Kati called on the services of Martensen Jones Interiors. "One of her friends recommended she call me," Lisa Martensen says. "At the time, she had a gold-and-pale-green thing going. It was all builder-grade fixtures. The colors didn't really have a lot of soul." 

Kati says that when Lisa and design partner Jan Jones came over for the initial meeting, she liked them immediately. She liked that the duo asked a ton of questions, and even better, seemed to listen to her answers. "We had a lot of artwork we had bought throughout the years, and we really wanted to work with those pieces. It didn't show well in our last house," Kati says. "Our last house was really monochromatic, so I really wanted color."
"There's not one mistake in my house, and that's pretty unusual." 

rn
Kati Nunneley The designers got it. "She wanted her house to be fun. She's a very happy, kind, open person," Jan says. "The starting point for everything was the paintings."
Take the dining room: The Nunneleys had a green-and-magenta floral painting hanging on the wall, and they used that to devise a palette. They also wanted to add some energy. "They had very traditional furniture. It was a little staid and old-school, and they seemed like such a young and energetic couple," Lisa says. So the designers suggested lacquering and recovering the Chippendale chairs, moving them to the breakfast area, and bringing in different chairs to liven up the space. They also added a vibrant Cole & Sons wallpaper.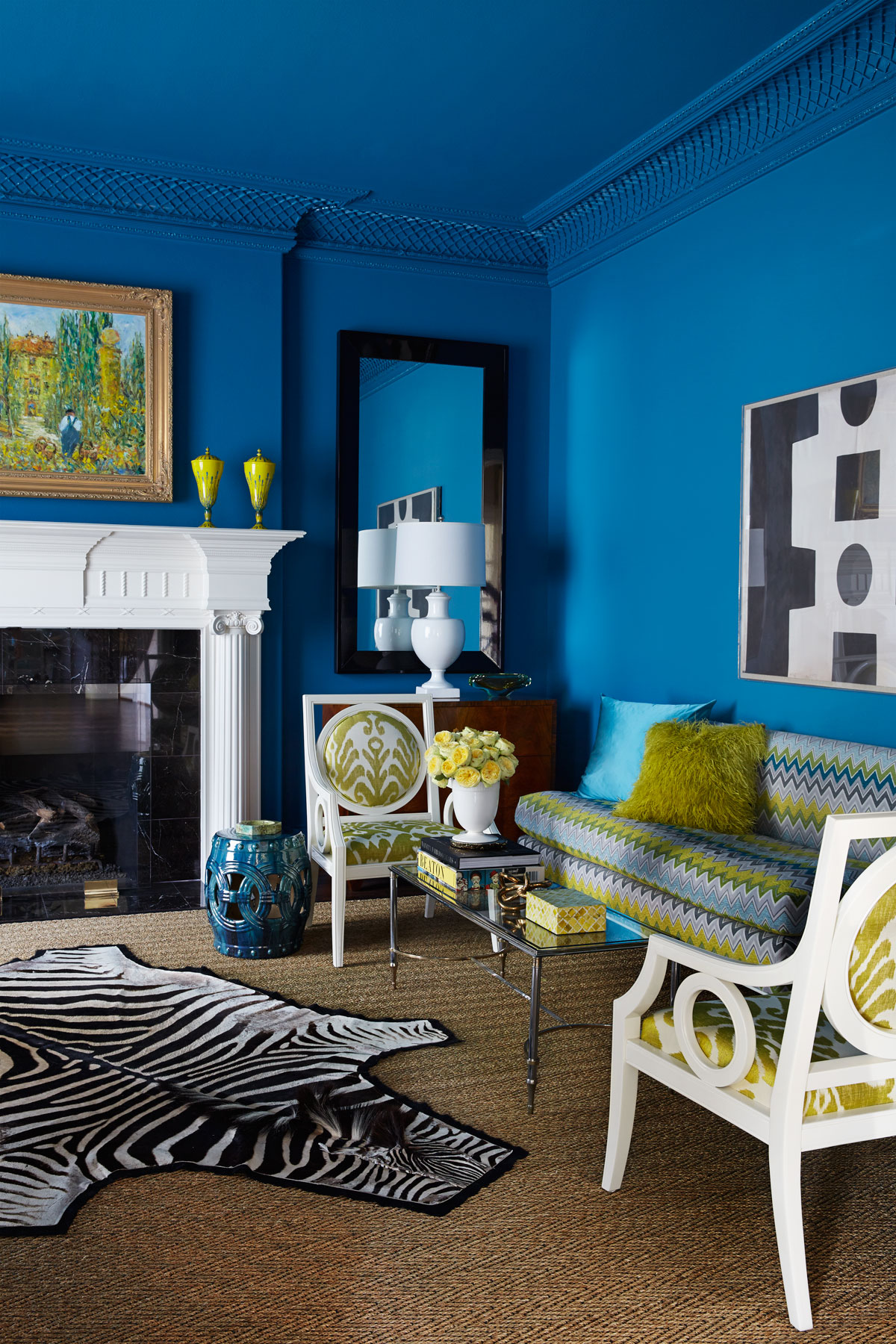 Jan and Lisa looked again to the artwork when it came to the living room. (They zeroed in on a rather vibrant pair of overalls a farmer sports in a painting they chose to hang above the mantel.) "The living room is one of our favorite projects.  We told Kati, 'We're going to do really deep peacock on the walls,'" Lisa says. Kati was not at all fazed. "She trusted us," Jan adds. "She asked, 'When can we do it?'"

During the course of the next two years, the team tackled the house a room at a time. "They understand small details and overall vision for each room and the house. I'm so grateful that we stopped and started. They paid attention to Mark. They were conscientious, and when necessary, they pushed. And when we pushed, they understood that, too," Kati says. "They paint a vision, and you're really riding on that vision with them."
"I like clear colors. I don't like muffled. Jan and Lisa got that. And they educated me. They understand the balance." 
Kati Nunneley The admiration is mutual. "They were the perfect clients, really. They listened to us, and they trusted us, which was so important," Jan says. 
That trust was tested from time to time. For example, when Kati showed Jan and Lisa a photo of a chandelier she really wanted above the breakfast table, the designers were less than enthusiastic. "We said, 'We don't love it,'" Lisa says. So when the designers were in North Carolina at High Point Market, they were on the lookout for something "more Kati," in their words. They found it, texted her a photo, and she immediately wrote back: "You were right. Buy it."
The designers were also mediators. No surprise, Kati wanted color in the master bedroom; husband Mark wanted ivory. "We told her, 'Let Mark have a soothing room,'" Lisa says with a laugh. The designers chose a cool celadon, and then convinced the couple to part with their furniture and floral bedspread and start over. "The furniture just didn't fit the big size of the room. It's a huge room," Jan says. "Every single thing in that room, we did from scratch." They even commissioned the artwork by Carol Benson-Cobb specifically for the room.

The stairwell was the final place to get the Martensen-Jones touch. The designers added the artwork and the black-and-white, Greek-key rug from Stark Carpet. "It really warmed up the stairs a lot," Jan says.

Jan and Lisa are proud of the results—especially as this is one of the more colorful projects in their portfolio. "It's really wonderful and fun. I think it's sometimes good to stretch," Lisa says.

"She really did make us stretch," Jan agrees. "This is not what we normally gravitate to."

As for Kati, she can't say enough about working with Jan and Lisa. "There's not one mistake in my house, and that's pretty unusual," she says. "I love it, and I thank them all the time."
Get the AtHome Newsletter
Enjoy Dallas' best trends, hot properties, and tips from local designers to help you nest in style delivered weekly.