Neal Stewart isn't someone who's fearful of change. The last time the noted Dallas designer and his longtime partner, Alan Carrell, were featured in the pages of D Home ("On the Move," Sept./Oct. 2009), they were living in their fifth unit at Turtle Creek's tony Vendome tower—their first four units having served as unofficial models that wooed potential buyers a little too well. The couple split their time evenly between there and Honolulu, where they'd also hopscotched from home to home (eight times in as many years, to be exact). So it may come as no shock that they've relocated in both cities since the publication of that piece six years ago. What is somewhat surprising is that they've stayed put for longer than a calendar year. 

Two years ago, after nearly a decade at the Vendome, Neal and Alan purchased a unit in The House, the Victory Park high-rise designed by Philippe Starck. "I've been a fan of Philippe Starck for forever," says Alan, who formerly owned a furniture boutique in Hawaii and now works for Dallas-based Grazzini Furniture. "Just to get to be in this building—it's a treat." Living there has its privileges, too: The building boasts a luxe pool deck, an expansive outdoor terrace, a swanky lounge, and a 24/7 concierge. "It's like checking into a resort," Neal says. "It doesn't have the typical Dallas high-rise vibe."
"I've been a fan of Philippe Starck for forever. Just to get to be in this building—it's a treat." 

rn
Alan Carrell Their one bedroom, one-and-a-half bath unit has everything the couple needs in an efficient 1,617 square feet. There's a cozy nook for lounging that's tucked away from view. The master is sizable enough for their bed, crafted by Art of Old India's Pankaj Dalal, to float in the center of the room. The open kitchen and living area work perfectly for entertaining, thanks to Alan's Starck-ian solution of installing a curtain between the spaces that can be drawn to hide any cooking messes. 
The decor of their homes has shifted between traditional and contemporary over the years, and this home is a blend of both. Pieces cleverly pull double duty to make the most of the space, like the Dutch desk that functions as a dining table and the bookcase that houses barware. Four oversized armless chairs upholstered by friend George Cameron Nash provide the bulk of the seating in the living area. Though they look brand new, they've actually endured years of ocean air at Neal and Alan's Hawaii homes, where they maintain an open-door policy. "It's a testament to George's upholstery," Alan says.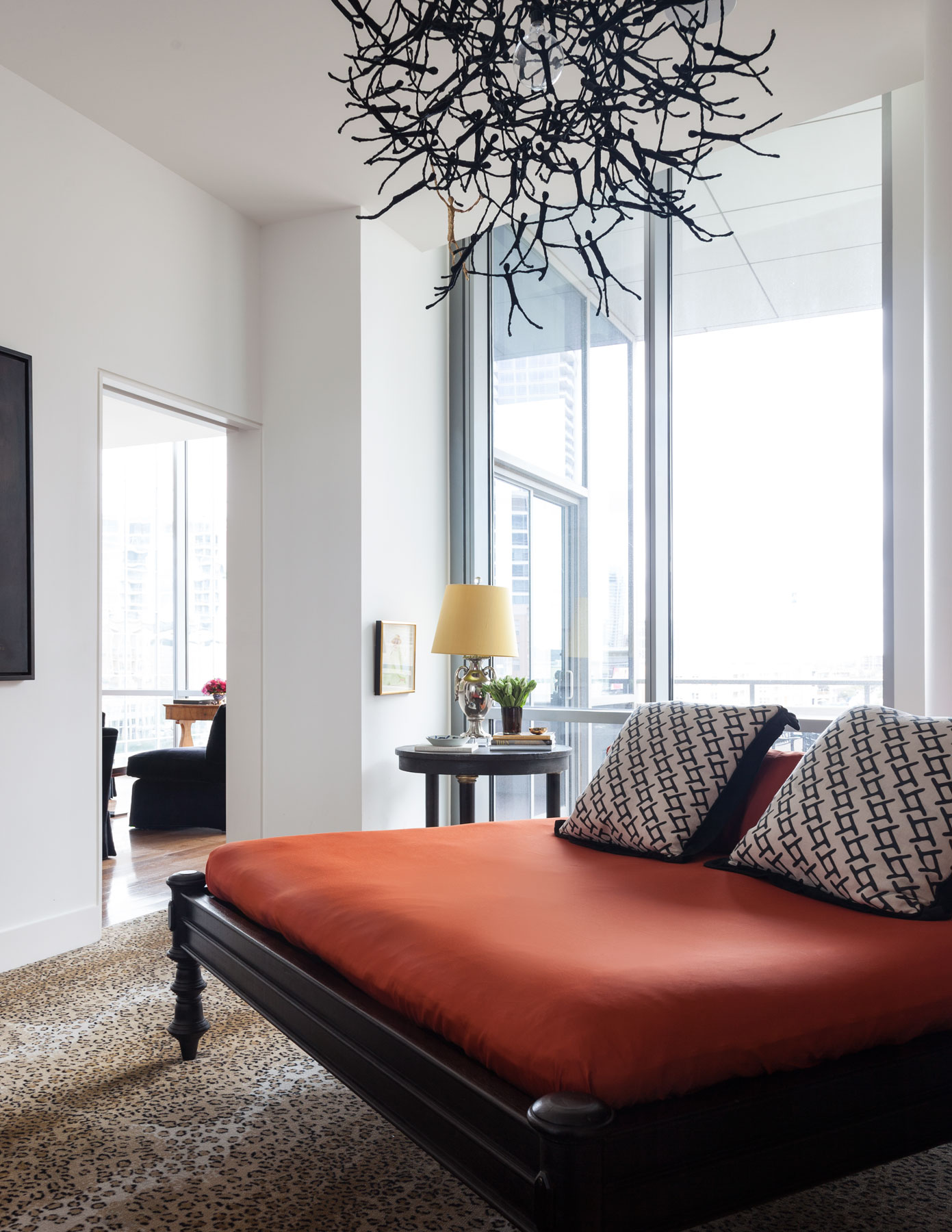 The couple has amassed a stunning and varied collection of art through the years from both faraway trips and local galleries that is displayed throughout the home. But it's hard to compete with the views of Victory Park provided by the floor-to-ceiling windows that run the length of the unit. Their urban neighborhood is a far cry from the stately, sedate surroundings of Turtle Creek, but the new environs have suited the couple perfectly. Alan takes their pair of Lhasa Apsos, Lu Lu and Co Co, on daily walks around the American Airlines Center or to Klyde Warren Park. They're just steps from restaurants, shopping, and entertainment, and even Neal's office in the Design District is within walking distance. (His fondness for cars, though, and an ever-changing work schedule prevent him from actually making the trek on foot. "But I could," he laughs.)
"It's like checking into a resort. It doesn't have the typical Dallas high-rise vibe." 
Neal Stewart And whenever they're craving a respite from the city, Neal and Alan can venture to their chicly outfitted condominium in Hawaii, which they purchased from East & Orient's Betty Gertz. More frequently, they head to a house on the Brazos River they inherited from Neal's family. "When we're in town, we're slammed," Neal says. "That's one reason it's nice to be able to get away and recharge. We're very lucky."
With more and more of their friends flocking to downtown, Alan jokes that Neal is the primary draw. "Neal's a trendsetter," he says with a smile. "People tend to follow him." 
And if that magnetism drew people right to their very unit, would Neal consider selling? "In a minute," he says. Alan, however, is a bit more hesitant. "I like this unit," he says. "I've kind of bonded with it." 
But whether they move on to the next home or continue to plant roots in one place—a departure in itself for this kinetic couple—they'll take what comes in stride. "It's change," Neal says. "Change is good."
Get the AtHome Newsletter
Enjoy Dallas' best trends, hot properties, and tips from local designers to help you nest in style delivered weekly.