Richards No Stretch! Hangers
Price
$9.99 for set of 8 at The Container Store 
Description
This ultra-thin model boasts that it's "the only hanger you'll ever need," with hooks for straps, rubbery grips on the shoulders and trouser bar, an accessory compartment, and a t-shirt slot to prevent neck stretch. 
Test Results
This hanger hit all the marks. The rubber grips held on to just about anything we put on it, and the hooks made even strappy dresses a cinch. Along with the Huggable Hangers, this was the thinnest option we tested, making the most of your closet space. The curved shape prevents hanger bumps and the ABS plastic is durable yet flexible. Though the slot for pants is narrow and the hook doesn't turn, those minor complaints are far outweighed by the functionality and affordability of this hanger. 
Verdict
Versatile, cost-conscious, and high performing, this one hung the competition out to dry.

Huggable Hangers
Price
$8.99 for set of 10 at Target
Description
 A favorite among D Home staffers, this ultra-thin, flocked hanger promises space-saving benefits as well as slippage protection. At about $0.90 each, they're a veritable bargain.
Test Results
This hanger held on to a variety of clothing articles and fabrics—even off-the-shoulder-style tops mostly stayed put thanks to the velvety texture and the generous, 17.5-inch shoulder-to-shoulder span. With rigorous shaking, some silky tops came loose, and the lack of notches made pieces with hanger straps tougher to handle. On the plus side, its thinness is good for crowded closets, and the sloped shape prevents bumps from forming. 
Verdict
A great all-around hanger that is both space and cost efficient. 

Grippy Hanger with Trouser Bar 
Price
$9.99 for set of 3 at
The Container Store
Description
Made from chrome-plated steel and wrapped with foam cushioning for grip, these hangers are quite heavy and thick. There's a break in the frame, and the hook does not twist. 
Test Results
The thick padding helps to fight hanger bumps and does a decent job of gripping, but thin straps and wide-necked shirts tended to dislodge easily because of the shorter length and the break in the frame. That gap, however, does make slipping trousers in and out considerably easier. The hanger is about three times as thick as (and triple the price of) Huggable or Richards hangers, so they'll fill up a closet faster, but they feel virtually indestructible.
Verdict
Good for pants—and people who are hard on their hangers. 

Bumerang Curved Clothes Hanger
Price
$4.99 for set of 8 at Ikea
Description
Made of solid eucalyptus wood, these are the same thickness as the Grippy Hanger but considerably lighter in weight. They are lightly sanded and painted but feature no grip. They were the lowest price, at $0.62 apiece.
Test Results
You'll be hard-pressed to find a better deal on wood hangers, which are a favorite among clothes hounds for the shape- and weight-support they offer. But with no grip to speak of, every strappy, silky, or scoop-neck item we draped on its frame slid off with even the slightest jostling. 
Verdict
Strong but slippery.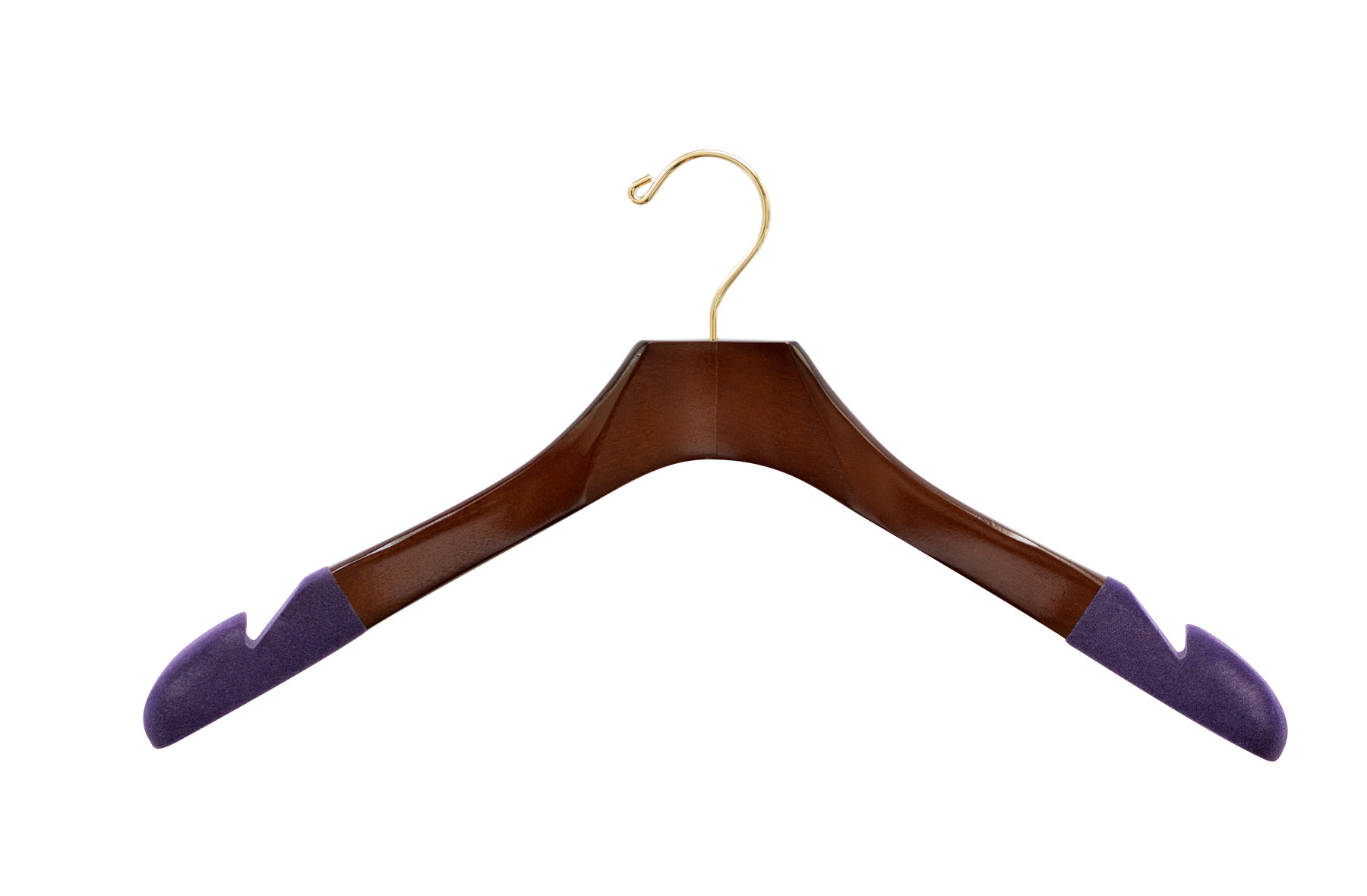 Blouse, Sweater, and Dress Hanger (Profile B)
Price
$18.00 each at TheHangerProject.com
Description
This hanger features a 1.15-inch shoulder flare with felting and notches to keep clothes in place. It can be ordered with a felted trouser bar, clips for skirts/shorts, or sans hardware. Five times as expensive as the next priciest hanger we tested.
Test Results
Dallas-based online retailer The Hanger Project has luxury hangers for men and women in a variety of profiles and functions. The quality of the construction is undeniably impeccable. The notched, felted shoulders held on to tricky garments. The thick wood promises to support the heaviest of clothes without stretching fabric (though each takes up quite a bit of space on the clothes rack). But at nearly $20 a pop plus shipping, outfitting your entire closet would cost you a pretty penny.
Verdict
A bit excessive for everyday use, but worth the splurge for your fanciest duds. 
Get the AtHome Newsletter
Enjoy Dallas' best trends, hot properties, and tips from local designers to help you nest in style delivered weekly.