David Rolston's favorite part of his Lakewood home is what's behind it.
As an accomplished landscape architect, he views his prized backyard as a testing ground for new plants, a portfolio for wooing clients, and a lush retreat. Pressed to choose a favorite feature of the structure itself, he picks those that highlight the half-acre of greenery he so lovingly tends to: the screened-in porch that's enveloped by Lady Banks rose, evergreen wisteria, star jasmine, and porcelain vine, and the large windows throughout the house that frame the garden, displaying it like a living, changing work of art. "You can lay in bed and decide not to get up because the view out the window is so beautiful, you figure you're doing a disservice by even leaving it," he says.
For wife Julie Cohn, it's all about the interiors. That's where Julie, an artist whose work has spanned 30 years and almost as many mediums, can display her various pieces, along with the collected works of friends and other admired artists. Having always been the yin to her husband's yang—she laughs while recalling an argument they had within 15 minutes of meeting—Julie admits to not being much of an outdoorsy person. "I don't garden," she says. "I get more free reign on the inside, and he gets autocratic reign on the outside."
"I do like to just sit in my house and stare. My house is my world. It's my sanctuary."

Julie Cohn
The key to their coexistence is bringing their two worlds together. "The blurred line of inside to outside is my whole vision," Julie says, citing the transitional living style of L.A. homes as inspiration. It's a balance their home strikes beautifully now, with features like a dining-room wall that opens to the screened-in porch and views of the garden that greet visitors as soon as they walk in the front door. But it wasn't always that way. 
Seeking a new project after 10 years of living in the M Streets, David and Julie purchased their home in 1992 from the family who built it. The house, which had gone untouched since its completion in 1949, was somewhat Colonial in style, with plate-glass windows and french doors, a closed-off floor plan, and eight-foot ceilings. But the bones were good, the Lakewood location was ideal, and the price was right. And then there was the yard, which was, at the time, a large lot of bucolic, rolling grass. 
"I took one walk through the house and I said, 'We're putting a contract in on this house, we're putting it for full price, and if we don't get it, I'm going to be furious,'" Julie remembers. 
Once it was theirs, they set to work making small changes to modernize the space. They took down walls, redid a bathroom, and added a metal roof. David was spending 25 hours a week transforming the yard into a lush jigsaw puzzle of a garden, while Julie bounced between businesses, ranging over the years from custom portfolio creation to textile, rug, and wallcovering design. 
Then two things happened that would change the anatomy of the home forever. First, it got a new heart in the form of now-14-year-old daughter Mila, whom they adopted in 2001. Then in 2006, an attic fire caused smoke damage to almost the entirety of the home's interior. Though devastating, it gave them the opportunity to gut the home and rebuild it from the walls in. 
"We did the house for us. We didn't worry about resale at all."

David Rolston
As with much of Julie's work, the remodel was a collaborative effort. A number of friends lent input and assistance with the plans, finish-out, and design. The footprint was kept largely the same, expanding out just 10 feet in the front to give the entry added height and to enable Julie and David to reroute the stairwell to allow for an open central corridor. The windows were either replaced with floor-to-ceiling Eagle windows or, in pursuit of energy efficiency, removed entirely if their vantage point wasn't worthwhile. They adopted an open living plan, which improved the flow and allowed natural light to shine throughout the space. A third bedroom was converted into an upstairs living space and, at the suggestion of their friend, architect Jim Manning, they dropped the floor of the main living area two feet to give the room 10-foot ceilings—a seemingly small change that made a huge difference. In the end, it was exactly what they wanted. 
"We did the house for us," David says. "We didn't worry about resale at all."
Eight years later, the layout still works perfectly for the family of three. "We live all over our house," Julie says. "I'm in my studio all day, and when Mila gets home from school she's on her computer in there with me. At dinnertime we live in the kitchen. We'll have a cocktail on the couch in front of the pond. Then I'll go sit in the living room and read."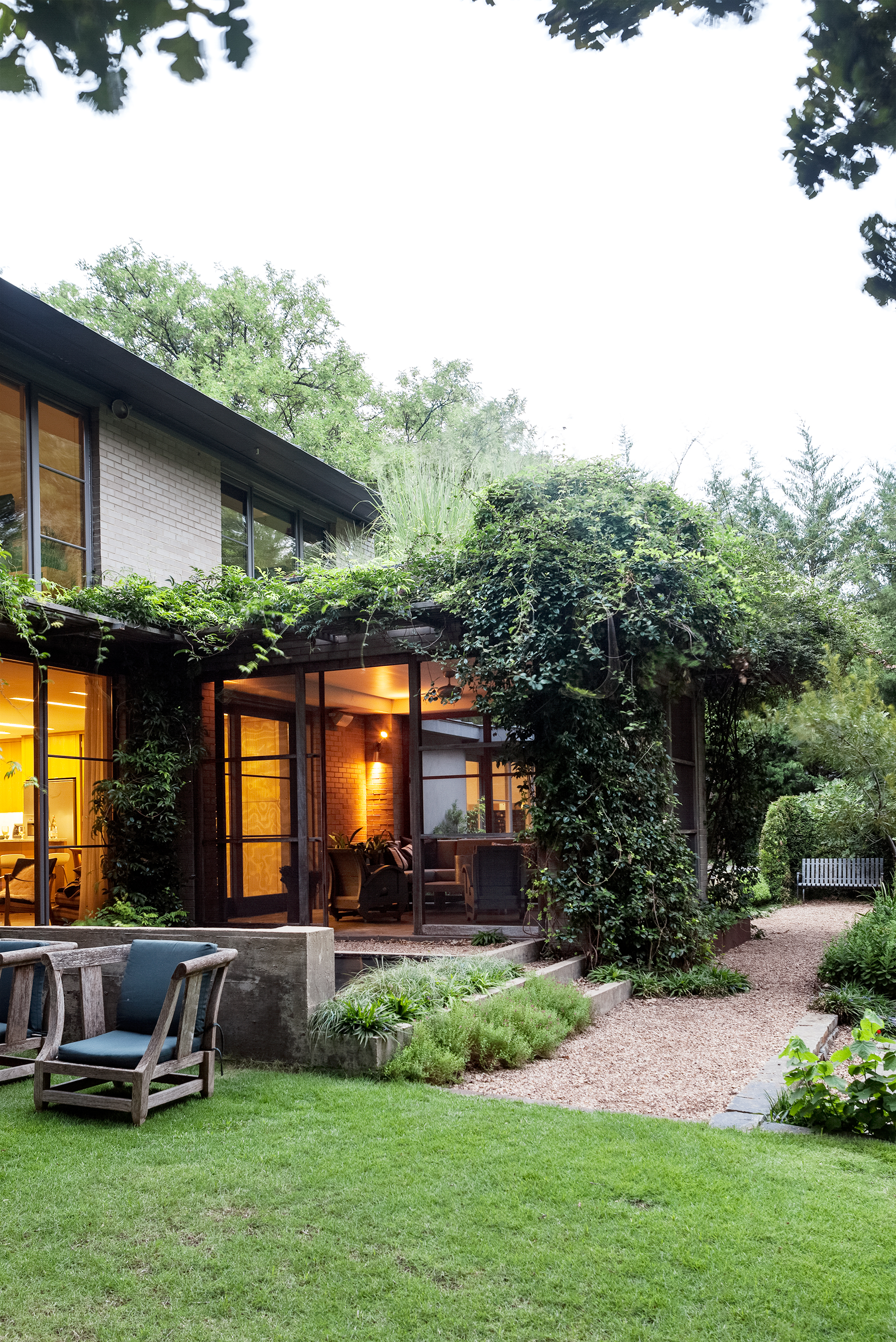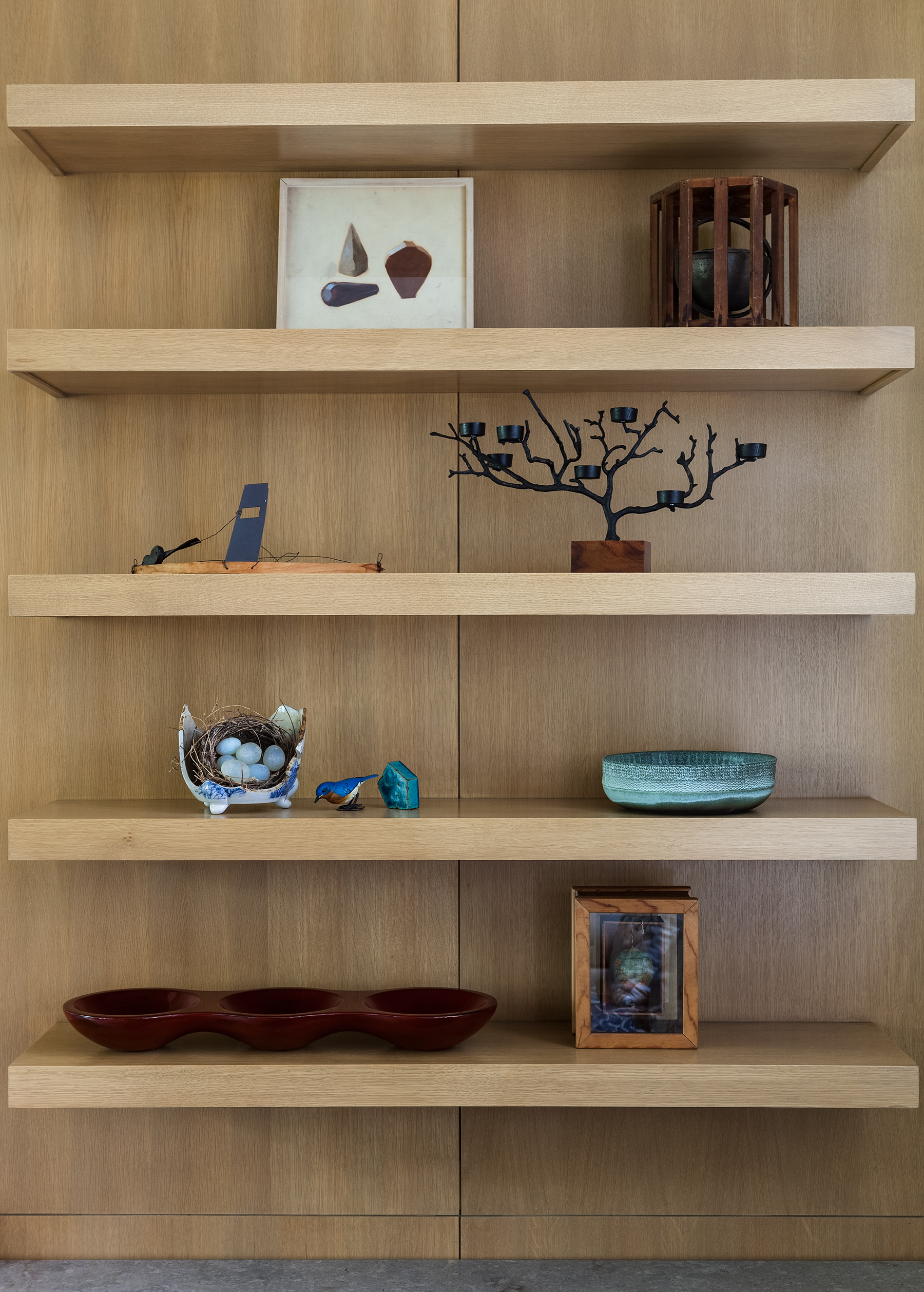 The screened-in porch feels like a extension of the interior, thanks in part to floor tile that continues from the dining nook through to the patio. // Custom floating shelves in the living room display works of art by Julie Cohn, Steven Paulk, and Alex Troop. The blue bowl is from Studio A.
As for decor, while Julie is more of a minimalist than her husband, the two share a modern aesthetic. But the house is forever a work in progress, as Julie second-guesses just about every design decision she makes. 
"I've lost a year of my life trying to reupholster two chairs," she laughs. "I'll spend three hours on a Saturday just rearranging the same five objects. It's therapeutic in some bizarre way."
That activity makes for a home that's never stagnant—just like their garden, which is always surprising them in new and breathtaking ways. Several trees and plants have sprung up that David never planted but welcomes, allowing nature to take its course. "That's the beauty of gardening with an open mind," he says.
Perhaps the biggest surprise of all for Julie has been learning that she's had some outdoorsiness in her all along. Between the garden and their proximity to White Rock Lake, where she is invigorated every morning on daily walks, she's discovered that she has more in common with her husband than she thought. 
"I've realized that so much of my work has been nature inspired," says Julie, whose latest venture is a jewelry line. "I don't know why I didn't get that early on."
Fortunately, she'll have inspiration for whatever avenue her creativity takes for years to come, as the couple agrees that this is their forever home. The decision is both practical—"I'm 58. I don't really want to learn a new grocery store," she quips—and romantic. "I do like to just sit in my house and stare," she says. "My house is my world. It's my sanctuary."
Get the AtHome Newsletter
Enjoy Dallas' best trends, hot properties, and tips from local designers to help you nest in style delivered weekly.