Embroid It!
The Process
The Shops at Willow Bend store sells a range of monogrammable clothes, towels, blankets, and more, but happily accepts outside items as well. The friendly employee helped our tester choose a color (from a selection of more than 100 shades) and font, and in a matter of seconds, mocked up a design on the computer for her to approve.
Turn-Around Time
10 minutes. Our tester dashed into the Anthropologie down the way to run a quick errand, and the pillowcase was finished and waiting for her when she returned.
Cost
$17.32
Results
A nice thick, even, polished look, with a distinct border. There was one stray end that was easily trimmable.
Pros
Fast turnaround. Mall hours are convenient and reliable. Other places we tried (and ultimately didn't test) adhered to a less-than-dependable schedule.
Cons
Having to brave the mall.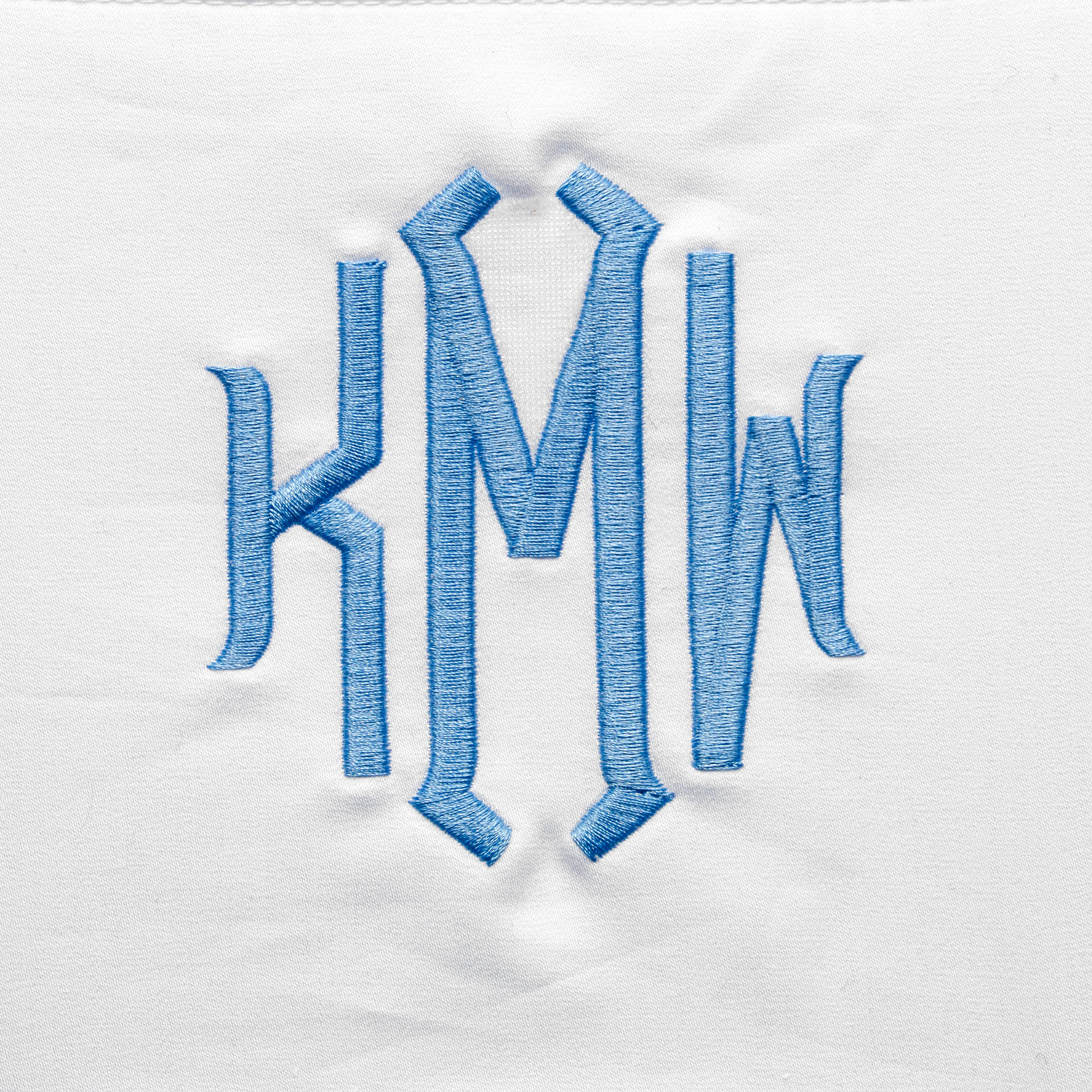 Embroid Me
The Process
Embroid Me has the distinct look of a national chain—because it is one. Multiple racks of t-shirts, dress shirts, jerseys, hats, mugs, and more fill the store. The nice employee at the Dallas location helped our tester choose from dozens of color options and six basic font choices (more are available upon request) before printing out the design for approval.
Turn-Around Time

10 business days, on the long end of the quoted 7-10 business days. 
Cost
Starting at $18, with a $30 minimum. For our single pillowcase, we paid $32.48.
Results
Very nice. A few minor imperfections upon close inspection. A piece of sewing mesh remained, which was easily torn off.
Pros
The perks of a national chain: lots of product and design options with reliable work.
Cons
The $30 minimum is cost-prohibitive for someone with a single item.
OK Alterations & Monogram
The Process
This no-frills Snider Plaza shop has around two-dozen color choices and a binder full of design options, including letters, shapes, and flourishes. Employees were easy to work with and can do custom work.
Turn-Around Time
One week, exactly as quoted.
Cost
$14.04
Results
Not good. The borders of the letters were badly jagged, with slight puckering to the fabric.
Pros
Quick and easy.
Cons
The quality of the work was the lowest of those we tested.

Camille's Creations
The Process
Upon entering the shop, which is located in a small house, our tester was greeted by Camille herself, who assisted her in selecting a design shape and color from a notebook containing a wide variety of both. (There were more than 10 shades of our tester's desired hue alone.) Examples of work, as well as monogrammable items for purchase, are on display.
Turn-Around Time
9 business days (2 business days longer than promised).
Cost
$19.99
Results
The thread work was smooth, tightly packed, and had a nice raised quality. But the fabric was noticeably puckered.
Pros
Personalized service and lots of options.
Cons
The puckered fabric really distracted from an otherwise beautiful monogram.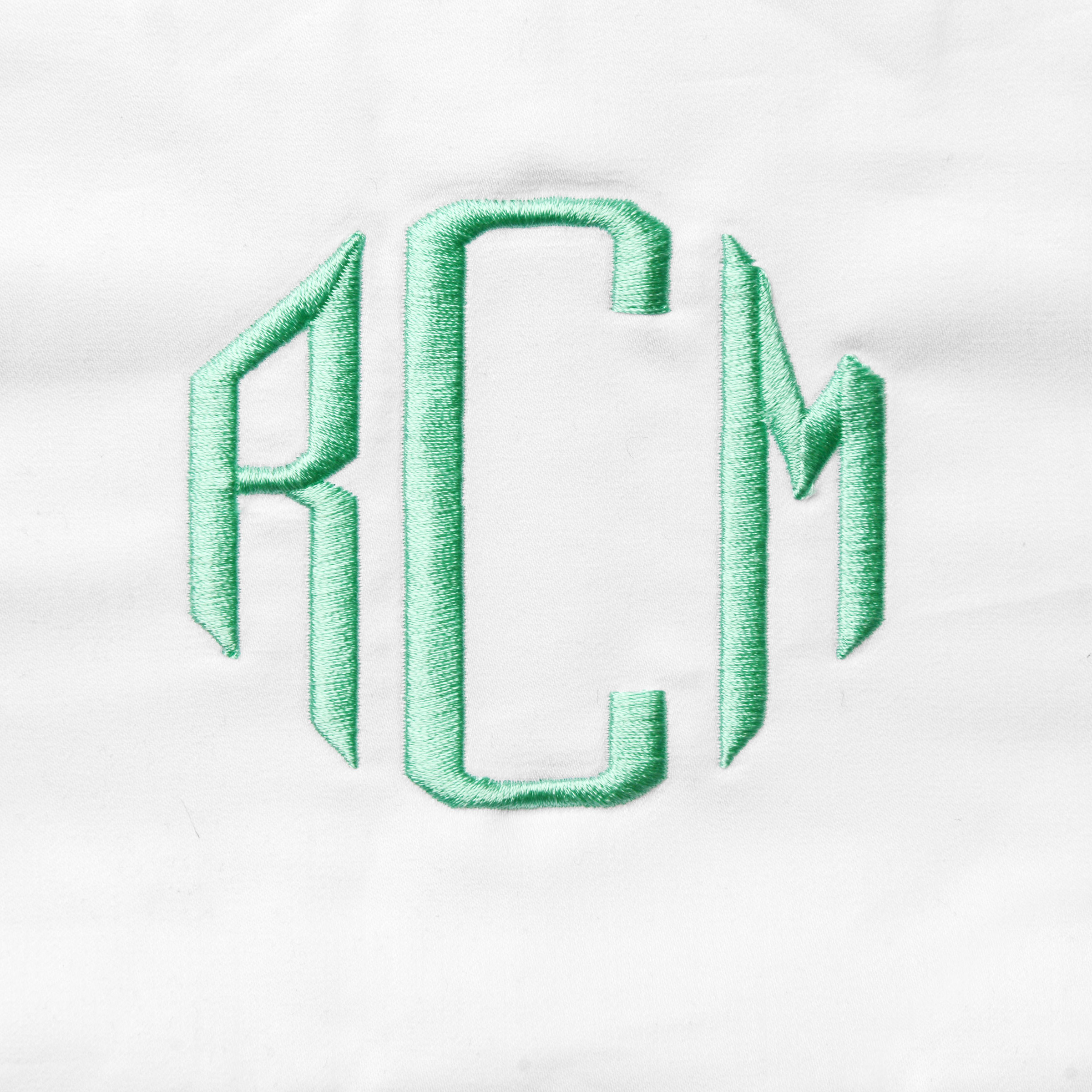 Madison
The Process
The posh Highland Park Village gift shop offers monogram services on both in-house and outside items. A sweet employee helped our tester choose from more than 20-25 monogram styles, 100 colors, and 20-25 font styles. Design options are more contemporary than most embroidery shops, and they were able to tailor our tester's design to her liking.
Turn-Around Time
Our tester was told to expect the order in a little more than three weeks.* It was ready one day earlier than promised.
Cost
$21.65
Results
Pretty perfect. Dense, even threadwork and no visible imperfections.
Pros

Completely customizable, better-than-average design options, and beautiful work.
Cons
The turnaround time was significantly longer than any other shop we tested.
Get the AtHome Newsletter
Enjoy Dallas' best trends, hot properties, and tips from local designers to help you nest in style delivered weekly.