Fat Tuesday is a special occasion at the Needleman House. As guests make their way over, shrimp and grits simmer on the stove and ice cubes rattle in plastic cups. Add to that mix three kids and two dogs, and you get one lively Mardi Gras soundtrack.
The backdrop for the festivity—and for all the other parties the family frequently throws—is a 1966 Glen Allen Galaway creation on Airline Road that Meredith and Josh Needleman bought in 2010 and completely remodeled.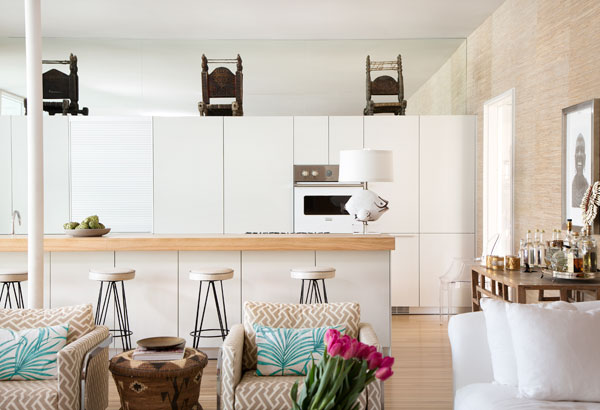 "We had no idea we were taking it down to the studs and rebuilding it," Josh says of the nearly yearlong project. "But behind every wall we found a little wood rot. So we just kept going and going. We redid everything. It's a tank." Working with architect Tom Weber and the team from MORE Design + Build, the Needlemans made sure to stay true to Galaway's original midcentury modern design. "He built the house where everything serves a purpose," Josh says. So their remodeling plans also called for smart living. "We use every ounce of space, "Meredith says. "There's nothing wasted here."
One hallway, for instance, contains a piano, a floor-to-ceiling bookshelf, and a desk that served as Galaway's workstation back when the architect and his family called the house home. "The hallway is our music room, our library, and our office," Josh says. "That's the cool thing about this house. You have one of everything. In our other home, we had so many different living spaces, and you never use all these different rooms. But there's something cleansing about having a coffee table, a dining table."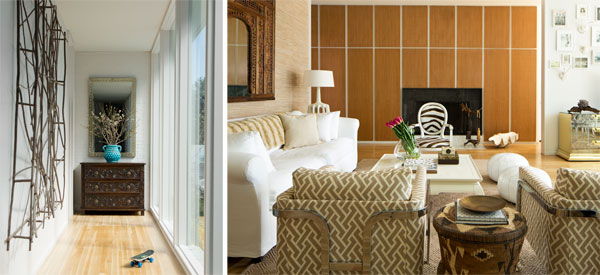 "You feel like you're living in the whole house," Meredith adds.
That goes for the outside as well. From the roof to the carport, every exterior element at the Needleman house has a reason for being—sometimes two reasons. There's the 8-by-8 rooftop deck where the couple likes to watch the sun rise and set. There's the basketball court that converts to an Airstream trailer park. There's the carport that Meredith turned into a dining room one Thanksgiving. And there's even a side garden that houses the outdoor shower Josh uses regardless of weather conditions. "When it's zero, I take a shower outside," he says. "Even if it's raining, I'll take a shower out there."
Lucky for Josh, the house offers plenty of privacy. "The way Glen Allen situated this house," Meredith says, "we don't have a typical house staring down into our backyard."
Get our weekly recap
Brings new meaning to the phrase Sunday Funday. No spam, ever.