Home Again in the Park Cities
Jennifer and Scott Roberts return to her childhood neighborhood in a very modern, grown-up residence.
Jennifer Roberts does not subscribe to the adage "you can never go home again." In fact, she and husband Scott planned to return to the Park Cities all along. The couple didn't have far to travel. They were living in Preston Hollow with their three sons when they began their search for the perfect lot. They finally settled on a Highland Park property on a street very dear to Jennifer. "I grew up on this street, two blocks down," she says. "My oldest son is in first grade. We knew all along we wanted him at Armstrong Elementary—I went to Armstrong, too. He can get to and from school on his own every day." Even better, the Robertses brought along an even more familiar element. "We took my parents to lunch in March 2010, and we told them that there were two lots," she says. "They were game for it. The architect designed both houses."
The families worked with architect David Stocker to create the pair of dream homes. Jennifer and Scott were looking for a different vibe from their last place. "The house that my husband and I shared in Preston Hollow was very Italian. It was more rustic—a little too rustic for me," she says. The new place is open and has a California feel.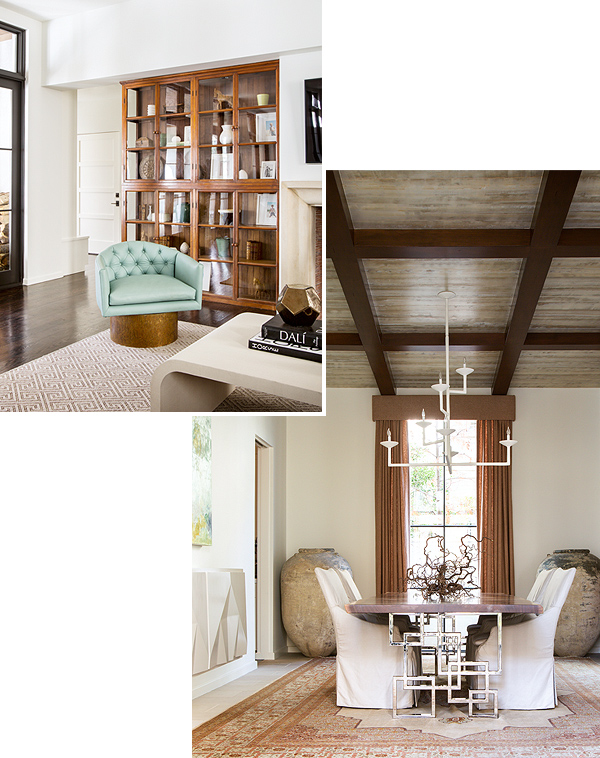 So it makes sense that when it came time to begin work on the interiors, Jennifer chose to work with Breck Woolsey and Charles Taylor of design firm Breckinridge Taylor. At the time, the duo had recently relocated from San Diego, and their design sensibility was what Jennifer was looking for. Bonus: she knew Breck from college. "Jennifer was a roommate of one of my ex-girlfriends back when she was at SMU," Breck says with a laugh.
"Their old house was very different from this one. It was very traditional, very Dallas," Charles says. "She brought us in to streamline. We got rid of some old stuff and helped select new stuff. We came in with the layout, finishes, lighting, window treatments." But the project was a team effort. "Jennifer had a look book that she had put together. She knew the direction she wanted to go," Charles says. "She knew what she wanted. She is a really great client."
Charles and Breck worked on the project for about six months. In addition to finding pieces all around the country, they also custom designed pieces throughout the home. "We always try to incorporate some custom design for our clients. We built the buffet that's floating in the formal dining room. We also did a couple of pieces in grasscloth, a stacked table in the formal living room, and the sink and vanity in the powder," Breck says.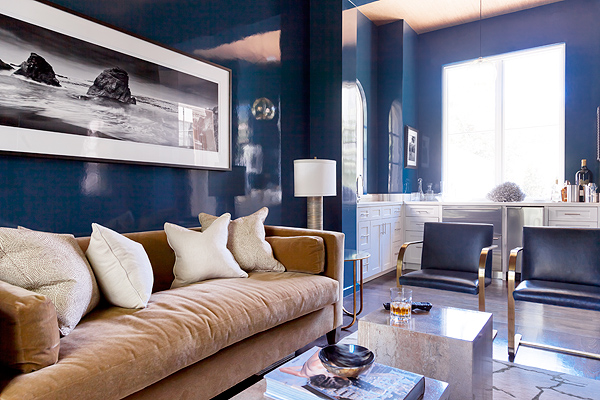 It was important to Jennifer that certain pieces from the old house were showcased. "I knew I wanted to keep some key elements. We designed our new kitchen around these really beautiful Burmese cabinets that were my husband's," she says. "There are other pieces that worked really well in this house. It was fun to mix some antique French and Art Deco pieces in."
Elements like antiques and white leather sofas don't immediately bring to mind "child friendly." But Jennifer says her kids are pretty respectful of their surroundings. "They've never colored on the walls or the furniture. They have an appreciation for things," she says. "We don't limit them. We have the white leather sofas in the formal living room. They go in there, but they know they're not supposed to hang in there. That's not to say they don't bring their bikes in the house."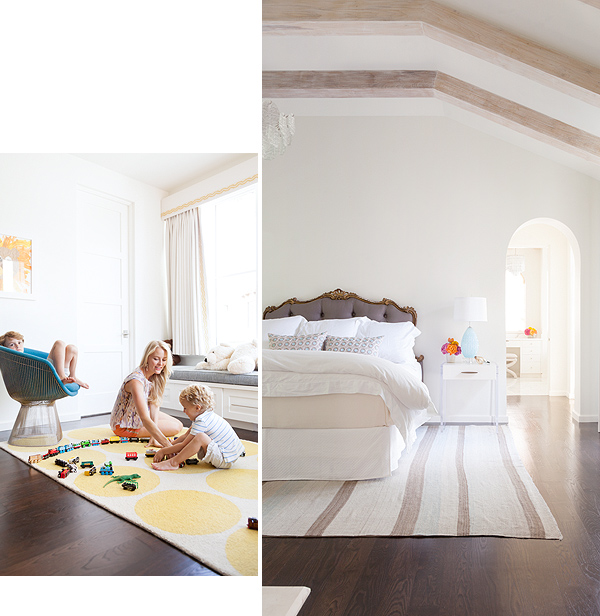 Now that the projects are complete and the Robertses have settled in, Jennifer is hard-pressed to name a favorite room. "Designing the house with the architect was such an intimate experience. We were involved in every detail. I love all the rooms. The kitchen is very open and a great entertaining space. I love the bunk room, the big window in there. I love my bedroom and bathroom. Every room serves its purpose."
As for having Mom and Dad as next-door neighbors? Jennifer says she and Scott have no regrets. "It's been great. We share a yard. My sons are always making cookies or doing something over there," she says. As for future moves? Jennifer doesn't see that happening. "I love our house so much that I have no intention of moving," she says.     
Styled by Jocelyn Meintser | Flowers by Chris Whanger