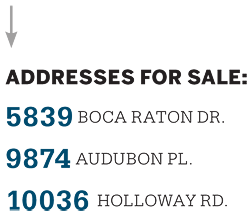 This fancy neighborhood is home to President George W. Bush, H. Ross Perot, T. Boone Pickens, Mark Cuban, Roger Staubach, and Mike Modano. The two main areas are Old Preston Hollow (which includes 19 smaller neighborhoods) and the estate areas (with 12 neighborhoods, including Strait Lane and Mayflower Estates). The area was known as "presidential" far before George and Laura relocated there in 2009. "I recall my mother telling a story that at one time, Mayflower was called 'Presidents' Row' because there were so many presidents of prominent corporations living in there," Blake Woodall says.
Location: Broadly, north of Northwest Highway, south of Forest Lane, west of Central Expressway, and east of Midway Road. Others give tighter boundaries: Northwest Highway to Royal Lane, Midway Road to Hillcrest Road. Old Preston Hollow is considered Northwest Highway to Walnut Hill, Midway to Preston.

Average home price: $450,000 to $12 million.
Why Preston Hollow: The feel of high-end craftsmanship, expansive lots, and easy living permeates. Woodall moved back about a year ago for many of the same reasons others do. "My wife and I decided the lots we had purchased in University Park did not allow for some of the benefits we could attain in Preston Hollow, so we renovated the interior of [my parents'] house, leaving the integrity of the old ranch-style house in place. We now have a lap pool and tennis court in our backyard, and the houses in our neighborhood are far enough apart that we cannot easily see into the windows of neighbors—and vice versa," he says. Real estate agent Holly Bock Deason, who lives in Mayflower Estates, says people are drawn to Preston Hollow for the large lots, location, and private schools. St. Mark's, Jesuit, Ursuline, Hockaday, St. Alcuin Montessori, and Lamplighter are all located nearby. "There's an equal amount of demand for Preston Hollow and Highland Park," real estate agent Doug Newby says. "The demand is the same, and the prices of the homes are the same. Preston Hollow has the advantage of larger estate blocks and being closer to the schools in the private school corridor."

Where to go: Mercury, Neuhaus Cafe, Fish City, NHS Bar & Grill, Purple Cow, Mi Cocina, Fernando's, Cantina Laredo, Liberty Burger, Hillstone, Sprinkles, Best Thai, and Ku Sushi. NorthPark Center, of course, is a flagship of Dallas shopping. Bachendorf's, La Lobe (the place to get your piercings), and Adrift (a new, one-of-a-kind float spa) are also favorites. For practical shopping, locals enjoy the options of Whole Foods, Central Market, TJ's Fresh Seafood, Tom Thumb, and Natural Grocers, which are all within a mile of each other. And they're excited that Trader Joe's is on its way soon.

Get the AtHome Newsletter
Enjoy Dallas' best trends, hot properties, and tips from local designers to help you nest in style delivered weekly.