Winnetka Heights: Front Porch Lifestyle
Make yourself at home in this historic Dallas neighborhood.
On the other side of the Margaret Hunt Hill Bridge, you'll find rolling hills, historic homes, and families bicycling to art class. Nestled within Oak Cliff is Winnetka Heights, a picturesque historic neighborhood that draws urban pioneers looking for something a little different. The Russell Realty Company advertised Winnetka Heights as "Dallas' ideal suburb" back in 1911. The houses are predominantly Arts and Crafts and Prairie structures that started with the best materials, decayed through the '60s, then have been restored more recently. The area became a historic district in 1981—the only Dallas neighborhood listed on the U.S. Registry of Historical Places. These days, Winnetka Heights is a hugely popular restaurant/bar/shopping destination.
Population: About 600 families, most in single-family homes but some in multifamily dwellings.
Location: Bordered by West Davis Street on the north, 12th Street on the south, Willomet Avenue to the east, and Rosemont Avenue on the west.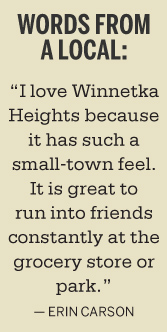 Average home price: $275,000 (for a renovated single-story bungalow) to $380,000 (for a renovated two-story home).
Average lot size: 50 feet by 150 feet, but the lots on the west side of North Rosemont Avenue are 200 feet deep.
Where to go: While the rest of us descend on the Bishop Arts District on the weekends, locals wait until we leave to enjoy their local treasures, many biking there during the week. Local foodie favorites are Nova, Bolsa (which gave Winnetka Heights its own cocktail), Bolsa Mercado, LCI Tacos, Gloria's (the original, thank you very much), Zen Sushi, and Norma's. Kids take ballet at SOTE, housed in Winnetka's Kessler Theater, which brings in national bands. Kids and adults take art classes at Oil and Cotton.
Why Winnetka Heights: Crystal Gonzalez, a real estate agent and membership chair of the neighborhood association, has lived in Winnetka Heights for six years. She and her husband enjoy all the area has to offer, but they spend much of their time "sipping tea or a cocktail on our neighbor's porch." Stay-at-home moms say the Rosemont Early Childhood PTA is a lifeline, offering everything from play groups to regular meals when a new baby arrives. Winnetka Heights feels like a small town within a big city, locals say. Many are also drawn in by its history. And while the neighborhood's popularity is great for the economy and the business owners, residents sometimes wish they had the place a little more to themselves.