Can you give examples of good starter pieces?
It depends on what your goals are, as well as your budget. If your main interest is investment, then perhaps start small and slowly with a few editioned works by known artists. Otherwise, for contemporary art, I would begin by visiting Dallas galleries and area non-profits.
Should people stick within a medium in the early stages?
Clients sometimes worry about being all over the map when it comes to their collection, but in the beginning this is how you learn about your own leanings and begin developing an eye.
Who are a few Dallas artists you consider to be good buys right now? 
I get this a lot! A good buy depends on your budget and your goals. Speculating on art is something I avoid—there are so many variables and a dose of luck involved. I do let my clients know of important developments within an artist's career. Dallas has really strong emerging and mid-career talent. Don't forget that famous artists were once emerging artists. They continued their artistic careers because of the support from patrons and museums they received early on.
Art can be intimidating. How do you put people at ease? [Laughing] A lot of wine. I think people are intimidated because of the media constantly hyping money and art or their experiences at museums with guards and not being allowed to get too close to the art. But Dallas is a great place to be a novice because the art community is really friendly and encouraging. Most gallerists here are accessible, and the good ones can talk about art on any level and in a way that is understandable.
Marty Walker Gallery
2135 Farrington St. 214-749-0066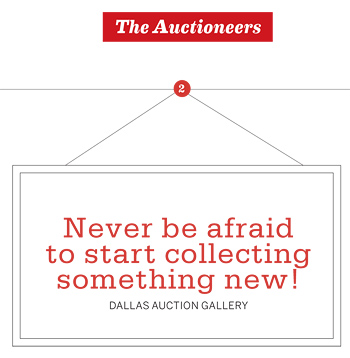 Can anyone attend an auction? Do you have to register beforehand? Does it cost money?
Most auctions are open to the public, but it's always a good idea to call ahead and ask if that auction house is open to the public. Attending an auction is free, but if you register to bid at the sale, you are required to put a credit card on file. Remember that you don't have to be present. There are several ways to bid at Dallas Auction Gallery. You can place bids on the phone, place absentee bids, or bid live online. 
What sort of research do you recommend people do before going to an auction?
When it comes to auctions, some people find the buying process complicated. Ask an auction specialist about the process and items. This will allow you to become comfortable and knowledgeable within the auction environment. We provide several options for you to preview items prior to the auction. You can view online catalogs two weeks prior to each sale. There is a detailed description and photographs of each lot offered in the auction. In addition to catalogs, we also offer an open house preview for several days prior to each auction. Inspect items of interest carefully, as all items are sold as is. If you are unable to inspect the items of interest in person, request a condition report. Keep in mind that antiques by their very nature will show signs of use and age, which often enhances their unique characteristics and creates value.
How can people tell if an auction house is reputable?
Every auction house operates in different ways. I recommend my clients take time to research the auction houses and ask questions about their background. Most auction houses will be able to supply you with a list of references who can talk to you about their experience buying or selling with that certain auction house.
                
What are some of the common mistakes people make?
I have clients who are afraid to buy a certain piece because they aren't as knowledgeable about that category, but I tell my clients to ask our experts questions. They can help you make an educated purchase. Never be afraid to start collecting something new! Some people feel like just because something is going below its estimated value they are getting something great; the truth is with great pieces, you are
going to have to pay. Items available at auction are valued at auction estimates in a range that is based on the research of what similar items have sold at auction. They do not necessarily indicate the highest amount an item will sell for. The market and bidding will determine final hammer prices. Some people are afraid to bid over the estimate. We generally estimate on the
conservative side.
 
Is payment due immediately?
Payment is due within 10 business days of the auction. We accept bank wire transfers, cash, personal or company check with proper ID, cashiers check, travelers check, money order, Visa, MasterCard, or American Express. Please note: there is a maximum of $25,000 that may be charged to credit cards per client invoice.
 
Are returns allowed?
Return policies will be different at each auction. We allow our clients 10 business days after the auction to return any item. You must pay and get the item shipped to you within these 10 business days to be able to return any item you have purchased.
 
How often do you have auctions?
We have six to eight auctions every year.
 
What's the advantage of buying at auction as opposed to buying art in other ways?
You are competing against both collectors and dealers and, therefore, buying pieces at their true market value instead of paying retail markups. 
 
Dallas Auction Gallery
2235 Monitor St. 214-653-3900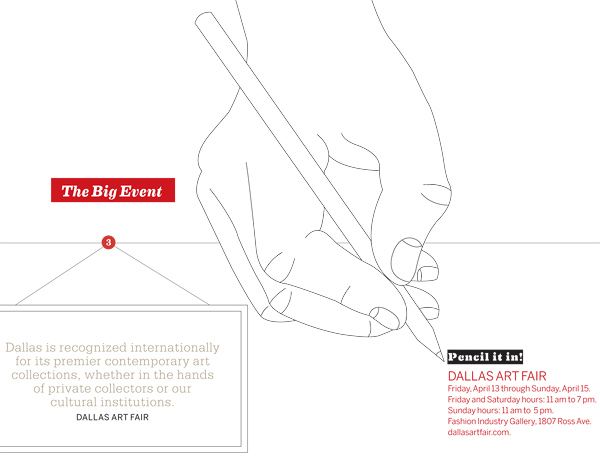 The Dallas Art Fair was founded in 2009 by art lovers and business guys John Sughrue and Chris Byrne. The savvy patrons felt that if Dallas wanted to be a real arts town, it needed a high-wattage gathering each year, on par with New York's Armory Show or Art Basel Miami. Since the first outing, more than 20,000 ticket buyers have perused the wares of international, national, and a few local galleries, who bring forth their best contemporary paintings, sculptures, works on paper, photographs, videos, and installations. There
have been some good parties, too.
How did you get Mayor Mike Rawlings and Tom Leppert on the host committee for the Art Fair?
JS: Tom and Laura Leppert are on the advisory committee and have been supporters of the Dallas Art Fair since year one and remain active supporters of the fair. Both Mike and Micki Rawlings are very active in supporting the arts. Their daughter Michelle is a young artist and graduate student at the Rhode Island School of Design and recently had an opening of her work in Dallas at the Oliver Francis Gallery.
How has the Art Fair changed since the first one in 2009?
CB: When John and I began, we knew what we didn't want: the big convention-center trade show that has become almost unmanageable. The galleries we initially approached responded to our ideal of a smaller, more selective gathering, and these exhibitors have referred other galleries. This incremental growth has contributed to the quality of the fair, which I feel has greatly improved.
Are there any new galleries or dealers you would like to spotlight? Any you guys are especially excited to have join the Art Fair this year?
CB: We're pleased to welcome a number of New Art Dealers Alliance (NADA) galleries, including Dittrich & Schlechtriem, Feature Inc., The Green Gallery, Horton Gallery, Jonathan Viner Gallery, Josee Bienvenu Gallery, Leo Koenig Inc., Lisa Cooley Gallery, Silverman Gallery, Sue Scott Gallery, Thomas Solomon Gallery, Untitled, Zach Feuer Gallery, and ZieherSmith.
Is Vladimir Restoin Roitfeld coming to the fair? (Fashion lovers, of course, will be hoping his mother, former French Vogue editor and style star Carine Roitfeld, will come.)
CB: Yes. It's great to have Vladimir participate. The Dallas Art Fair will be his first fair.
How do you respond to critics, naysayers, and assorted haters who cry that too much energy is expended supporting galleries and dealers from outside North Texas?
JS: We support the arts across the board. It is important to us that the national and international contemporary art world engages with what is already happening in North Texas. Having both local and national galleries at the Dallas Art Fair is key to its growth and the growth of the arts community in Dallas.
Does Dallas need to be a stop on the international art fair tour? And how do you think it's faring?
JS: Dallas is recognized internationally for its premier contemporary art collections, whether in the hands of private collectors or our cultural institutions. Dallas now is a cultural destination, and the Dallas Art Fair is a manifestation of this fact. We are doing very well, as evidenced by our sold-out status and the remarkable collection of gallerists participating in this year's fair.
Here's your chance to sell the top-tier Dallas Art Fair Patron Pass, which includes a ticket to the opening gala and entry to a Neiman Marcus kickoff party. You have 50 words or less.
JS: To imitate Churchill, the Patron Pass is a ticket presenting an embarrassment of visual art riches wrapped in Dallas' world-renowned hospitality inside internationally recognized cultural institutions (Nasher Sculpture Center, Dallas Contemporary, Goss-Michael Foundation, Power Station). At $325 per ticket, it's the art value of the year. 
Is there a particular moment over the last three years that you'd like to share?
CB: I enjoy seeing the exhibition space transformed each year. Also, seeing world-renowned dealers like Chris D'Amelio, Michael Kohn, Hudson, and Zach Feuer exhibiting in Dallas. For me, it's exciting that they've made this type of commitment to the community.

Get our weekly recap
Brings new meaning to the phrase Sunday Funday. No spam, ever.