Ask Billy Milner just how many collections he maintains, and he begins to laugh nervously. "All it takes is three of something for a collection," he hedges. For the last 20 years, the designer and owner of Billy Milner Design has been amassing three or more of everything from vintage movie posters and glass fish floats to McCoy pottery and Bob's Big Boys. "I'm always on the hunt. I'd like to say that I'll eventually stop. Probably not," he says, laughing. And so he filled his abode at Murray Lofts with his many treasures.
Then love struck. Billy met Neiman Marcus art director Jerod Dame in 2008, and a few years later, the couple decided to merge households. "We actually thought about taking the space next to me at the Murray, but the guy decided not to move," Billy says. So the couple began a quest for the perfect space—something that could house Billy's fab finds as well as the treasures that Jerod brings to the mix: two sons and a daughter from a previous marriage.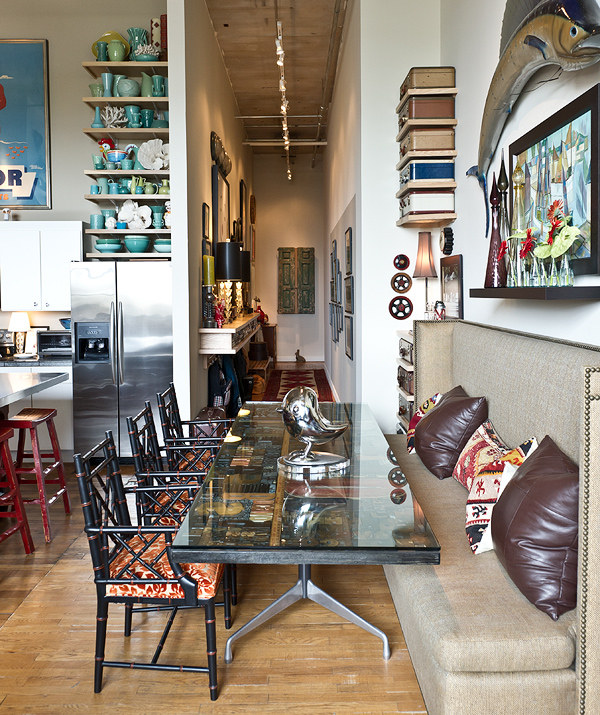 The couple's real estate recon eventually led them to The Continental, a cotton gin turned residential property in Deep Ellum. "We looked at a large unit on the third floor," Billy says. They liked the space, but as they were leaving, they noted something interesting: a bridge leading from one of the units. "I looked up and saw that bridge and said, 'That's really cool,'" Billy remembers. The duo asked about the space attached and learned that it was vacant. They were immediately sold. "It's less square footage, but the taller ceilings made it possible to add the lofts for the kids."
Get our weekly recap
Brings new meaning to the phrase Sunday Funday. No spam, ever.