On a recent Wednesday night in Highland Park, Los Angeles-based Kelly Wearstler played hopscotch in 4-inch heels.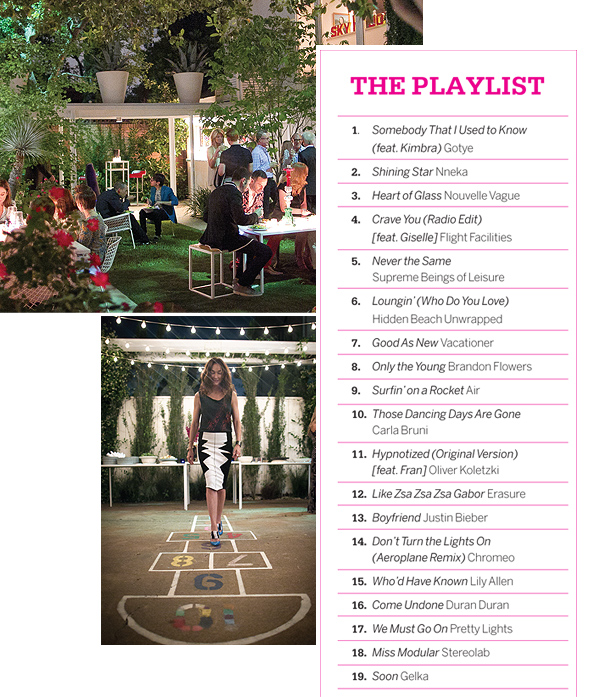 Things like this happen at Lucy and Steve Wrubel's white modern home. Fabulous events unfold among technicolor furniture and funky art. Earlier in the evening, Forty Five Ten owner Brian Bolke celebrated Wearstler—the Playboy Bunny-turned-interiors-goddess—who was in town to promote her swank-louche-quirky home wares at Bolke's store and sign copies of her newest tome, Hue. The Wrubels played after-party hosts to a mix of their friends, Bolke's customers, and top students of Dallas' creative class. Guests sipped fancy Casa Dragones tequila, slammed caipirinha Jell-O shots, and sampled buttermilk biscuits from George. The yard was littered with giant crochet yarn balls from yarn bomber Magda Sayeg, ideal for seating or tossing. Naturally, this being the Wrubels' Pee-wee's Playhouse of a pad, great tunes were played, and tons of photos were snapped. (Lucy works as a DJ, and Steve is a photographer.) Guests like Merry Vose, Ceron, Rob Dailey, Suzanne and David Droese, Jenny and John Kirtland, and Lucy's parents mingled about. Upon entering the home with Shelby Wagner, Niven Morgan paused to look at a hot pink typewriter where 6-year-old Stella Wrubel had typed, "Welcome to Texas, Kelly," and remarked, "This is just another night at Steve and Lucy's."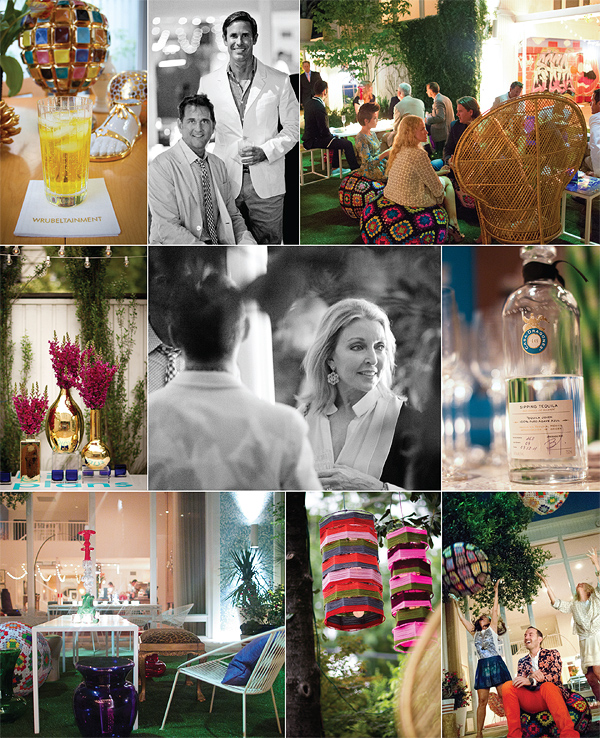 By the time visiting dignitaries Christian Siriano and Douglas Little were making an exit, Lucy admitted this really wasn't just another night at Steve and Lucy's. "You know, when Brian asked me to do this, I kind of freaked out," she whispered. "I have admired her for years. I never get nervous about having people over, but this time I had to call for reinforcements." Lucy revealed help was airlifted in from BFF Todd Fiscus, whose team covered the just-rain-soaked lawn in Astroturf, carried her bright blue "airport chairs" and Italian-tile stools outside, and decked the house in fresh flowers. It was decided last minute that a gold chair was needed, so a $20 rattan chair scored at the Dallas Flea was dropped off at auto-paint outfitter Maaco to be reborn gold. More assistance—direct feedback, really—came via party-maestro Bolke. "I asked Brian if I should grab some of Kelly's stuff and put it in my house, and he said the best thing ever: 'No, your house needs to look like your house. Just think of this as having your friends over.'" As she watched Bolke and Wearstler playing hopscotch, she smiled. "Cool. That's exactly what my friends do when they're here," she mused.
Get our weekly recap
Brings new meaning to the phrase Sunday Funday. No spam, ever.