In the mid-1990s, 200 people lived downtown. Now, 7,500 call the Central Business District home. And more are on their way. For decades, the Manor House stood alone as the only high-rise residential offering in downtown. Then came 1900 Elm and the Kirby Building in the 1990s, followed by the Davis Building, SoCo Urban Lofts, the DP&L Flats, the Metropolitan, 1505 Elm, the Mosaic, and One Arts Plaza. "Downtown" is actually made up of 15 districts, including Main Street, Victory Park, the Arts District, South Side, and Deep Ellum. "If you look at what downtown was 10 years ago versus what it is today, there have been enormous gains," says John F. Crawford, president and CEO of Downtown Dallas Inc. "It's downtown's time."
Population: About 7,500 people live in downtown's Central Business District; if you include South Side, the Design District, etc., it's more like 37,000.
Location: Downtown proper is bordered by four major highways: I-75, I-35, Woodall Rodgers, and I-30.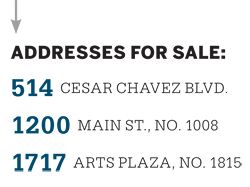 Average home price:
A three-bedroom, 2,100-square-foot condo at the Metropolitan will run you about $320,000. The 2,870-square-foot penthouse at Museum Tower, currently under construction, will be about $1.7 million.
Why downtown: Steve Shepherd, chairman of the Downtown Residents Council, lived in a North Dallas house and an Uptown condo before moving to downtown proper seven years ago. "I've never felt like I had ever lived in a neighborhood like this," he says. "Downtown, we all walk. You know everybody." Shannon and Ken Montgomery wanted to make a change with their young daughters. They moved to downtown's Gables Republic Tower. Perks include no yardwork, consistent utility bills, walking (or scootering) every day, a pool they don't have to maintain, and a view of the tower clock on the Mercantile building next door. "Go back 25 years, everybody wanted to live in suburbia," Crawford says. "Now, people in their early 20s to mid-30s all want to be part of this live-work-play urban environment."
Where to go: Urban Market, 7-Eleven, or CVS for quick stuff. Bigger stuff may require a drive to Uptown. Workouts take place at the T. Boone Pickens YMCA. Food favorites are O.E. Penguin, Spread Eagle Saloon, Dallas Fish Market, City Tavern, Ravenna, Sushi-Ya, Rodeo Bar & Grill, Charlie Palmer, Chop House Burger, the Chesterfield, and the food trucks that regularly visit the Arts District and Thanks-Giving Square.
Get the AtHome Newsletter
Enjoy Dallas' best trends, hot properties, and tips from local designers to help you nest in style delivered weekly.