Guiding Light
Melissa Woody's new shop has got your lamp needs covered.
If lamp cord were licorice, Melissa Woody would be the Willy Wonka of West Dallas. Trafficking in out-of-this-world mineral, Lucite, and faux-stone mash-ups, Melissa Woody and her team of designers make light of everything from rocks to roman candlesticks in their new workshop.
Woody has been on the scene for 20 years, selling her custom lamps at The Mews, Nick Brock Antiques, and Lovers Lane Antique Market. One day, as she was trying to get a custom shade fashioned for a client, she thought, "Maybe I can do it faster." 
Apparently, she could. At her new space in the Design District, Woody has  reduced the industry's turn-around time significantly. (Overnight for a simple rewire job!)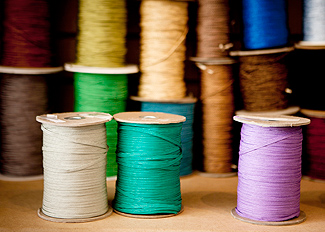 Her dedication has attracted a fan base—and even some celebrities (Angie Harmon is a client, and Rod Stewart purchased two lamps). She's also game for whatever her clients want to try. "I have a client who has an old marble table that she bought in Europe," she says. "It's got a crack in it, but she wants to use it somehow. So we're figuring out a way to get the fabricator to use it for lamp bases."
Have less definite ideas? No problem. Woody and design specialist Lee Ann Galyean will steer you through the selection of bases—there's acrylic, metal, chrome, stainless steel, bronze, and wood, as well as faux-finished malachite, Carrera marble, lapis, and tortoise. From there, choose from a selection of shade shapes, trims, and finials. (We are partial to the, marshmallow-shaped Lucite ones.)
new store   |   M'antiques
To the (antiques) hunt, fellas!
The Oak Cliff emporium M'antiques grabs the antiques market by the Y chromosome, leaving period preciousness in the dust. Funky oddities abound: explosives warning signs and carnival eyes hang over a two-dimensional horse and jockey in a never-ending sprint for the finish. Make no mistake, the Music Man pinball machine, 3,000-watt spotlights, and Evel Knievel lunchbox may appeal to the fairer sex, but that hand-cranked toy gun on the shelf is every man-boy's dream come true.