A Divine New Furniture Line
David Sutherland and Sees Design Group create a collection with a European twist.
The folks at David Sutherland Showroom have collaborated with Sees Design Group to create 1818. The elaborate, bench-made furniture collection boasts an abundance of tufting, flourishes, curves, and details , which give it a decidedly European twist. The inspiration for the collection has been a  long time coming. "My father, brother, and I have been collecting pictures from European magazines for years and have produced this furniture to fill a need that we, as designers, are always searching for in our projects," designer Corbin Sees says. We chatted with him about the new line.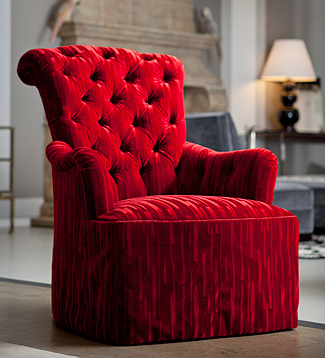 Q: Tell us more about the inspiration.
DS: It's a European aesthetic that's just a little bit funky. I think its origins are at the Turn of the Century, the Belle Epoque era in Europe, the Victorian in Grand Britain, and the Gilded Age in America, when furniture was created for the simple beauty and art form of the piece. A lot of the inspiration also comes from the free forms found in nature.

Q. Explain "bench-made."
DS: Everything is totally handmade at work benches in our factory in Oklahoma City. We cut the frames, pad, and upholster according to the highest standards, and cut and sew the material to conform to the shape of the piece. We are really proud of the quality of our furniture.
Q. What is the significance of the photographs by Deborah Oropallo in your collection?
DS: We found  her at the Turner Carroll Gallery in Santa Fe. Oropallo takes old-world, masculine photographs and overlays them with modern and feminine features. It's exactly the sensibility that shapes our furniture collection—overlaying old, masculine styles with modern, feminine shapes.


new store   |   Highgate House
Antiques, art, and accessories abound in this new space.
The recently opened Highgate House brings a little something European to Dragon Street. Nineteenth-century classic English and French furniture mixes with antique rugs from trusted antiques dealers in England as well as select artists and dealers stateside. Tables and dressers are laden with antique silver, collectable boxes, and decoupage. With respect to their Design District location, they have to-the-trade representation of Nicole Fabre fabrics. Last but not least, contemporary paintings by Dallas artist Charlotte Seifert—courtesy of the Norwood Flynn Gallery­—add a light and unexpected touch.