Is Small the New Big?
Downsizing isn't easy. So we've asked the experts for tips on living large in small(er) spaces.
How you design for an apartment or small house depends on the vibe you want the place to have, according to Sherry Hayslip, who heads up Hayslip Design Associates in Dallas. "When designing for a small space, you really need to look with different eyes," Hayslip says. "First, it helps to establish your goal for the space. Do you want to make it feel more spacious and lofty, making the boundaries disappear? Or, do you want to emphasize the coziness of your small space? Hayslip was nice enough to offer some practical advice for both approaches. Read on.
Go Glam: Incorporate Lucite elements and glass tables to provide necessary surface area without the added bulk of wood or metal. The resulting sparkle of these pieces adds an element of visual interest and surprise.
Ready, Set, Accessorize: There are two schools of thought here, and both can work. First, accessorize with a few exquisite objects with dramatic shape and dimension. Second, if you have collections of small objects, group them for display on a tray. Also, staggering their heights using acrylic risers can help create a visually appealing display.

Mirror, Mirror on the Wall: Utilize mirrors and mirrored walls judiciously. In [one bedroom] project, we installed a custom, mirrored headboard. This really opened up the space. Mirrors can add a bit of surprise to a room.
Up Against the Wall: To achieve that open lofty feel, use a few fabrics generously, but limit patterns. Look for glowing textures, because too much heavy texture can feel like a bear hibernating in a cave. Keep the feeling gauzy and open with occasional glimpses of sparkle and transparency. If a cozy space is your goal, look for fabrics that have a matte finish, like cashmeres and soft wool. Avoid furry fabrics and focus on luxurious texture instead.
Onward and Upward: Use space vertically. Draw the eye up by hanging dramatic art and lighting. This results in a feeling of increased volume of space. In a loft space especially, it's important to fully utilize the vertical real estate. Several years ago, we were able to harvest a bedroom and bath from the open space provided by a vaulted ceiling in a client's cabana. We saved floor space by installing a spiral staircase to access the new rooms. We also used the tactic in a small bedroom that happened to have 13-feet-high ceilings. Because the footprint of the room was relatively small, we elevated the bed onto a piano-shaped platform cantilevered from the wall at a height of approximately 7 feet. This allowed the space below to be utilized for a budding art collection and mini library.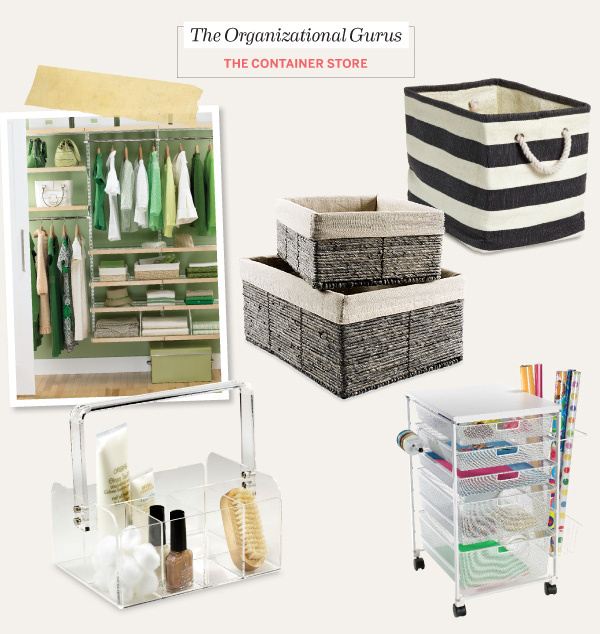 Not everyone has the resources to build a house or condo from the ground up. Most are forced to work with whatever space they've rented, bought, or inherited. So what do you do to maximize space and get organized when built-ins and interior design services aren't immediate options? The Container Store's Olescia Hanson recommends taking on a major organization project gradually, area by area. "All small living spaces have their own unique challenges," she says. "You have to figure out what you want to store in your home and where. And you have to develop an organization routine. Get in the habit of putting things away and don't let clutter build up. Once you are done with something, put it away." The upkeep sounds doable, but you have to get your pad in tip-top, organized shape first. That's why the Container Store has come up with its 12 top tips for making the most of a living space. Hanson explained them to us and suggested some items to look for on a trip to the store or on containerstore.com.
The Checklist | STEPS 1–12
1   Start in one place: We often get overwhelmed with all of the areas we want to organize, and we try to tackle them all at once. You really don't make progress that way. Pick one and devote your time to that area. Is it your kitchen pantry? Look at it and devote four hours. Or spend an hour on your bathroom drawers. Be realistic. Once you've got one area done, celebrate, get excited, and move on to the next one.
2   Allow plenty of time: Sometimes we're not realistic with our projects, and we think organizing an entire garage can happen in one afternoon. You have to take a look at the size and what you want to accomplish. Can you devote an entire weekend to it? If not, do something that will take an hour.
3   Clean house: Once you've selected the area on which you want to focus, you need to go through the contents. Create bins for items you want to donate or hold for an upcoming garage sale. Anything else can be tossed. Don't forget to use the two-year rule—if you haven't used or worn it in two years, it's likely you won't use it again.
4   Take inventory: Create an organizational system to contain those items. A junk drawer, for example, typically has batteries, change, stamps, office supplies—those kinds of things. If it doesn't make sense, fix it and take items to the appropriate area. You want everything to be very accessible.
5   Look for wasted space: A couple of areas that are prime examples are over doors and underneath beds.
6   Maximize your vertical space: There's a lot of wasted space in linen closets and master closets. Elfa, our custom shelving and drawer system, is great for any area of the home. It allows you to contain the items that you need, but as your needs change, you can adjust. Our annual sale goes through mid-February, so it's a good time to take advantage.
7   Divide your space: You can add additional shelves to a single shelf to use space in a cabinet. Some of us have cabinets that are fairly tall, and usually, you can stack plates and bowls and still have all that upper space. It's good to create another shelf for a modular approach.
8   Keep it moving: Consider storage options with wheels, which allow you more flexibility and help keep clutter under control. The Elfa gift-wrapping cart is a great example. It can be tucked away in a closet until you're ready to use it. Same goes for the file cart or a station for scrapbooking. It keeps things organized and portable.
9   Organize with color: Use colors to enhance your efforts. Maybe assign each child a different colored container for their belongings. Use that system in the kitchen and for incoming mail. Everybody can tuck things away in their own color-coded files.
10   Visibility: Choose containers that are transparent or easily labeled to help you better find items you're looking for.

11   Accessibility: You want the items used most often to be the ones you can most easily access. If you're focusing on a master closet, you don't want to put something you'll use during the current season on a high shelf.
12   Flexibility: Choose a system that adapts to your changing needs. That way, you can easily reconfigure and use the solutions available to solve new problems.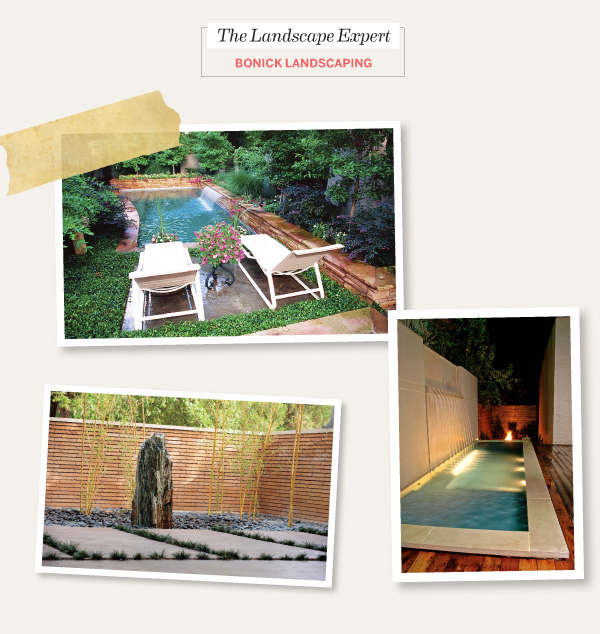 Bonick Landscaping has been designing, building, and maintaining outdoor spaces in Dallas for nearly three decades. While most of the company's clients are affluent homeowners looking for expansive, high-end projects, designer Glenn Bonick says he's equally passionate about making small yards and patios beautiful and functional. We chatted with him about his approach to designing and what people should think about when setting out to optimize their outdoor spaces.
Q: What's your general approach to making small yards and outdoor spaces feel larger or more inviting?
Bonick: You can turn a small space into an intimate one. It can be a wonderful vignette. But you need to decide how you want to utilize the space, whether you want it for outdoor entertaining or other things. Entertaining in the evening or daytime? Do you want sun, or do you need shade? Do you want the sound of water, or do you actually want to get into water? It's all about understanding how you want to design the space and how it will flow with the rest of the home.
Q: What do you suggest doing with more urban-looking outdoor spaces like patios and such?
B: If it's a small patio space, it might be good to think of it more as an evening entertaining area. We'd try to incorporate water, maybe fire— whether it's a simple fire pit or a traditional fireplace.
Q: How many people do you try to allow for when you are thinking about furnishings?
B: That's hard to say, because what's small for one might not be small for another. If you have a 20- by 20-foot area, you can easily put eight people out there, especially if you don't have to have a lot of green space. Some people just want nice furniture out there. But a 40-by-20 foot area with beautiful green space might accommodate only six people. I do feel that it's important to have some green space.
Q: And how do people without a green thumb or grassy areas go about that?
B: If they can't actually plant in the ground, landscaping can be done through container planting. Large containers work with vertical elements, like small trees or bamboo. It can give the space a sense of scale and make it feel more like a room.
Q: What's your process when getting started with a new client?
B: We get to know them. We brainstorm so that we can understand what they want to gain. Then we come up with a concept. We get everything on paper regarding space and flow. Different elements of outdoor living come into play—grills, fire, water. We can do couches or oversized chairs or even set up outdoor dining areas.
Q: Those are still really popular?
B: The outdoor kitchen is really big. And that doesn't mean it has to have all the nice appliances. It can just be a grill with a serving countertop. But you have to have it where it functions in the space. You want it to be hospitable during the day and the evening, if possible.
Q: What kinds of spaces do you absolutely love to design?
B: Small vignettes are always nice because they are more personal. While we love doing large backyards with all the amenities—sun areas, shade areas, eating areas—it's not always practical. So small vignettes and gardens can bring out the homeowner's personal flair.
Q: Where do people go wrong when setting up their outdoor spaces?
B: Starting something with half an idea and finding out it won't work after investing a lot of money.
Q: Any other must-have items for creating an oasis?
B: Lighting and music are so important. The smell, through plant materials, can really enhance a space. It's more of an experience. As for sound, Apple has great ways to manage your music and play it. It's an investment, but it's worth it.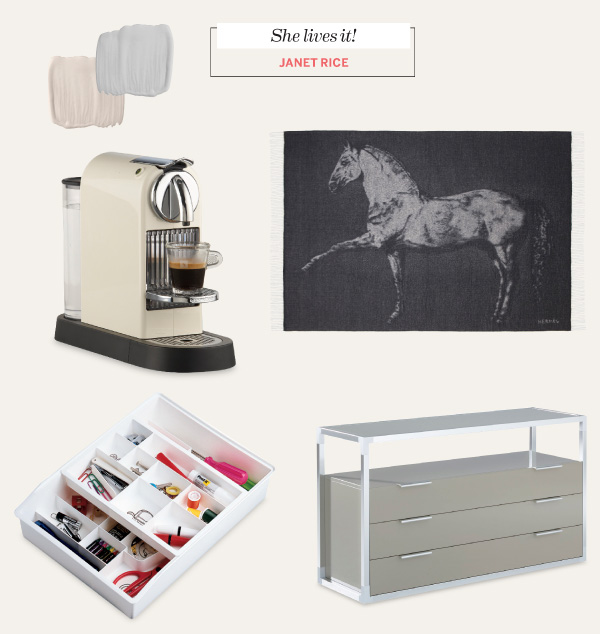 Janet Rice designs for all styles and sizes, but she's got a wealth of personal experience tackling small apartments and houses. "I lived in New York for 10 years and Dallas for eight," the owner of Janet Rice Interiors says. "I've lived in anywhere from 300 square feet to 2,000." In addition to the full-service design her firm offers, she's embarked on a second arm of the company called 101 by Janet Rice. She provides consultations, design ideas, and product info for those with a do-it-yourself spirit. She also provide "design therapy" for people with specific issues they need addressed. She'll even shop with clients, guiding them toward the tasteful and away from the tacky.
Q: What are some key things a person should consider when designing and furnishing a smaller space?
Rice: The first tip is to lighten up, color-wise. I really believe in using whites—gray-based whites. My favorite colors are Decorator's White and China White from Benjamin Moore. And there are two other colors, Winter White and Calm. You have to go light. It makes the space feel more open.
Q: What about fighting the clutter most of us have in every room?
R: Every drawer, especially in the kitchen, should have dividers. It's maximizing and organizing. You have to edit well and be completely organized. For me, since I don't have room for a full-on silver closet, I've got three drawers and three cabinets that are completely lined with silver cloth.
Q: Do you work with a lot of smaller spaces here in town?
R: Not here, because we live in Texas. So when I tell people I live in 2,000 square feet, they flip out. That's just Texas living for you. I design a lot of small spaces in New York, obviously. But it doesn't really matter—the same concept applies to large or small spaces. The key is editing. You don't need five okay pieces; you need one great piece.
Q: Can you give us an example of that?
R: Take the best of whatever it is. Let's take throw blankets for your sofa. A lot of people like to have that in their space, so they might buy a cashmere one, and a few others from different stores. I'd say scratch that. Don't buy three. Buy one and buy it from Hermès. It's forever, you won't get tired of it, and it doesn't go out of style. I also love Ralph Lauren for those timeless items.
Q: What about the bedroom? Is there a way to add some additional functionality to it?
R: Everything has to work and make sense. The bedroom should not only be a place to get in a good eight hours; if you have space for a chair or two and coffee table, or a place to read or write in the mornings, do it. Your nightstands also need to have drawers.

Q: What about choosing art for the walls? Less is more?
R: With art, it goes back to what I said earlier. Don't buy mediocre. You really can't afford it. Pick something you absolutely love. Me, I don't mind a whole wall of frames that house black-and-white photos. I have that in my home, in a long hallway. It's a way to add dimension and character. Go with a single piece or some sort of collection.