Russ Peters and Bill Cates relish a challenge.
Oddly shaped rooms, painful lack of storage space, windows where they would prefer a wall? At Peters Cates Design, they seem to like those kinds of problems.
The duo has a knack for complicated projects. When they joined the team responsible for the restoration of the Charles Dilbeck-designed Belmont Hotel, they encountered a space that had been run-down for decades and embarked on a project that took nearly three years.
"There's such quirkiness at the Belmont Hotel," Bill says. "It's not just a big white Sheetrock box that you then paint a color. It has curves and interest and problems, but they were all made to work."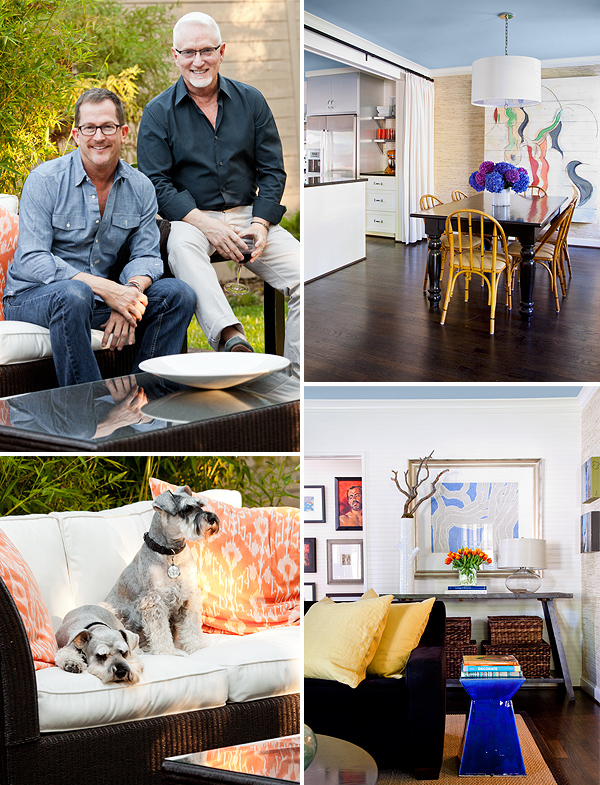 Bill and Russ brought that talent for tackling design dilemmas to their Oak Cliff home as well. On a quiet, tree-lined street in Stevens Park Village, the World War II-era house they remodeled several years ago stands as a testament to their mastery of space planning. Weighing in at less than 2,000 square feet—"on a big hair day, 1,500 square feet, maybe 1,400," Bill says—the 1941 house presented a set of challenges common in homes built during that time period. One bathroom per residence, for example, was the norm, and there was no such thing as a TV room.
"These room shapes are not ideal," Bill says. "It's like, where do you put a television? When this house was built, I doubt if anyone even had a television. So we thought, well, over the fireplace." Though some people might hesitate to make a TV that much of a focal point, Bill says give it a chance. "These beautiful, evolved televisions are available," he says, "and it's part of our life. If you're in a small space like this and you have an attractive, well-designed piece of technology, it can go over the fireplace."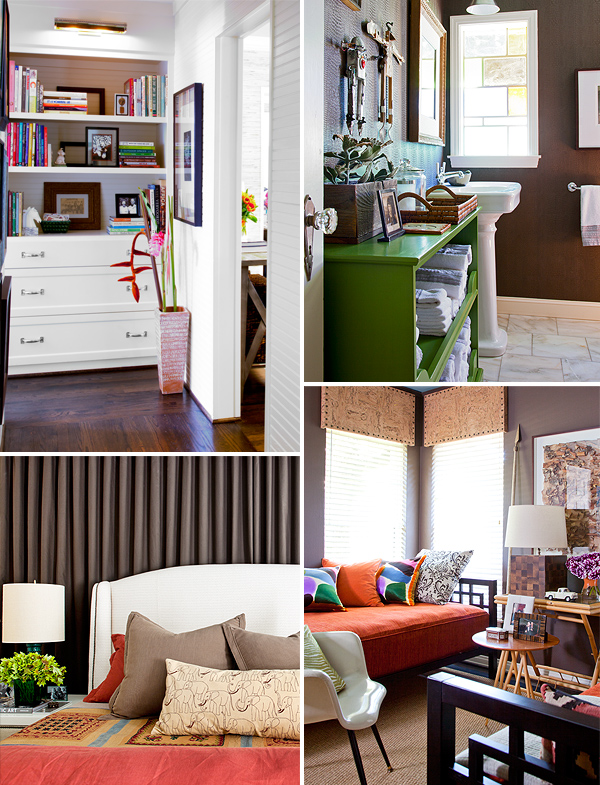 To solve the one-bathroom problem, they reduced the size of the kitchen to create space for a second washroom. "That was a little bit of a challenge," Russ says, "but by opening the kitchen up to the dining room and doing double doors out to a deck you don't step down on, we were able to visually extend it two directions. So though it's really a small kitchen, it doesn't feel real small."
When it came time to design the master bedroom, Bill and Russ had to get creative there, too. To hide a couple of windows, they covered them with a wall of drapery. "We felt like we needed a big, blank, uninterrupted wall, so that was a good trick," Russ says. "It's an easy thing you can change, too."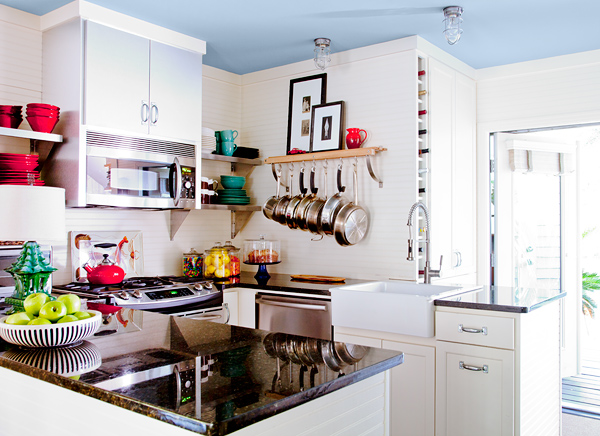 Other space-saving adjustments they made include turning the garage into an office, creating storage areas where none existed, and custom designing furniture pieces to fill certain spaces. In the dining room, for instance, they designed a china cabinet to fit one wall and had a custom canvas made for a piece of art on another wall. And in the hallway, they added a bookshelf that serves as a display case as well as a storage space. "We didn't want to miss a single opportunity for storage," Bill says.
A shortage of storage means Bill and Russ must employ a sometimes-difficult tactic: brutal editing. "When you're living in a small space," Russ says, "more stuff can't come in until some stuff goes back out. If it's on the top shelf of a closet and you haven't looked at it in two years, do you really care that much about it? Probably not." "In a small house, you really must edit," Bill adds. "It becomes second nature. Even if it's a CD—if it's ripped on my computer, it goes in the trash can."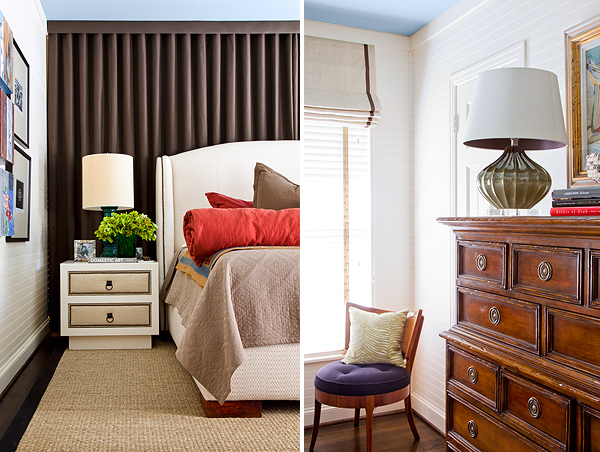 Part of the reason the guys are able to undertake such tasks is that they're not just designers. They're also project managers. Russ and Bill started doing business as Peters Cates Design in 2001, and since then, they have created an impressive Rolodex of vendors, craftsmen, and more. "A lot of contractors can't do the design work, and a lot of designers can't do the contracting," Russ says. "So the ability for us to do both is a huge plus."
Also, they love what they do. "Not to sound corny, but we live, eat, and breathe this," Bills says. "If we go on a vacation, we're looking at architecture, or we're looking at accessories, or we're shopping for our clients. We're accessory predators. I don't know what we would do if we weren't doing this."

Styled by Jocelyn Meintser | Flowers by Haile Wossen
Get our weekly recap
Brings new meaning to the phrase Sunday Funday. No spam, ever.