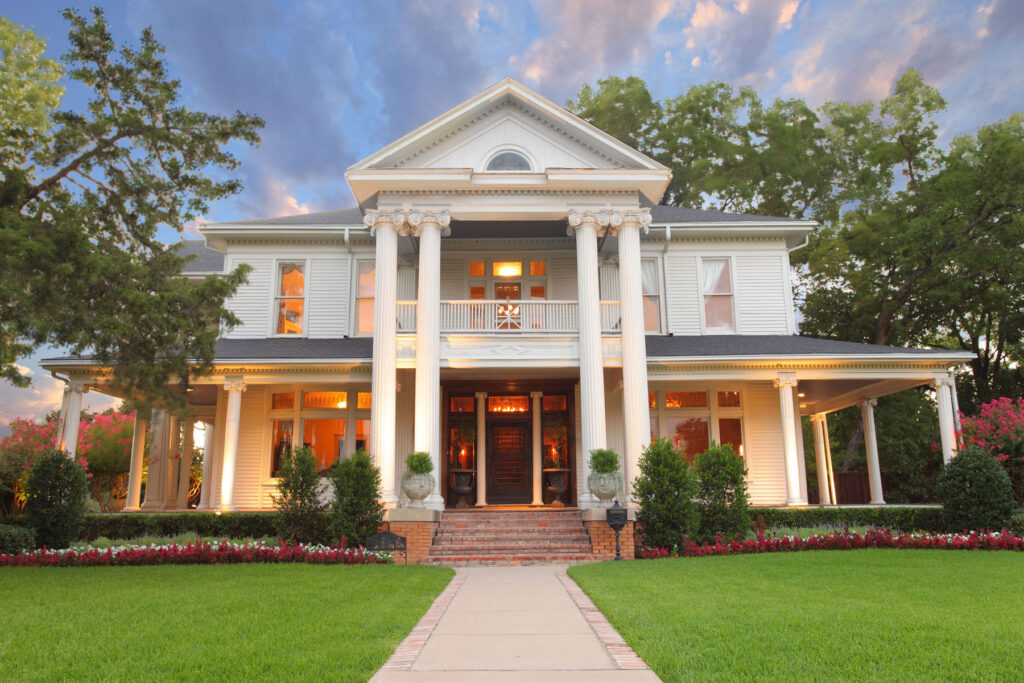 The 10 Most Beautiful Homes in Dallas 2011
Our annual salute to the prettiest pads in the city.
It's that time of year again—the days when the D Home staff piles into a clown car, logs miles and miles and miles, and fights to the death to determine the homes that are fairest of them all—based solely on curb appeal. Past complaints, such as "They're all in Highland Park" and "They're all built in the 1940s," don't hold up this go. This year's winners span from the Cliff to North Dallas, and more than a few were built in the aughts. So there.
All housing information is from dallascad.org or verified by homeowner.
---
4303 Swiss Ave.
Why we chose it: This house takes us to another time and place—specifically, Tara before the Civil War. And as professional procrastinators, we can't think of a better place to sip mint juleps and muse, "After all, tomorrow is another day," about our unfinished projects.
606 Blaylock Drive
Why we chose it: Hello, are we in the Hamptons? No, we are a mere five minutes from downtown Dallas. This charming Cape Cod, situated on a little lake, reminds us of Grey Gardens—before things went south, obviously.
6810 Turtle Creek Blvd.
Why we chose it: You can't throw a rock in this town without hitting a Mediterranean. And that's not always a good thing. But this rather new home is Mediterranean done right. The scale is perfect, there are no weird turrets, and it sits appropriately on its lovely landscaped lot.
4332 Arcady Ave.
Why we chose it: At 13,000-plus square feet, it's hard to say this house is anything but grand, but it still has a somewhat casual feel to it—like the butler would admit you even if you were wearing jeans. But once he caught you having your Evita moment, he'd obviously ask you to leave. It's not that casual.
6047 Orchid Lane
Why we chose it: Everyone knows we love modern houses over here, and we make no apologies for that. But come on. Even you traditionalists have to admit this is a great house. And the native landscaping is attractive and smart. Unlike other folks in the area, these homeowners probably didn't get a water bill that reduced them to tears during the long, hot summer.
3722 Cragmont Ave.
Why we chose it: It's a house out of a storybook. Some of us said it was fit for a hobbit. Others countered that it's more of a Hansel and Gretel house. Rather than argue, we added it to the list of winners and then popped into 7-Eleven for candy and cookies.
8214 San Benito Way
Why we chose it: Not all the new moderns fit into the Forest Hills neighborhood. This one does. We love the grandeur—not often associated with modern, by the way. We also like that you can see right through from front to back and envy the fact that the owners seem to live a clutter-free life.
5907 Swiss Ave.
Why we chose it: This is the quintessential Swiss Avenue house. It's classic and elegant and lovely. Also, we've been doing this for a while now, and it might be the only Swiss house left that we haven't photographed.
3712 Euclid Ave.
Why we chose it: It resembles a church, right? We're not saying it's on hallowed ground, but this house really makes us happy. It's Gothic—but not scary Gothic.
1125 N. Canterbury Court
Why we chose it: You know how a lot of Charles Dilbeck-designed homes are quirky? This one is, too—but it also has charm and romance. We love the courtyard. We love that it sits on a cliff. We love the landscaping. We love it all. And we'll never stop driving by. Never.