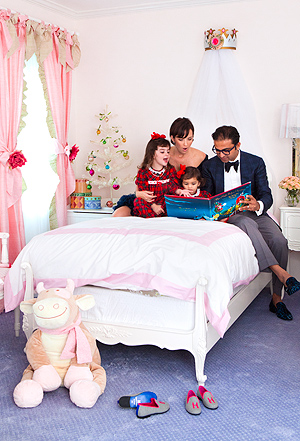 The 8-foot flocked tree is trimmed with chartreuse ribbons and fresh cymbidium orchids that precisely match the wasp-waisted Jonathan Adler lamps. The lime green hue also echoes the abstract Lisa Bolin canvas hanging across the living room—a snug room filled with lean furniture the color of poured concrete. All of this polished, perfect coordination is subtle. Inside Gable and Ed Shaikh's white midcentury ranch house in East Kessler Park, even the holiday decorating decisions have discreet purpose. They were made by a couple versed in the treacherous language of "Not Trying Too Hard." After all, the Shaikhs met on the floor of the Ralph Lauren store in Highland Park Village nine years ago. What other American designer is more fluent in that language? 
"The tree is merchandised, obviously," Ed acknowledges, sitting down with a cup of coffee. He's pressed, buckled, cravatted, and buttoned down in navy stripes at 8 am. "We like our tree color-coded," adds Gable, clad in brown tweed fine-gauge cashmere swirling around a matching shift dress. 
After several years at Ralph Lauren and a few more at Stanley Korshak, the couple is now three years into creating a lifestyle brand of their own, Hadleigh's. The store, atelier, and label are named after one of their two daughters. The venture's three-month-old storefront is just down from Ralph Lauren in Highland Park Village. There, the couple offers Hadleigh's-label suits, slippers (just picked up by Neiman Marcus for Christmas), shirtings, children's wear, and hand-knit cashmeres. The duo has big plans to continue to roll out new products—all tested by the couple. With the holidays in sight, the new store owners are feeling the holiday-shopper expectation. But they love it.

While Ed and Gable's work life might be focused on finding the right hand-ticked shirt and the just-right paper to double-stick tape around it, they try to leave the perfectionism in Highland Park. The view from the living room's Egg-style chair—upholstered in the same gray flannel used for their crested slippers—does indeed reveal a house ready for a holiday card photo. He's a St. Edward's grad from Pakistan and has a politely chirpy British accent. She was raised in Manhattan and studied at the Fashion Institute of Technology. In the garage is a 1956 Porsche Speedster. On the kitchen island lies a platter of fresh berries and warm scones. But, on closer inspection, endearing imperfections reveal priorities. English pointer hair on the $2,150 Hadleigh's cashmere throw. Long and deep dog-paw scratches on the hardwoods. The smell of orange juice on the gray flannel chair, perhaps spilled from a sippy cup. A smattering of candy-colored rhinestones marring the museum-finished wall.
"Oh, those rhinestones!" Gable says, laughing. "When [stylist] Brad Hatton was here helping with the tree, Hadleigh said she wanted to help." "We used to just be focused on us at the holidays," says Ed, acknowledging what used to be somewhat unrelenting fabulosity around here. He sums up their former idea of Christmas by way of a particularly chic  David Lynch visual. "There was this tree at the Hôtel Costes in Paris. It was flocked a deep red. I didn't know you could get red flocking. The only ornaments were fresh, dark red roses all over it. It was amazing."
But with the arrival of Hadleigh in 2007, the young couple who got married on New Year's Eve ("We like to party!" Gable says) started getting serious about tradition. That includes breakfast and opening presents at 6 am on Christmas Day with all the family joining and adding an additional, less five-star-Parisian-hotel tree on the girls' breakfast table. For the couple from completely different backgrounds, the incorporation was surprisingly harmonious. "We always said that when we had kids we would mix our beliefs," says Gable, who attends mosque with Ed in Carrollton for Islamic holidays. Raised in Pakistan with a family of dessert bakers who have been "sweet merchants" for hundreds of years, Ed celebrates Christmas with Gable and her family and attends Park Cities Presbyterian on Christmas Eve. "My parents get into it, too," he says.
Despite all the great things the Shaikhs have going on at the moment, they look at the holidays as a time to slow down—if only for a moment. "All of this isn't about the perfect presents or the religion or December 25. It's about stopping what you're doing and enjoying one another," says Ed, looking at Gable. And that's just about as perfect as it gets.
Styled by Brad Hatton | Flowers by Andrew Rodriguez
Get our weekly recap
Brings new meaning to the phrase Sunday Funday. No spam, ever.