Gray Living owner Randal Weeks is excited. His 4,000- square-foot store in the heart of McKinney's town square is open for business. "I had to have a store so I could have a place to play," Weeks says. "My house was stuffed so full that I wasn't allowed to bring anything else in!" Weeks is the founder of Aidan Gray, a home furnishings and accessories company with a natural, European-influenced aesthetic. While not all of the merchandise in the store is Aidan Gray (it accounts for nearly 40 percent), the shop is definitely a reflection of Weeks' point of view. Another reason for excitement? Weeks brought in design pro John Bassignani—former Haven co-owner—as the store's manager.
D: Where did the idea for a store come from?
RW: I started Aidan Gray about eight years ago. I started thinking about a store around two years ago. I wanted to create a place that was inspirational, where people could go and feel good—the way I feel when I go into some of my favorite stores, like ABC Home in New York City.
D: Why McKinney?
RW: We wanted to be right on the square. At night, I hope people will wander in and explore. We will be open until 8 o'clock on Friday and Saturday nights, so that should help.
D: How would you describe the aesthetic of the store?
RW: For me, it's not all about color. It's about details. I also love found objects—the older the better. We are also known for our lighting, and even those have great details, like fabric-covered cords and good sockets.
D: What pieces are you most excited about?
RW: I tend to gravitate toward things I discover on vacation. A friend had these Lafco New York candles in her beach house, and I knew I wanted them in the store. I'm also really excited about the outdoor upholstery from Lee. There's so much wrought iron and wicker out there; this is a nice departure from that.
Find more information about Gray Living in our online guide to shops.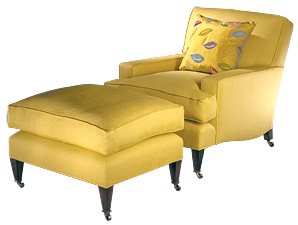 New Collection
Fine Line
ID Collection showcases William Yeoward furniture.
British designer William Yeoward is known for his exquisite crystal and English-inspired textiles. Now he's bringing his inimitable style to furniture, and he's chosen Dallas' ID Collection  to showcase the entire collection. Dallas is one of only four markets in the country to get the new line. Our favorite pieces: the Barramundi dining table with polished nickel rings and the mirrored brick cabinet. 214-698-0226. interiordesigncollection.com.

Get the ItList Newsletter
Be the first to know about Dallas' best events, contests, giveaways, and happenings each month.