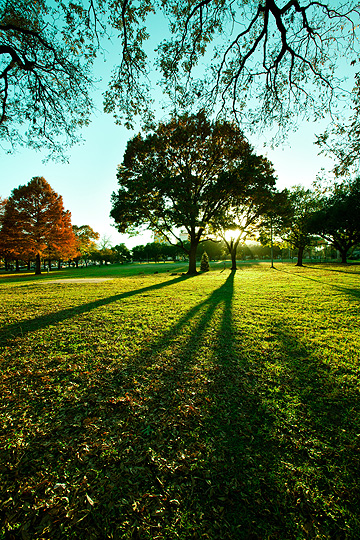 Bryan Place started as a "stylish downtown neighborhood in the shadow of skyscrapers," as an old Fox & Jacobs brochure describes it. The first phase of the development began on 15 acres with a dozen homes in 1980. But when the Dallas real estate crunch hit in the late '80s, Fox & Jacobs stopped short of the planned 2,000 housing units. The neighborhood—with freestanding, zero-lot garden homes and newer townhomes—hasn't had as much publicity since then, and it's not a place you'd easily happen upon. It feels very much like private property. And the residents like it that way.
Population: Around 600 families
Location: Bryan Place is a 0.6 mile-by-0.3 mile rectangle, just east of downtown Dallas, within the boundaries of Ross Avenue, Live Oak and North Washington streets, and Central Expressway.
Average home price: $225,000 ($136.50 per square foot)
Average lot size: 45 by 75 feet
Where to go: While there aren't any businesses within Bryan Place proper, it is surrounded by some of Dallas' most sought-after destinations. Residents will tell you everything they want is within fives minutes. Head east down Bryan Street and you'll find Bangkok City and Vietnam. Head down Ross Avenue toward downtown for a 10-minute walk to the Arts District.

Why Bryan Place: This is where urban pioneers walk the walk. Really. You can walk to dinner, pubs, even the Arts District. Patricia Levitt and her husband moved there in 1980, when there were fewer than 10 homes in Bryan Place, to be closer to their office near the Baylor College of Dentistry. Friends often ask about the crime, but Levitt says the only crime they've experienced was when a pair of her husband's running shoes—which he'd left on the front porch for three days—was stolen. While Bryan Place originally attracted singles and couples without children, you see plenty of baby strollers at the clubhouse parties these days. Residents are retired, newly married, families with kids, gay, straight, and of every color. And they are a force, cleaning up Exall Park, building a community swimming pool, and keeping an eye on zoning changes. "Our board can send out an e-mail and get 50 people at City Hall," says Chris Craig, a resident for almost 20 years and past president of the neighborhood association.
Addresses for sale:
915 Liberty Court
1315 Birkenhead Court
1420 Spenwick Terrace
Get the AtHome Newsletter
Enjoy Dallas' best trends, hot properties, and tips from local designers to help you nest in style delivered weekly.