Heather Wiese-Alexander Throws a Garden Party
This Dallas tastemaker saves us a seat at her table.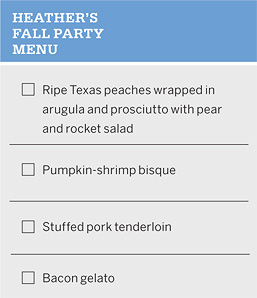 Heather and Scott Alexander are not horticulturists. But the greenhouse in back of their University Park home was one of the main reasons they bought it. "I love growing herbs for cooking, but I wouldn't say either of us are plant people," Heather says. The greenhouse went from plant place to party place after a trip to Venice. "I was picking out some chandeliers for a client, and I got a notion to hang a couple in the greenhouse and make it something I knew how to operate: a dining room," Heather says with a laugh.  "Voila! Problem solved, and now we have the perfect place to entertain."
No raves here. Heather prefers a civilized dinner party, thanks very much. Conversation is king. "I like to invite six interesting people with varied interests."
And although Heather can cook, she prefers to hire a chef for the greenhouse parties. "Tre Wilcox is probably the one we've used the most. We're really looking forward to him coming back to Highland Park," she says.