Tom Addis Hosts Dinner at Eight
The local stylemaker saves us a seat at his table.
Event mastermind Tom Addis party plans for some of Dallas' biggest and boldest names. Perhaps you've seen him running around the Crystal Charity Ball, making sure every last detail is perfect. It's possible you've caught sight of his white patent leather Gucci loafers on his Tuesday-evening outing at Mi Cocina. (That's when he meets with a group of fun folks for a weekly "Bible study.") This is a man who knows how to have fun—on every scale. And he's also one of the dearest, most caring people in town. That's why scoring an invite to one of his dinner parties is such a delight.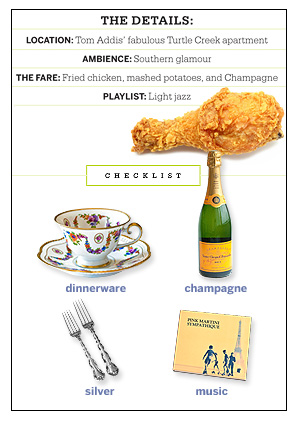 Addis' ninth-floor apartment is a classic mix of Southern charm and Old World glamour. So, too, are his dinner parties. "My mother and grandmother collected china and silver," he says. "I also have my grandmother's collection of linens. So I like to use it all." Addis' genius is his ability to combine elegant accoutrements with good old-fashioned Southern cooking. A typical menu might include fried chicken (he advises buying it at Bubba's in a pinch), mashed potatoes, cream gravy ("of course"), sweet-corn casserole, and collard greens. For dessert, it's homemade lemon meringue pie, all the way. "I would serve it with Champagne, though I know a lot of people wouldn't," he sniffs.   
As for the guest list, bigger is better. "For a seated dinner, I can do eight," he says. "But I usually have more than that—around 16. So everyone is eating off their laps." No dress codes here. He invites his guests to come as they are. "I usually like all my closest and best friends to come over, with a few new people thrown in," he says. "Diversified conversation is more interesting." But as friend John Marrs points out, everything is more interesting at the Addis abode. "Once he brought out silver tongs for hamburgers," Marrs marvels. "I didn't even know there was such a thing."