"Here, take this," says potter Ginny Marsh. Her strong hands cradle a vessel that's flawed yet beautiful. Black and blue as if bruised, with veins of umber creeping across its surface, the tea bowl is by no means perfect. The surface is coarse. Divets dot the rim. But, as the cliché goes, God is in the details or—in this case—the imperfections. Holding one of Marsh's tea bowls, one can feel her passion for the clay, the earth, and, of course, the fire. "Besides the warmth of the tea and the friendship, the bowl itself carries the mark of the maker's hand and tells the user a lot about how the maker touches clay," Marsh says. "The communication happens at several levels."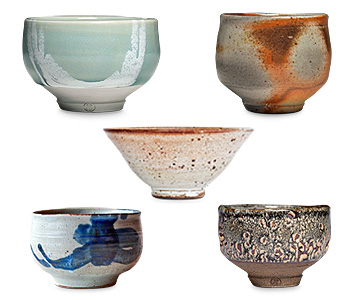 She smiles and passes the bowl. In it, a frothy, thick liquid the color of sea foam rocks back and forth. This is matcha. "The tenderloin of tea," explains Kyle Stewart, certified tea specialist and co-owner of The Cultured Cup. Stewart has orchestrated today's tea service not only to showcase the artful bowls of Marsh and local potter Aki Shiratori but also to preach the gospel of matcha. He urges everyone to pick up their bowls and consume the tea. Yes, consume. Not sip. The ultra-premium Japanese green tea is ground into a fine powder. Unlike regular green tea leaves, which are removed after steeping, matcha leaves are whisked with water and consumed entirely. This ensures that the drinker intakes a higher concentration of the green tea's antioxidants, vitamins, and fiber. The thick liquid is alluring and complex. Some noses crinkle upon the first whiff. "It's definitely fragrant," Stewart says as he coaxes everyone to take that first taste. On the front end, matcha is astringent, almost vegetal in taste. But the chewy mouthfeel and slight bitterness give way to a nutty sweetness that coats the palate. Marsh smiles again. "Isn't that lovely?" she coos.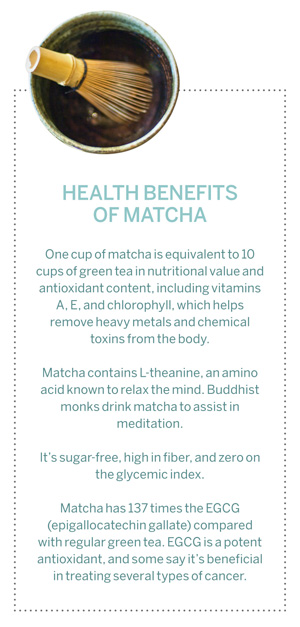 Attention turns to Shiratori's tea bowls. The professional hairstylist studied pottery at SMU 25 years ago. His Japanese friends see a Western influence in his work. "I try to make bowls that are gentle to your hands when you hold them," he says. "Is it gentle to your lips? Easy to drink from? Is the weight balanced? Is the sound good when you whisk the tea? But most of all: do I like to use this bowl?"
"Yes, that's most important," Marsh agrees. "Tea bowls are highly personal," she says. "If you don't use the bowl, then it never lives. It dries and fades." In Japanese culture, experience is valued. Tea bowls are repaired. Flaws are drawn out, emphasized. It flies in the face of Western tastes. Marsh chuckles as she reflects on her art—these admittedly "imperfect" yet perfectly beautiful bowls—and their creator. "I guess neither of us are getting older," she says. "We're just both working on our patina."
Marsh's and Shiratori's tea bowls, as well as matcha green tea, are all available at The Cultured Cup. theculturedcup.com.
UPCOMING EVENT
Cooking Simply With Matcha Tea: How To Add One of the Healthiest Super Foods Into Your Summertime Recipes
Learn what matcha is, how it is grown and processed, how to prepare it traditionally, and how to incorporate it into other food and beverage recipes. Filled with tips, recipes, and food pairing samples, this cooking class will help make your summer entertaining easy and healthful.
Thursday, July 15, 6:30-9 pm  | The Cultured Cup

Get the AtHome Newsletter
Enjoy Dallas' best trends, hot properties, and tips from local designers to help you nest in style delivered weekly.