Dallas Designer Secrets 2010
We asked some of the city's most esteemed interior designers to give us the skinny on everything from their best-loved antique stores and hotels to their chair and paint of choice. Here are the tasteful results.
Marty Baker
Flower: Cyclamen
Color: Red
Paint: Benjamin Moore Affinity in soleil
Must-have item that costs less than $50: Crystal vase for fresh flowers
Sheets: 500+ thread count
Scent: Lavender
Candy: Godiva truffles
Museum: The Frick Collection, New York City
Local museum: The Nasher
Art gallery: Beaux Arts
Hotel: The Canary Hotel, Santa Barbara
Local restaurant: Chamberlain's Steak and Chop House
Fabric: Travers Shiraz cream
Antiques store: Adele Hunt's European Antiques
Book: Anna Karenina by Leo Tolstoy
Chair: Oslo lounge chair by Nancy Corzin
Television show: Mad Men
Guilty pleasure: Häagen-Dazs coffee chocolate chip ice cream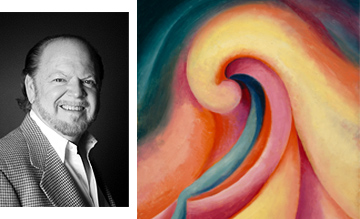 Stephen Dunn
Flower: Gardenia and iris
Color: French gray
Scent: Patchouli
Candy: Dark chocolate-covered almonds
Museum: Georgia O'Keeffe Museum, Santa Fe
Local museum: The Nasher
Art gallery: Musée d'Orsay, Paris
Hotel: Four Seasons Hotel George V, Paris
Local restaurant: The French Room and Stephan Pyles
Fabric: Cashmere
Antiques store: Jan De Luz, Carmel
Local store: Forty Five Ten
Candle: Agraria-orange peel
Book: The Prince of Tides by Pat Conroy
Chair: Barcelona
Television show: Avoid them at all cost
Guilty pleasure: Massage at Ten Thousand Waves in Santa Fe
Photographer: Avedon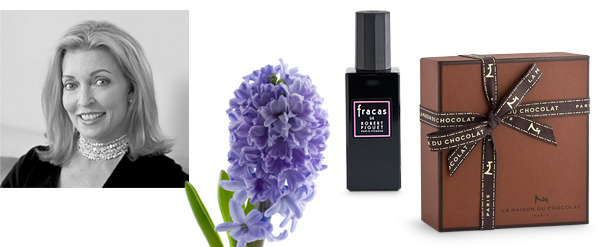 Jan Showers
Flower: Hyacinths—any color
Color: A tie between a soft golden yellow and almost any shade of green
Paint: Donald Kaufman
Must-have item that costs less than $50: Books
Sheets: Sferra cotton percale or Porthault percale
Local restaurant: Can't pick one—Nobu for the best fish in town, Parigi because of fresh ingredients and great atmosphere, and Nonna for the best pasta in Dallas
Candy: La Maison du Chocolat
Scent: Fracasin the summer; L'Heure Bleue in the winter
Fabric: I love a beautiful crisp linen, a silk taffeta for lush drapery, and a silk velvet for upholstery
Antiques store: Liz O'Brien and Alan Moss in New York; also almost any shop on Rue Bonaparte and Rue de Lille in Paris
Local store: Forty Five Ten; also the downtown Neiman's store—it's been a favorite since I was in grade school
Candle: I'm not a big fan of candles, but I do think that the best ones are made by Diptyque and L'Artisan
Book: Any book by Ian McEwan
Chair: I am obsessed with chairs. How can I pick one?
Television show: Mad Men
Guilty pleasure: Watching old movies and reading the Daily Beast every day
Photographer: Early Richard Avedon. I also love Bruce Weber's book A House Is Not a Home.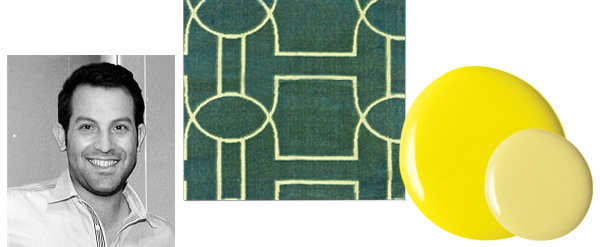 Julio Quinones
Flower: Peony
Color: Today, it's yellow
Paint: Benjamin Moore
Must-have item that costs less than $50: Naturopathica Carrot Seed Protective Serum
Sheets: Matteo
Scent: Eau d'Orange Verte from Hermès
Candy: Snickers
Museum: The Metropolitan, New York City
Art gallery: Dunn & Brown Contemporary
Hotel: Fresh, Athens
Local restaurant: Salum, of course!
Fabric: Patout Bleu by Clarence House
Antiques store: Ed Hardy Antiques, San Francisco
Local store: Nick Brock Antiques
Candle: Lake Austin Spa Resort in Lavender
Book: 740 Park: The Story of the World's Richest Apartment Building by Michael Gross
Chair: Klismos style
Television show: Law & Order: Special Victims Unit
Guilty pleasure: Chip's cheeseburger with avocado
Photographer: Nic Nicosia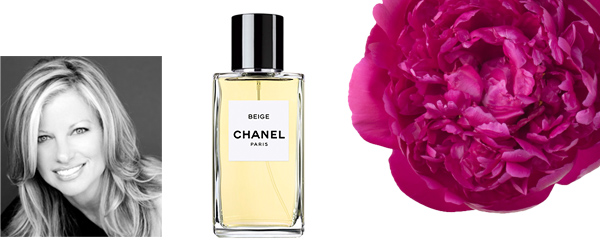 Niki Powell Samuel
Flower: Peony
Color: Deep brown
Paint: Benjamin Moore No. 954 in Guggenheim White
Must-have item that costs less than $50: Whole Foods 365 Chocolate Truffles for $5.99
Sheets: 1,020-thread count by Sferra
Scent: Beige by Chanel
Candy: Candied apricots from Neiman Marcus
Museum: The Rodin, Paris
Local museum: The Nasher
Local art gallery: Craighead Green
Hotel: Jade Mountain, St. Lucia
Local restaurant: Shinsei and La Duni
Fabric: Steven Harsey mohair and Donghia silk
Antiques store: Burden & Izett Antiques, New York City
Local store: Forty Five Ten
Candle: Maison Amber
Current book: The Zookeeper's Wife by Diane Ackerman
Chair: My personal office chair, the Eames Management in platinum leather
Television show: Frontline, Discovery ID, and anything on the History Channel
Guilty pleasure: Dark chocolate and a favorite Cabernet
Photographer: Robert Doisneau and Mary McCartney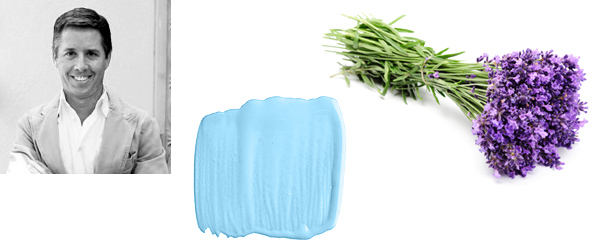 Ike Isenhour
Flower: Casablanca lily
Color: Pale blue
Paint: Joya White
Must-have item that costs less than $50: Santa Maria Nouvella potpourri
Scent: Lavender for home; Bulgari Vert for body
Sheets: Bagni Volpi
Candy: Mike and Ike
Museum: Tate Modern, London
Local museum: The Kimbell
Art gallery: Holly Johnson
Hotel: Quinta Maria Cortez, Puerta Vallarta
Local restaurant: Nonna
Fabric: Arctic by Clarence House
Antiques store: JF Chen Antiques, Los Angeles
Candle: Don't burn them
Book: A Prayer for Owen Meany by John Irving
Television show: Shark Tank
Guilty pleasure: Original Market Diner
See our list of the Best Designers in Dallas 2010.