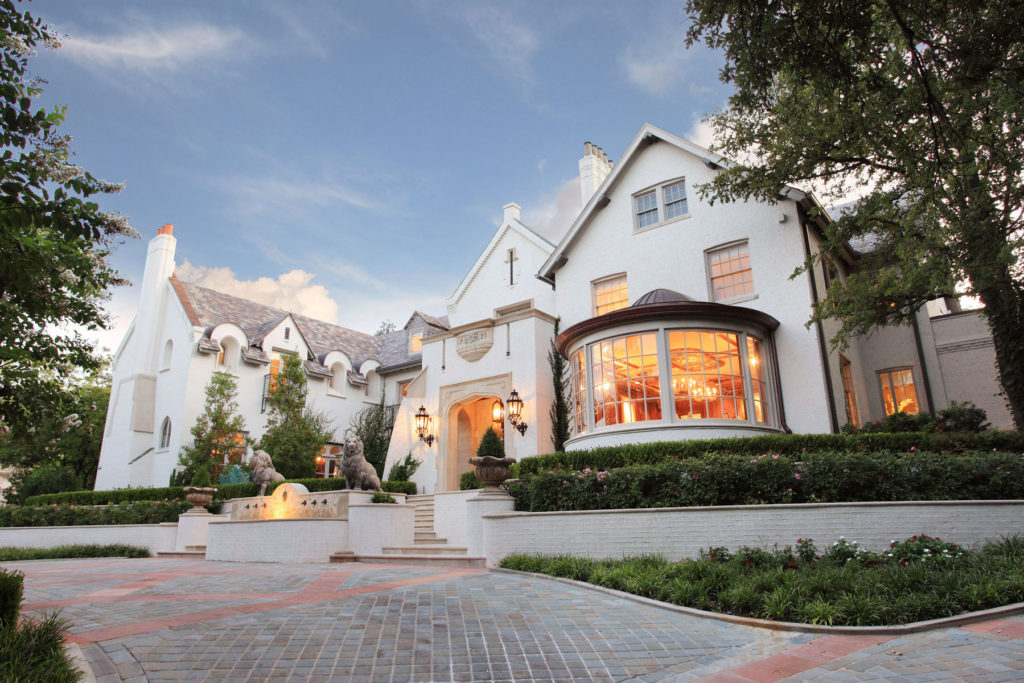 The 10 Most Beautiful Houses in Dallas 2009
We remain as superficial as ever. Forget what your mother told you about beauty on the inside. For our needs, it's what on the outside that counts.
Now in our second year of scouring the city for its most beautiful houses, the D Home editors finally have the hang of this beauty pageant thing. We've been running the roads, armed with iPhones and notepads, looking for the prettiest palaces in town. And we remain as superficial as ever. Forget what your mother told you about being pretty on the inside. For our needs, it's what's on the outside that counts. This race is about one thing only: curb appeal.
All housing information is from dallascad.org or verified by homeowner.
---
4301 Lakeside Drive
Why we chose it: Despite its size—it's more than 10,000 square feet—there's something really peaceful about this gorgeous mansion, like a chapel or a convent of old. It reminds us that even if we work really, really hard, we will never have a house this lovely.
4524 Rawlins St.
Why we chose it: More traditional than most of our picks, this 3,881-square-foot house is so Southern. It's the sort of place that makes us want to take a seat in one of those rockers on the porch, have some tea, and say things like, "After all, tomorrow is another day." Fear of trespassing charges prevents us from doing just that.
4340 Rheims Place
Why we chose it: Modern doesn't have to be cold, as is evidenced by this contemporary place on Rheims Place. D Home editor Peggy Levinson felt so strongly about the great combination of architecture and nature going on here that she forced us to drive by it a dozen times. We're still friends. But only because she's right.
3512 Crescent Ave.
Why we chose it: Dallas is mad for Mediterranean, and sometimes we get carried away. Want to see Mediterranean done right? Program this address in your GPS. This house has perfect symmetry and was built during the golden age of Highland Park—back when the lot was just as important as the house.
3428 Beverly Drive
Why we chose it: Admit it: you didn't even look at the address. You know exactly where this house is. It's iconic. We love so much about this house—the eyebrow window, the great side veranda—but it's that spiral staircase that gets us every time. Is there a better way to escape boring guests?
1704 W. Colorado Blvd.
Why we chose it: After brunching at Hattie's, have the designated driver take you by this house while you sing the theme from The Beverly Hillbillies. Then take note of the way it sits on the land, the cool planter that splits the stairs, and the lush landscape. This manse really is the stuff of California dreams.
6243 La Vista Drive
Why we chose it: You know as well as we do that times are tough. When you're standing in front of this house, you forget all about that. This Swiss chalet-like abode, with its green tile roof and fabulous chimneys, transports us to Vail Village. That is, until the sweat starts running down our neck and we realize we're in Dallas.
1630 Junior Drive
Why we chose it: When we drove by, we all said, "That house is awesome." That's how cool it is: it reduced a car full of middle-aged people to teenagers. It's just perfectly lovely, perched at the top of a hill, with architecture that mimics the topography.
5647 Swiss Ave.
Why we chose it: This mission always leads us back to Swiss Avenue, which has an embarrassment of riches. So why this house, this year? Craftsman doesn't get any better than this. We also love what look to be the original leaded windows.
7030 Tokalon Drive
Why we chose it: Welcome to a castle that's the stuff of fairy tales on the most beautiful street in Dallas. All that's missing at this 4,236-square-foot home is a moat.