In the Kitchen With Dallas' Top Chefs
Running a restaurant is an around-the-clock job. But here's what happens when these top toques go home.
Dunia and Espartaco Borga

Co-owners, La Duni restaurants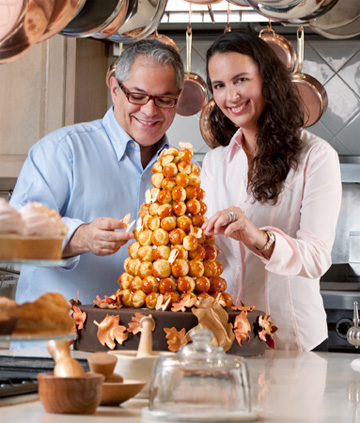 Being around Dunia and Espartaco Borga and their 8-year-old son Brandon is a lesson in love—not just for each other but also for food. She is a baker and he is a chef, and these two talented lovebirds, who celebrate their 10th anniversary this year, have life stories as colorful as the table linens Dunia brings home from Paris. Colombian-born Dunia credits her grandmothers—one Yugoslavian, one Colombian—for her culinary tendencies. Spanish-born Taco left his studies in politics and computer science in Mexico to join his father in L.A., where the former movie producer had opened a restaurant. "You know why I fell in love with Taco?" Dunia asks. "He wakes you up with coffee and freshly baked croissants and the best, creamiest eggs ever." (His secret to great eggs: medium-low fire, no milk or cream, butter in the pan, stir them gently, and don't overcook.) This family knows how to spread the love—at their restaurants and at their house. Their North Dallas ranch serves as a test kitchen—you've never seen so many stainless steel and copper pots, pans, and measuring cups or commercial-grade appliances—where the La Duni chefs learn and friends and neighbors taste-test new recipes.
BORGAS' KITCHEN SECRETS
What's in the fridge: Pellegrino water, fresh fruit, oranges for freshly squeezed orange juice, gourmet jams and marmalades, eggs, imported butters, homemade English muffins, organic milk. Pantry provisions: a selection of rare/gourmet sugars and salts, imported pasta, 10 breakfast cereal types. Advice for those cooking at home: "Enjoy the cooking. Do not stress too much about the result. We burn, mess up, and constantly change first-time recipes—until they work." Can't live without: Dunia: mixer; Taco: two dishwashers.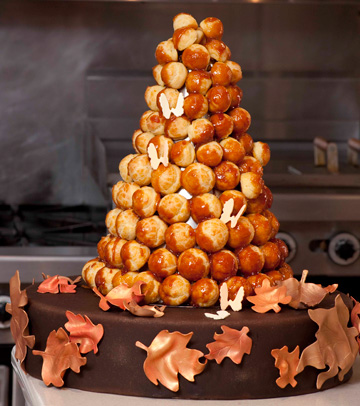 Dunia Borga's Croquembouche

1 recipe pâte à choux (cream puffs)
1 recipe dulce de leche filling
1 pastry bag (or Ziploc bag with the corner cut out) fitted with a round #8 pastry tip and filled with dulce de leche filling
1 recipe sugar caramel for mounting

Insert the pastry tip into the underside of each puff and fill with dulce de leche filling.
Prepare your assembly station with parchment paper and serving tray. Make the sugar caramel.
Impale the bottom of each puff with a small knife or skewer. Dip the top of each puff (not the full puff) one at a time into the caramel. Arrange puffs next to each other in a circle on a parchment-lined serving platter or baking sheet. The caramel will glue them together.
Continue building the croquembouche, dipping and gluing another smaller ring of puffs on top of the first one, until the classic cone or tower shape has been achieved. Drizzle the croquembouche with caramel.
Set on a serving platter. Add decorative elements in the crevices. Just add caramel to the back of each item and place in desired location. We love to add sugar butterflies or sugar flowers.
Pâte à Choux

Yields 70–120, depending on size
For the dough
1 cup water
1 cup milk
8 ounces (two sticks) unsalted butter, cut into pieces
1 teaspoon salt
2 teaspoons sugar
2½ cups all-purpose flour
8 eggs

For the glaze
1 egg, beaten
Combine water, milk, and butter in a small heavy saucepan and bring to a boil. Sift together the salt, sugar and flour. Set aside.
Remove water, milk, and butter mixture from the heat and add the flour to saucepan while stirring constantly. Return the saucepan to high heat, stirring continuously, until a smooth mass forms.
Transfer the mixture to a mixing bowl. I prefer the stand-up mixer fitted with a paddle attachment. Start the mixer at medium high speed and begin adding the eggs one at a time. It is important to add the eggs to your ingredients slowly, so you don't end up with scrambled eggs. If you don't have a stand-up mixer, you can mix your dough in a bowl with a wooden spoon. The dough needs to cool a little before adding the eggs one at a time.
Beat the dough until it is smooth and elastic. Place the dough in a pastry bag (or a Ziploc bag with the corner cut out) fitted with a plain round half-inch pastry tip. Pipe dough onto baking sheets, forming little rounded mounds 1 inch in diameter and ¾ inch high.
Brush each mound with egg (glaze), smoothing the top of each as you brush. Bake at 350 for 25-30 minutes or until golden brown.
Cool the puffs on a wire rack. They can be used immediately or frozen in an airtight container for future use.
Dulce de Leche Filling

2 cups heavy whipping cream
1 cup dulce de leche

Place heavy whipping cream in a mixer fitted with whip attachment and whip until soft peaks start forming. Add dulce de leche and finish mixing until stiff peaks are formed. Keep refrigerated.
Sugar Caramel

1/3 cup water
1 cup sugar
3 tablespoons light corn syrup
In a small saucepan, place the water first, then slowly add the sugar and corn syrup without stirring. Make sure you do not to touch the sides of the pan. Cook at medium high heat till mixture comes to a boil. Do not stir.

Wash down the sides of the pan with a pastry brush dipped into cold water to avoid any sugar crystals forming. Place a candy thermometer into the pan and cook sugar mixture until sugar mixture reaches 311 degrees or hard crack.
You will be able to see the sugar melting and becoming brown. Continue cooking until sugar is light amber brown. Remove from heat or sugar will continue to cook and burn.
Abraham Salum

Chef-owner, Salum
Abraham Salum was born and raised in Mexico City. There he ate fried grasshoppers and fried worms. When asked if he really likes that stuff, he doesn't hesitate. "Oh, yeah!" he says. (But he won't eat just anything. He seems to draw the line at eyeballs.) At his restaurant, Salum, which just celebrated its fourth birthday, the artfully prepared New American cuisine is a far cry from fried insects. On a visit, you might find him behind the line, but more likely he'll be working the room, greeting customers. His home life, however, is a lot more subdued. At his Midway Hollow ranch, which he shares with partner Randy Katz and golden retriever Tasha, the kitchen doesn't see much action. On the rare night he's home, he's more likely preparing "very simple food," which to him means a steak or a piece of fish and some vegetables on the outdoor grill. Or they'll pick up the phone and order delivery from Ginger Thai. "It's very clean, very good food," he says.
SALUM'S KITCHEN SECRETS
Add this to your Christmas wish list: really good, sharp knives. "The Japanese brands are awesome." Tool talk: Salum likes to use a bamboo steamer on pork buns that he buys at Super H Mart on Old Denton Road. Fridge staples: cheese, fruit, wine, and beer. Advice for those cooking at home: "Start with good-quality, fresh ingredients, and your end result will reflect that."
Abraham Salum's Roasted Pork Tenderloin Over Baked Sweet Potatoes With Marcona Almond Sun-dried Cherry Pan Sauce

Serves 4
4 6-ounce pieces of pork tenderloin
3 sweet potatoes, peeled and cut into half-inch rounds
2 tablespoons butter
1/2 cup sun-dried cherries
1/2 cup marcona almonds (regular almonds can be substituted)
1 teaspoon chopped garlic
1 teaspoon chopped shallots
1/4 cup port
1/2 cup pre-bought demi-glace (or reduce low-sodium beef stock to 1/2 cup)
Salt, pepper, and olive oil
For the potatoes: Preheat oven to 350°. Drizzle sweet potato rounds with a little bit of olive oil and season with salt and pepper. Place on a sheet pan and roast in oven until soft and cooked. Set aside. When ready to serve, lightly brown the sweet potatoes in hot sauté pan with some butter.
For the pork: Preheat oven to 450°. Season the pork tenderloin with salt and pepper. Sear on all sides in a hot pan, place on a sheet pan, and roast in oven five to seven minutes or until internal temperature reaches 125°. Let it rest five minutes.
For the sauce: In a small saucepan, put a small amount of oil and sauté the garlic and shallots. Add the almonds and cherries and cook for a few minutes. Add the port and demi-glace and let reduce until a nice sauce consistency. Check seasoning and add salt and pepper if needed.
Assembly: To plate the dish, spoon some of the sauce in the bottom of the plate. Place three sweet potatoes on the plate and top with the pork sliced into three pieces (one on top of each potato round). Garnish with some microgreens—or any green vegetable you like—and serve.