Brilliant beginnings: My uncle and grandfather owned a small neighborhood restaurant, and my father and I would help out every so often, even though he had to hold me up just to flip the burgers on the grill. I was always fascinated with the restaurant. My mom reminds me that when I was 4, I had a restaurant set up in my bedroom. That Christmas my aunt bought me a tea set. Throw in some pots and pans and I was "in business."

My food is: Simple, uncomplicated, with European influence. Classic urban bistro.

My signature dish: At home, it's Mickey Mouse "panny-cakes" for our daughter, Landry. I don't know if I have one signature dish. I think my signature is that we are always changing the chalkboard menu and that we keep it uncomplicated and fun.

These days, I'm crazy about: Making charcuterie; pork rinds—finding the best ones (in a bag or fresh) and making my own; and Texas Pete Hot Sauce.

Best compliment to the chef: Tristan Simon told me of The Grape: "The place feels really vibrant." It's all about the experience for me.

My guilty pleasures: Chips—any kind of chips. Sometimes it gets out of control.

A cooking disaster: My first New Year's Eve as an executive chef, I literally pulled an all-nighter doing prep by myself. I put a sweet potato gnocchi appetizer on one of the two menus I was doing. I made the gnocchi three times and still wasn't happy with them. I threw them all out and called the local pasta maker when the sun came up. He "hot-shot" them to me, and they were nowhere near as good as the ones I threw out.

Weird things I've eaten: Turkey testicles, sulze, Blazin' Buffalo & Ranch Doritos.
Culinary pet peeves: Overpresentation for the sake of trend jumping. And foam—let it go: "Hey, who spit on my food?"
I recommend: A really great peppermill. It doesn't need to be expensive. It just needs to shower out the pepper at the grind that you like the most.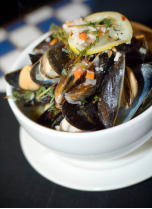 A kitchen tool everyone should have:
A
sharp
knife. Ya hear me? Sharp!

Where I go to eat in Dallas on my night off: Flying Fish in Preston Center, Jimmy's Food Store for Italian beef, Louie's for pizza, Matt's Rancho Martinez. Really anywhere I can feel relaxed with a 3-year-old.

Local chefs I'm watching: Karin Porter, chef de cuisine at The Grape (natch), and David Uygur at Lola. He is really cooking. I'd like to see The Mansion let Eric Brandt, chef de cuisine, take the helm. Let someone who has something to prove take a shot, rather than someone who thinks they are owed something. I'm eager to see what Marc Cassel is going to do at his new Knox/Henderson restaurant.
Get the SideDish Newsletter
Dallas' hottest dining news, recipes, and reviews served up fresh to your inbox each week.