Jaap van Zweden's Seriously Cool Digs at the Residences at the Ritz-Carlton
Dallas Symphony Orchestra conductor Jaap van Zweden and his family live above it all at the Ritz-Carlton Residences.
The people of Dallas are smitten by our new symphony conductor Jaap van Zweden. Even people who know nothing about music are fascinated by him and excited that he accepted the DSO's offer. Maybe it's his name: Jaap, pronounced yahp. Lucky for us, it appears the feeling is mutual, as van Zweden is gradually moving his beautiful and talented family of six to Dallas and making this his permanent home (though they continue to own a house in Amsterdam). And like his career, van Zweden's home is extraordinary. He hangs his hat (or rests his baton, rather) in a spacious, light-filled condo at the Ritz Residences designed by Sherry Hayslip.

Making the condo a home was no easy task. "We had very little time and relatively little interaction with the van Zwedens, since they were still living in Amsterdam," Hayslip explains. "Jaap started work in September, so we basically had the summer to pull everything together." And she means everything. "It was down to installing the coffee maker and having the towels and soap in the bathrooms and the beds made before they arrived," Hayslip says.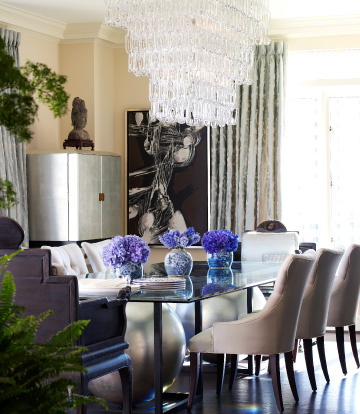 The tight timeframe makes the outcome even more remarkable. Hayslip managed to combine great showroom finds; custom-made pieces she designed herself; and lots of stylish, good buys from retail stores. "It was crazy and fun, because we felt connected to a larger, wonderful event—an exciting new era for the DSO," Hayslip says. "Since we didn't have the luxury of long lead times, we had to make things in our shops. We all worked like mad men."
The van Zwedens added to the mix, of course. They brought plenty of stuff from Amsterdam, including modern Dutch paintings and prized glass art pieces by Borek Sipek. Hayslip Design procured a collection of Delftware, Holland's signature blue dishes, at the request of Mrs. van Zweden.
Visitors get an eyeful as soon as they enter the space. On the left, a group of brackets suspend tulip-filled vases on a metallic-finish wall. The molding frames the mahogany-paneled wall like a giant painting, and a massive carved limestone figure from Art of Old India stands guard over a gallery with paintings by Jason Stallings, a Barbara Barry console, and a view into the music room. Hayslip created a collage of matted photographs with partial facial views of some of van Zweden's favorite composers, and he loved it. He recognized them all immediately just from an eye or profile of a nose or the hands of his mentor Leonard Bernstein. It's all tied together by dark mahogany paneling and upholstered walls, and despite some of the high-end finishes, it manages to present a cozy atmosphere where the family can watch television or listen to music.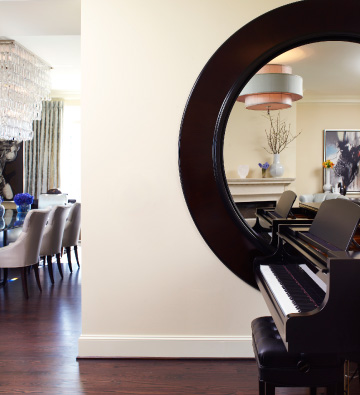 In the living room, the Dallas skyline provides a stunning backdrop. The remaining walls are painted in ethereal shades of blue and silver, and the room is dominated by a Bösendorfer grand piano. "We found a huge circular tabletop, which we had modified and lacquered, suddenly transforming it into a magnificent mirror which hangs by the piano, both enlarging the space visually and reflecting the keys of the piano," Hayslip says. Two prized modern paintings sent from Amsterdam reside above the John Gregory custom steel commodes.
Dining is a treat in the robin's egg blue dining room. Michael Stallings designed a glass-top table supported by two enormous, hand-leafed aluminum and white gold globes encased in ebonized walnut cubes. Stallings incorporated sheet music from the first two symphonies Jaap conducted in Dallas. A pair of antique Asian throne chairs from Vinya stand at either end with side chairs from Z Gallerie. The grand chandelier that sends prisms of light around the room is Hayslip's own design.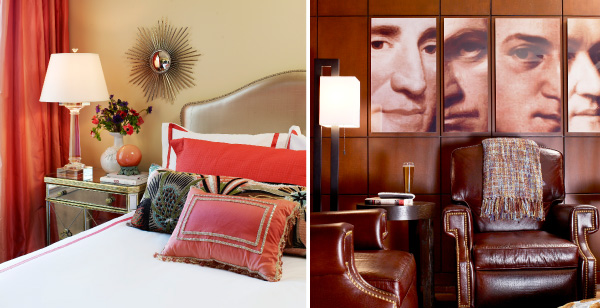 The open kitchen is one of Aaltje van Zweden's favorite rooms. "We both love to cook, although we haven't had much time to do it yet," she says. "Jaap's grandfather was a chef at the famous Grand Hotel Krasnapolsky." Sky blue paint for the interiors of two matching black bookcases gives a fresh jolt of color to the otherwise neutral kitchen/den. They are filled with new finds and old treasures from Amsterdam. Important art and music books stand next to The Architectural History of Dallas. The room is also home to a beloved portrait of the four van Zweden children and their dog.
The inspiration for 22-year-old daughter Anna-Sophie's room was a piece of colorful Missoni fabric that she loves. Hayslip used it sparingly in a large pillow and window trim but drew out its bright coral color for drapery, pillows, and trim for the Matouk bedding. An upholstered bed from the John Hutton Collection stands between two mirrored nightstands from Z Gallerie. The room will get a lot more use than originally expected—Anna-Sophie is moving here to start a curatorial internship at the Dallas Museum of Art.
A hallway, lined with a series of 17th-century reproduction paintings of tulips on a black background, leads to a master bedroom with just the right touch of glamour. Think gold satin coverlet from Stroheim & Romann and coordinating custom silk draperies made from Koplavitch & Zimmer fabrics. As with the other rooms, Hayslip went all over town, searching for the perfect pieces. The black bamboo desk she found at Vinya, the cane benches at Baker Showroom, and the night tables are from Allan Knight. The resulting look is an inspired combination of showroom pieces and retail finds.
"The inspiration for this home came from the van Zwedens themselves," Hayslip says. " I wanted this place to reflect them as citizens of the world. They are talented, with great taste and an artist's eye. They are comfortable and welcome in the greatest cities around the world. Jaap has conducted orchestras in Amsterdam, London, Berlin, Paris, Chicago, and Oslo. And they have chosen Dallas as their home. It was a magic moment when that magnificent piano was delivered. I realized that this was going to be a special place, supportive of all Jaap's creative endeavors."
Get to Know:
Aaltje van Zweden
Q. What was your first impression of Dallas?
A. The people are so warm and friendly. I was surprised at the art and culture available here to everyone; even in the giant shopping malls you are surrounded by great sculpture.
Q. With your hectic schedule, you probably don't have much time to cook. Where do you dine?

A. Well, of course, we love Fearing's right here in the building. We also like Arcodoro & Pomodoro down the street. We like to stroll through Highland Park Village and eat at Café Pacific or have a great burger at Who's Who Burgers.
Q. Where do you hang out in your spare time?
A. I enjoy the Dallas Arboretum and, of course, the fabulous museums. Jaap and I both love going to your gigantic cinemas and just walking in—in Amsterdam you have to make a reservation beforehand. Jaap's favorite place (other than the Meyerson, where he typically studies for hours) is the American Airlines Center. He had great fun at the Mavericks game and went to the Eagles concert there.
Q. You are very interested in autism. Have you established a connection here?
A. I am enjoying getting to know the Autism Treatment Center. When our son was diagnosed with autism, we founded the Papageno Foundation, whose mission is to explore the role of music therapy in the development of autistic children. We will work together on this mission.
Q. How is your Dallas home different from your home in Amsterdam?
A. Our home in Amsterdam is more traditional, like a country house with a garden and swimming pool. We collect Dutch "Cobra" modern art and Asian antiques. One of my favorite pieces is a 2nd-century Afghan Buddha. We did bring some paintings, some of our Asian art, and a collection of Delft blue porcelain.