Woodland Avenue is one of those lovely, wide, throwback streets in Preston Hollow where the houses are still of a consistent size with generous, and vigorously protected setbacks. Turner Duncan and Kimberley Miller of Design Duncan Miller Ullmann live in a traditional white-shingled Georgian that originated as a tract house in 1937. Not that the house doesn't have a stellar pedigree, it was purchased from the original owner and renovated by renowned designer Cathy Kincaid and architect A.B. Swank in the early 1970s. Tom Landry Jr. lived in it for about 12 years before Duncan and Miller bought it three and a half years ago. They have remodeled it with their own signature style. You know the look: they designed and created the sexy Hotel ZaZa in Uptown Dallas. There are common elements—a zebra pattern rug on the staircase—and exotic objects used in ways different from what they were originally intended. For example, a long antique hall bench serves as seating at the dining table. "Like the themed suites at the ZaZa, we like pieces that tell a story.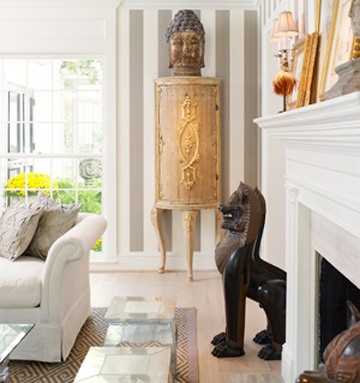 We wanted our home be a collection of meaningful possessions," Duncan says. "We bought everything in this house together. Every single object has special significance to us," Miller adds.
The narrow Georgian portico was opened up to create a wide Cape Cod-style front porch with shuttered French doors that open to the living room and study. Inside, Duncan and Miller used columns to incorporate a narrow hallway into the living room.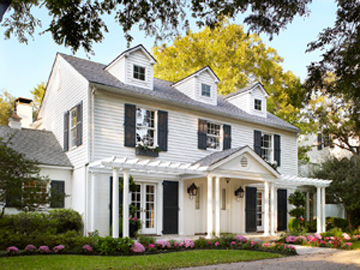 They created a kitchen and dining area that opens to the family room and lets in all the light from the windows across the back looking out to the pool. It is a house built for entertaining, and like everything else in their life, Duncan and Miller do it together. Typically, they cook for eight to 12; even for huge parties, they don't hire a caterer.
"Duncan is a great cook. I help him plan the menu and make the salad and dessert," Miller says. "Then we set the table together, mixing and matching from our 12 sets of china that we have collected together." (When these two say "everything together," they mean it. On the day of the interview, Miller was wearing the orange sweater that Duncan had worn on the day of the photo shoot.)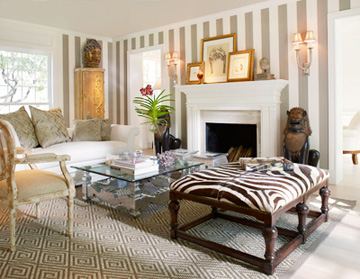 This is not a formulaic interior. Asian art and ethnic accessories live very happily next to an ultra-traditional Adam mantel in the living room, and all the rooms have formal dentil crown molding. Somehow, it works. Of course, it doesn't hurt to have a discerning eye for style and design. A favorite pine splay-legged side table was spotted at a Park Cities garage sale, and the beautifully carved 1800s French vitrines in the living room were once hidden under heavy green paint at an auction house in Upstate New York. But this is no stuffy museum. Comfortable chairs and sofas allow every room to be lived in and enjoyed.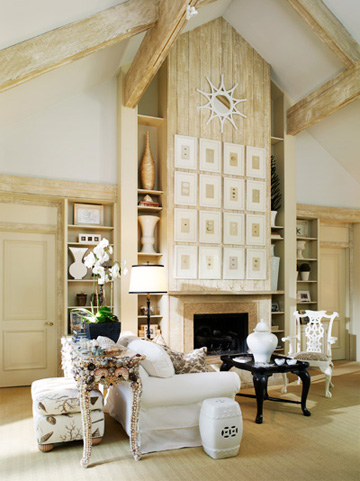 The traditional façade of the house disguises an open, modern interior. And so, too, Duncan and Miller look like they are fresh off the golf course or perhaps living a life of leisure in the Hamptons. Hardly. Their company is one of the top 15 hospitality design companies in the world; they have more than 120 employees in their offices in Dallas, Shanghai, and Hong Kong. Their 15 current hotel projects in China, Macau, the Caribbean, and North America keep them on the road. But as with everyone else, their business has been hit by the downturn. "Our hotel project in Macau, the largest in the world with more than 14 million square feet, has been put on hold at about 80 percent completion," Duncan says, but with a confidence that things will turn around.
Miller is a collector. She collects seashells with which she has beautifully covered a console in the bedroom. She also collects Barbie dolls and Muffy bears that she keeps in a closet in the study, and she has kept a key from every hotel that she has ever stayed in. "I even collected TV Guides as a child. My mom threw them away when I went to college," Miller laughs. Duncan, not quite as avid in his accumulations, has always been intrigued with interesting accessories.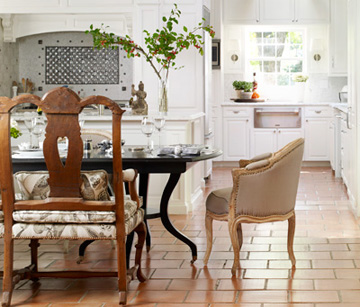 With the couple having traveled extensively, one would expect that so many unique objects and the provocative art in the house were bought in exotic locations around the world—places out of reach of us homebound mortals. But that's not the case at all. With the exception of some Chinese art and a terra cotta warrior from Xian, most of their furnishings were sourced locally from Design District showrooms, Wisteria, and Again & Again; or from their many trips to Connecticut and New York. "We started going to Connecticut to visit friends about 15 years ago, and we just love it there," Miller says. "That's really when we find the time to hang out and wander around antique stores, finding the things we love together."
Get the AtHome Newsletter
Enjoy Dallas' best trends, hot properties, and tips from local designers to help you nest in style delivered weekly.