When Patrick Brandt was in his mid-20s, he met with Craig Hall and asked for a $500,000 investment in a business plan Brandt worked up with Don Braun, the president of various HALL entities. Hall told Brandt he was not going to invest in that business. Instead, Hall said, "I want to invest in you. But $500,000 is not the right number." Hall wrote a figure on his legal pad and circled it. The number was $5 million.
Since then, Brandt has raised more than $500 million of capital and led more than $1 billion in transactions, inclusive of equity, debt, acquisitions, divestitures, and exits. His newest venture is Grata. Founded in 2019 by Mark Bunting, the app lets consumers review the performance of workers in customer-facing industries. "There has never been a way to memorialize, capture, measure, or communicate a service person's exceptional work," says the newly minted CEO.
The app allows servers to build a track record of positive reviews, the employer to view these track records to recruit and retain better talent, and the consumer to build rapport with specific frontline workers.
Giving Grata-tude
Patrick Brandt has exhaustively studied the launch of Uber. The million-dollar question in the company's early days was, 'How do we get someone to book an Uber?' The question is the same for Grata, Brandt explains. But Grata is testing everything—even tattoos.
"We want the staff person to ask their customers how their service was," Brandt says. "They ask, 'Would you mind giving me a Grata?' We are printing post-its, table tents, placemats, and business cards; we're doing it directly through the phone, we're doing NFC bracelets (which contain a chip to transfer data to smartphones with a tap), and even temporary tattoos at Miami Beach club SLS. Once everybody in the chain understands the value, they repeat. So, when that first Uber picked up the first customer, they both got value and realized they needed to do it again. We're starting
a flywheel."
Brandt's passion for entrepreneurship revealed itself early. He started a lawn mowing business at 11 and bought Nike stock with that money, which he sold to buy his first car. After graduating from SMU in 1995, Brandt co-founded Cyberpix, which sold on-demand event photos at corporate events. He eventually took the company digital during the dot-com boom. But Cyberpix fizzled. "I always aspired to be in Fortune magazine," Brandt says. "I was on the centerfold of this 'RIP.com' section featuring all the dot-coms that failed." Brandt ended up selling half of his company stock. "I was perceived as good, but I was lucky," he says. "But that launched my career."
After that meeting with Hall, Brandt invested his entire net worth—and some—to launch Skywire Software. He grew it to more than 600 employees, boosted by about $50 million in funding from Hall. Brandt sold the software to Oracle and two other companies for $300 million in 2008.
Brandt moved on to hold stints as CEO and chairman at enterprise-grade social network company Telligent and email and collaboration platform Zimbra. He then joined Shiftsmart, a labor-management tech platform that allows hourly workers to find jobs, in 2016 as president and co-founder. While there, Shiftsmart grew to serve 2 million workers across the globe and raise $117 million in funding.
During the pandemic, Brandt and Anurag Jain of Perot Jain launched Shiftsmart initiative Get Shift Done, which connected hospitality workers who lost their jobs with nonprofits to meet food insecurities. Get Shift Done provided 1 million hours of skilled shifts for 28,000 people to 110 nonprofits in 12 cities.
But come 2022, the desire to become a CEO again began to badger Brandt. So, Brandt became one of Grata's largest investors, helped raise $6 million, and assembled a team of execs. "Running startups is like running marathons," Brandt says. "After I'm done, I say, 'I'm never doing that again.' But then, I end up doing it again."
So far, Grata is up and running in Texas, Florida, and Oklahoma. In DFW, it recently debuted at all seven locations of Tex-Mex restaurant Mesero and within First United Banks. In the fourth quarter of 2023, Brandt plans to start a Series A capital fund to raise up to $25 million. Right now, though, he is laying a foundation so that Grata can reach the realm of Uber. "Success is never a straight line," he says. "Right now, I am maniacally focused on what is in front of me."
Get the D CEO Newsletter
Stay up to speed on DFW's fast-moving business community with weekly news reports, interviews, and insights.
Author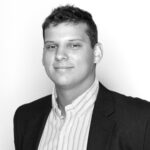 Ben Swanger is the managing editor for D CEO, the business title for D Magazine. Ben manages the Dallas 500, monthly…