Wednesday, Aug. 3, 2016, was a sweltering day on the westside of Fort Worth. It was 102 degrees outside, but inside 'The Oven,' Nike's research and development golf facility—the heart and soul of a brand that hosted the likes of Tiger Woods and Rory McIlroy for club fittings, television commercials, and more—temperatures were cooling. It was the day Nike Golf shuttered its hard goods operations; no more golf balls, golf bags, and golf clubs.
"We were in shock," says John Hatfield, a former putter craftsman for Nike. "We were expecting changes, but we weren't expecting to be out of a job." Nike athletes Paul Casey, Tony Finau, Brooks Koepka, Francesco Molinari, Nick Watney, the aforementioned Woods and McIlroy, and more, all lost their club sponsorship deals.
Hatfield, wedge and iron specialist Mike Taylor, and six other Nike employees stayed on with the Oregon-based sporting goods giant for roughly three more months to supply any needs that the company's PGA Tour athletes demanded. But by mid-November, The Oven ceased operations for good. "[Nike founder] Phil Knight told me that that was a very tough decision for him," says Taylor, Woods' personal golf club craftsman with Nike. "Some part of that made things heal up just a little bit easier."
In their time with Nike, Taylor says he and Hatfield made "millions upon, millions upon, millions of dollars worth of free golf clubs" for its contracted PGA Tour athletes. The duo also made clubs for NBA legends Michael Jordan and Penny Hardaway, MLB star Ken Griffey Jr., two-sport phenom Bo Jackson, and other elite professional athletes.
As operations were ceasing, Hatfield cooked up a plan to buy the manufacturing machines that shaped, molded, and produced Nike putters. "I guess I'm gonna keep making putters with all this stuff," Hatfield told Taylor at the time. "I don't want to have to start my career over."
"Hmm," Taylor responded with a grunt. "Why don't you get me a price on the grind shop?" (A grind shop is where wedges are manufactured, ground, and shaped.)
Two weeks later, after Nike vacated the property, the two craftsmen who spent the last 35 years making golf clubs leased The Oven, everything in it, and a neighboring short-game area and driving range from the property's owner. In all, the duo invested $100,000, and Artisan Golf was born in February 2017. Six-and-a-half years later, Artisan has seen two Major champions win with its wedges and has turned a profit every quarter since its inception. Despite their success, the perpetuation of the company is something its two founders question.
Mike Taylor grew up a country boy raised by working-class parents. He and his family toiled on the land they owned in Burnet, a city just west of Austin. "We were ornery kids," Taylor says. "I might've played golf several times growing up, but I've always been a working guy. All my grandparents were, and came from, ranching and farming types. We were people who worked hard for what we got, we appreciated it, we thanked the good Lord for it, then we got up the next day to do it all over again."
As Taylor came of age, his grandmother Grace planted seeds in his life that are still being nurtured to this day. "She taught me to find something I love and stick with it," Taylor says. After high school, his grandmother convinced him to continue his education, and he earned an engineering degree from Tarleton State University in 1987.
As for Hatfield, he was always a golf junkie. From the age of 13, the Granbury native spent most summer days playing golf. "There were some empty grass lots behind our house, and one day I took a push mower out there and cut me a tee box, a fairway, a 100-yard green, a 150-yard green, and I would hit balls until I was blue in the face," he says. "If it weren't for golf, I never would've found my way to the Ben Hogan Co."
After Taylor graduated from college, he moved to Fort Worth with plans to work for General Dynamics (now Lockheed Martin) or Bell Helicopter. "I just wanted to be in aerospace," Taylor says. While trying to figure out his long-term plans, he began working for a family friend who ran a plastic injection molding company. Then one day, Taylor was approached by Tom Stites, a recent hire by now-defunct Fort Worth-based Ben Hogan Golf Equipment Co. (Stites is regarded as a golf club manufacturing legend and has been awarded more than 300 golf-related patents.) Stites told Taylor, "We could use a guy like you over at Ben Hogan. We make golf clubs."
Taylor responded in his country twang, "Golf clubs?!" But the neophyte engineer visited the facility and fell in love with the manufacturing plant. At the time, Ben Hogan was turning in around $50 million in revenue a year and was one of the top club manufacturers in the world. "Man, I saw the machines, the sparks—I just remember how cool it was," Taylor says. "They were making persimmon woods, so it was a cross between a welding shop and a furniture plant. I could smell the wood, the rubber, and they were making golf balls. There were so many engineers there; I couldn't even count them all."
He was ready to jump on board, but his golf career almost ended before it began. An executive at the club manufacturing company spoke out against Taylor's hiring. "The first time I talked to Mike, I quickly realized he had no idea what we were doing at the Ben Hogan Co., but he was a farm kid, he was hands-on, and he knew how to fix things, so he fit the bill of the type of people I like to hire," Stites recalls. "As soon as I hired him, I got a lot of flak from my boss because Mike didn't even play golf. But I told my bosses that he knows how to do things around here that nobody else knows how to do."
Ben Hogan's higher-ups quickly soon came to appreciate Taylor's unique gifts. "[Master club maker] Gene Sheeley took Mike and me under his wing, and we quickly realized that Mike's natural talents and abilities with his hands, eyes, and ability to understand technology took him to a different level," Stites says.
Hatfield had joined Ben Hogan Co. six months earlier, in 1986. Within two years, Hatfield, Taylor, and other artisans began manufacturing the Hogan Edge, one of golf's top-selling iron sets of all time. For a six-month pilot run, Hatfield ran weight inspections creating 100 iron sets. Within the first year, the company sold more than 120,000 iron sets, toppling the leading performer of the day: Ping. It resulted in $70 million in revenue for the Fort Worth-based company.
In 1990, Hatfield and Taylor joined the golf division of the American-Austrian manufacturing company Head. "It was a startup when we joined; they had nothing," Taylor says. "We built it from the ground up." In 1993, Stites founded Impact Golf Technologies, and Taylor joined him at the new venture. Hatfield stayed on with Head until 1995.
"There were several midsize and small companies that didn't have the engineering capabilities that the large manufacturers of the day had," Stites says. "So, with Impact, we provided the engineering, the tooling, manufacturing, consulting, and factory setups, and we just started fulfilling all the needs of those companies by providing them with a complete engineering department. At Impact, we were able to work with well over 100 professional golfers and a dozen club manufacturing companies."
In 2001, Impact Golf Technologies was purchased by Nike to launch the company's entrance into golf clubs. That year, David Duval became the first player to win a Major on tour with Nike clubs, and the company's full line of golf clubs hit retail stores in 2002. By 2008, after stints with midsize manufacturers Miura, Ray Cook Golf, and others, Hatfield rejoined Stites and Taylor.
"Mike was incredibly valuable in working with touring pros and being able to interpret what they wanted," Stites says. "Mike knew the language of attack angles, how the club engaged the dirt and turf, and how the ball reacted off the club face. Then John was able to take that and fit the pros with the appropriate shaft and get the club to be aesthetically pleasing for the way the touring professionals wanted it."
Together, Hatfield and Taylor gained the trust of some of the game's top pros to personally craft their golf clubs—including Woods, McIlroy, and David Duval. A magazine cover that hangs in Artisan's headquarters is signed by Woods: "To Mike, thanks for finally making me a good wedge — Tiger."
"From Tiger to Rory and everybody in between, The Oven was the place to be," says Gilbert Freeman, a 16-year club professional for Nike Golf who's now a head golf pro at Lakewood Country Club. "Watching Mike Taylor work—I'd never been exposed to so much detail. Mike is a golf celebrity, but nobody would know it."
Stites has even higher praise: "There have been four or five people in the history of golf club manufacturing that are legends, and I believe Mike has joined that club."
Working alongside the game's biggest names intimidated Taylor from time to time, but the grizzled veteran was never thrown off course. "I definitely felt fear in this career," Taylor says. "There's always a fear of disappointing athletes, but the fear just made me more aware of making a good plan to be successful at what I was doing. When you see these athletes hit golf balls, you realize you must make the tools that enable that. You gotta be on your A-game."
"We don't get paid until the customer's clubs are finished… That's the way good ol' boys from Fort Worth do business."

Mike Taylor
Taylor and Woods didn't form just a working relationship; the two became friends—and cut it up from time to time at The Oven.
"Nike did a lot of filming at the Fort Worth headquarters," Taylor says. "One day, Tiger was filming a commercial with Nike to make it look like he was making his own clubs. So, at the grind station, there were sparks flying, and he had to wear these horrendous-looking glasses. We were just watching from afar behind some glass, pointing at him and heckling him, 'You look good in those!' And he was cracking up and shaking his head at us."
By 2013, Nike Golf's revenue peaked at $792 million. But, by 2016, the company's revenue dropped to $706 million—becoming the worst-performing producer under the Nike umbrella. That same year, operations at The Oven ceased. "I think Nike decided to stop because the leaders realized becoming the top club manufacturer in golf was unattainable for them," Freeman says.
Inside Artisan's Fitting Process
Wedges and Irons
Artisan measures the client's existing club specs and the client identifies what they're looking for. The client then swings through their entire club lineup. Next, Artisan chooses shaft style and sets the loft. For wedges, clients hit on Artisan's private three-hole par 3 course and for irons, clients hit on the driving range. Artisan then identifies the club's grind. Last, the client chooses head and grip color and can add custom engraving. 
Putters
Artisan starts by examining the client's ball position and offset when putting. Then, Artisan walks through the type of head styles available. Third, Artisan identifies how much the putter head should weigh and hosel style. Then, John Hatfield walks the client through a putting lesson and talks through what specs he thinks would work best. Last, the client picks a head and grip color and can add custom engraving. 
Becoming the game's top club manufacturer is not a goal for Taylor or Hatfield. Artisan, which generated $1.2 million in sales in 2022, is more of a passion project. "Our heart, soul, and everything we know is built into this product," Hatfield says. "Right now, we're a nobody on many people's radars, and that doesn't bother me at all," Taylor adds. "But we've won two Major championships in six years and the first LIV event ever."
This year, the entrepreneurs expect sales to grow to $1.8 million, fueled by the launch of Artisan's new iron set. It's all organic growth; the company has never spent a penny on marketing. The company name, Artisan, perfectly describes what Hatfield and Taylor do with their venture. They make each wedge, iron, and putter by hand—an approach that has all but died with the advent of computer-aided design and mass production. "Now, everybody is just engineering the clubs with CAD and all that modern technology. And, really, there's a loss of knowledge that comes with the mass manufacturing process," Taylor says.
He and Hatfield care deeply about the products they make and about outfitting their clients—professional or not. But they have no desire to scale in such a way that challenges the industry giants like TaylorMade, Titleist, Callaway, Ping, Cobra, Mizuno, or Srixon.
They also have no plans to seek additional funding. The $100,000 they put into launching Artisan has fueled the company for more than six years. Every dollar made goes into paying the company's 11 employees and crafting more custom golf clubs. Taylor and Hatfield have no desire to let an outside investor or corner-office executive oversee their operations, despite interest from pro golfers. "If it was an investable company, I would try to buy all of it," says Rocco Mediate, a six-time PGA Tour winner.
As their company continues to expand, Taylor and Hatfield aim to stay true to their old-school entrepreneurial strategies and ideals. "The way we run our business, we don't get paid until the customer's clubs are finished," Taylor says. "Getting stuff finished and getting paid once it is done is highly motivating to all teams. We live in this world now where companies are fronted investments before the work is finished. But frankly, I like the way we do things. That's the way good ol' boys from Fort Worth do business."
"We make golf clubs every day, but there are not back-to-back days that we produce the same product. They're all snowflakes."

John Hatfield
The strategy, though, does raise questions about the long-term outlook for the company—questions even Taylor and Hatfield acknowledge. They may not want to grow big, but they do want Artisan to become a staple in golf.
"Mike and John have the ability to create a boutique image and brand that allows them to market clubs to the people that want something they can't get anywhere else other than Artisan," Stites says. "I know they learned a little bit about that when they were at Impact. We had people paying us $10,000 to $20,000 for an iron set. I look at Mike and John like granite sculptors—they're just doing it with steel."
Artisan provides customers, whether they have a 20 index or are on tour, with professional-caliber club fittings for wedges, iron sets, and putters. It's the same process Taylor used to fit Woods, McIlory, and other Nike athletes. Along with providing exceptional service, it allows the company to never have a backroom of stock-built inventory it can't offload. Every item is custom. "Our heart and soul go into fitting and matching up the tool to the player," Hatfield says. "We make golf clubs every day, but there are not back-to-back days that we produce the same product. They're all snowflakes."
Mediate is a loyal Artisan customer and gladly pays for the custom wedges Taylor makes him. He says the buying experience was unlike any other he's ever experienced. "Mike, got my specs and the first one he made was just f—ing perfect," he says. "There was no trial and error process. Had I known these guys 20 years ago, I don't know how much better my career would have been."
Over its six-year lifespan, Artisan has built a list of pro clients that rival the game's giant manufacturers. Mediate, Scottie Scheffler, Bryson DeChambeau, Charles Schwartzel, Abraham Ancer, Bernhard Langer, Patrick Reed, Jhonattan Vegas, and more have all, at one point or another, used Artisan clubs—even while some have lucrative club sponsorships with golf's major brands. "They all pay for their clubs—and are happy to do so," Taylor says with a laugh. Reed and DeChambeau won Major championships with Artisan wedges in their bags: the 2018 Masters for Reed and the 2020 U.S. Open for DeChambeau. Taylor even outsources his talents to tour players to work on clubs produced by other manufacturers. "I worked with Keith Mitchell's Mizuno irons—just because I know exactly what he needs," he says.
To date, Artisan has sold clubs to nearly 2,000 customers. Hatfield and Taylor know this off the top of their heads because their company engraves each successive number into the customer's club as their personal Artisan number. It allows them to go back into its system and review past specifications when tailoring upgrades or re-fitting customers when they want a fresh set of clubs. Long-term, though, Taylor and Hatfield aren't certain how high that number will go.
"It would not be positive for us to decide that we want Artisan to be a $100 million company," Taylor says. "I don't know if we can agree on what the long-term future of Artisan looks like. Would it shock you if I said I don't know if it will exist in the long term or not? The perpetuation of this brand comes down to finding the people who feel about making golf clubs like we do—and once we find that, it's on like Donkey Kong. It could be a 100-year run for Artisan."
Get the D CEO Newsletter
Stay up to speed on DFW's fast-moving business community with weekly news reports, interviews, and insights.
Author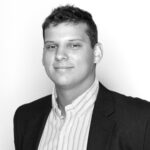 Ben Swanger is the managing editor for D CEO, the business title for D Magazine. Ben manages the Dallas 500, monthly…