Moving up in his career, Corey Anthony says he has had to learn that there's a difference between managing work and leading people. "They're both extremely valuable skills that every leader needs to know, but it's important not to confuse the two," he says. Anthony, who previously served as AT&T's chief diversity and development officer, recently shifted to an operations role and now serves as senior vice president of network, engineering, and operations. He's an active community volunteer, currently holding board positions with both Dallas CASA (immediate past chair) and Junior Achievement of Dallas.
Education: Texas A&M University (BBA-Finance and Accounting)
First Job: "I worked for my father at a service station in Buffalo, Texas. It was an old-school station where you could get the air checked in your tires, have your windshield washed, get your oil changed, and have someone pump your gas."
Favorite Thing: "I have a signed baseball from the 1997 grand opening of the National Negro League Baseball Museum in Kansas City. Former Negro League players were at the event, including Buck O'Neil, one of my favorites. He signed the ball, as did Carl Long, Kurt Miner, Willie Harris, and several others. I loved seeing these players finally get the recognition they deserved."
Destination of Choice: "I love Prague. It's a city with a little bit of everything—history, nightlife, beautiful views."
Hobbies/Passions: "I've been road racing and motorcycle drag racing for years, and more recently took up photography. I'm also a DJ in my free time at my kids' parties and other family events."
Dream Car: "A 1969 Chevrolet Chevelle SS, or SuperSport, red with the black stripe down the center. My father had two or three when we were growing up that we would take to the track. He and my uncles drag race, too. It's a family affair."
Walk-up Song: "I'd choose 'Tadow' by FKJ and Masego. It's simultaneously calming and energizing."
Favorite Movie:"Mo' Better Blues by Spike Lee, one of my favorite directors. It stars Denzel Washington and Wesley Snipes, who are two of my favorite actors. In addition, it's about a jazz musician, and I love jazz. The movie is a trifecta for me—a lot of my favorites coming together in one cool film."
Local Fare: "I love Al Biernat's Cowboy Ribeye and Al's Famous Coconut Cream Pie."
A Better Dallas: "I want to see Dallas continue to grow and become more accessible to the different communities that make this city hum. There's a lot we can do to create more job growth and development and ensure that everyone has opportunities to get involved and benefit from all Dallas has to offer."
Get the D CEO Newsletter
Stay up to speed on DFW's fast-moving business community with weekly news reports, interviews, and insights.
Author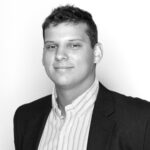 Ben Swanger is the managing editor for D CEO, the business title for D Magazine. Ben manages the Dallas 500, monthly…