From November 2022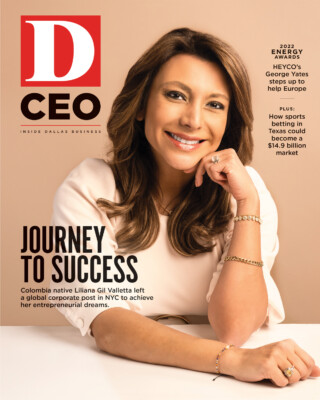 As we settle into a booth at Al Biernat's in Uptown, Nathan Loftice shares that he has known EarthX's founder, Trammell S. Crow, for nearly 20 years. "I was with Trammell when we first formed it as Earth Day Dallas," Loftice says. Since then, Crow has asked Loftice to join EarthX at least five times as it cycled through eight organization heads. As he orders one of the daily steak specials, Loftice explains why he finally decided to take the helm this past September.
He grew up on the East Fork of the Trinity River on a fifth-generation ranch. "My whole existence was on that river," he says. He remembers the first time he saw a glass bottle float past, the quail that used to run on the land, and bountiful stars before urban light pollution dimmed the skies. "I always wondered, 'Who's going to be the voice of the environment?'" he says. "The environment can't communicate with us in a way we can understand it, but those birds, the river, the soil, the vegetation, all of that—somebody has to speak up."
After graduating from The University of Texas at Austin, Loftice decided to be that voice. He worked as an environmental specialist on several key civil and criminal investigations for the State of Texas, including the prosecution of the owner of the largest illegal landfill in Texas, which was situated near where Trinity River Audubon Center is now. He was also a first responder to the largest inland gas spill at the time—approximately 1 million gallons of gas leaked from a pipeline rupture near Lake Tawakoni east of Dallas. "I never lost a case," Loftice says.
He went on to lead supply chain optimization management for FedEx for many years before accepting a post as director of sustainability and sustainable development for BNSF and its parent, Berkshire Hathaway, the holding company run by Warren Buffett. He answered inquiries about environmental concerns and led planning, permitting, and projects. "I worked all over—32,500 miles, 28 states, three Canadian provinces, about 1 million acres," Loftice says. Buffett has become a huge source of leadership inspiration for him.
All the while, he was volunteering with what is now EarthX, sharing reading material and data with Crow, providing the expo with hundreds of its first contacts. He decided that now was the time to lead; it's his passion, Loftice says, but it also goes back to one of his worst moments, 17 years ago.
Loftice's dad was injured in a farming accident and passed away weeks later. A few months after that, Loftice's son was born gravely ill; his bone marrow shut down production of red blood cells, and he went into complete heart block. While his infant son was in surgery, Crow called Loftice to check in. "He was the only person—out of all my friends—who called me or came to see me, outside of my family," Loftice says.
That relationship, trust, and respect are what Loftice feels will help him as CEO. "I'm at a point now where I'm wanting to give back," he says. "Point blank with Trammell: I don't need his money. I don't really want his money. It's almost like I'm perfect for the job because I can be direct and honest." Among his main tenets? People, planet, and profit.
Already, Loftice has developed fiscal plans for EarthX through 2023, reinstated Crow to the chairman role, and hired two new executives. He's also prepping the company for its April 2023 expo, which he hopes will match 2019 attendance. "I'm pleased and excited to say that we will be back at Fair Park," Loftice says. Finally, he's leaning into EarthX's entrance into television and hopes eventually to branch into other media markets. "The opportunities are endless for where it could go," Loftice says.
Get the D CEO Newsletter
Stay up to speed on DFW's fast-moving business community with weekly news reports, interviews, and insights.
Author
Kelsey J. Vanderschoot came to Dallas by way of Napa, Los Angeles, and Madrid, Spain. A former teacher, she joined…